Twitter is a great platform to engage conversation and bring traffic back to your website or blog. But it can become a stressful experience when you realize your follow-up is just not growing. And you don't understand because other accounts that seem much less interesting to you are gaining more and more followers.
Well twitter can be a tricky platform. Keep on reading and find out how some easy steps, often left aside by most users, can really help you get more followers and hence the name recognition you are after. When going into the world of Twitter,  it is important to take heed, because Twitter, like most things, should be done in moderation. All of these tips will accrue more followers but only with a healthy dose of common sense.
1. Set your profile picture
You don't have 2 chances to make a first good impression, right? Well you profile picture is the first impression you make, so don't blow it. So make sure you get rid of the "egg-head" twitter gave u when you first opened your account and upload a simple but good and clear picture of your face (or your logo if you tweet as a business). Keep in mind that the picture you will choose will need to be easily identifiable when it's small (as most users will see you on their timeline). Choose a picture that is clearly you, and one that shows who you are.
The cover photo, although it is a nice feature, does not bring much as most users will interact with you via their timeline on only rarely from your profile page.
Here is an example of my own Twitter account. As you can see I use a profile picture that shows my face and a little bit of my daily routine. I hope it gives a good first impression ;)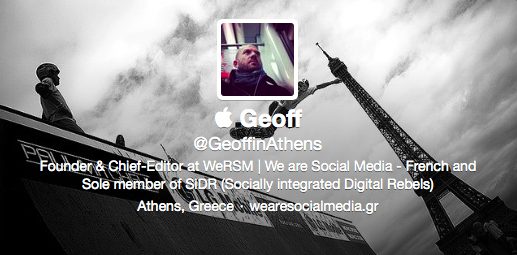 2. Pay good attention to your Bio
After looking at your picture, people will usually go on to read your bio . People on Twitter aren't known for their patience, so don't get overzealous when describing yourself. Just go to the point and state what you do and what you like. Feel empowered to use a little bit of humor, you don't have to but it will be appreciated (check mine in the pic above, notice the humor?).
Take a look at  Hillary Clinton's Bio. She, or her PR person rather, seamlessly combines what she is actually known for with a couple jokes. This makes her seem qualified to Tweet about certain things, but also approachable.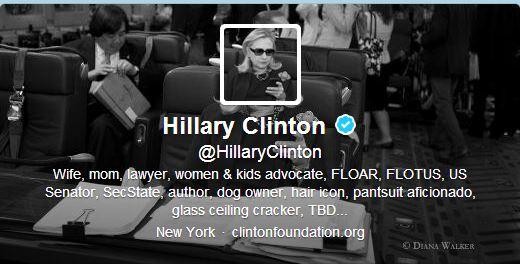 3.  Tweet Regularly
This might seem obvious to most, but tweeting regularly is the best way to keep and gain followers. really, I mean, it is not very appealing to follow people that update theit twitter twice a year, is it? Of course, this does not mean you should tweet about every little thing happening to you during the course of the day (that too becomes annoying), but you should remember to tweet regularly about the things you are really passionate about. I consider the minimum to be 1 or 2 tweets per day. This should be enough to make other thinks you're online enough to be worth engaging with, meaning they want to make sure you will be there to read their own tweets… Yes, Twitter is a narcissistic platform too!
Dear Cam: Thank you for making better choices today than you did yesterday. Love, Your Tomorrow Self @SuperBetter

— Camryn Rhys (@camrynrhys) September 8, 2013
4. Retweet
Again this is not rocket science. A Retweet is a great way to get noticed by the author of the original tweet and show you share common interests. RT's not only show respect but also help other that would follow the same subject notice you. And the original authot might also get an interest in knowing who is that user that retweeted his "great" creation.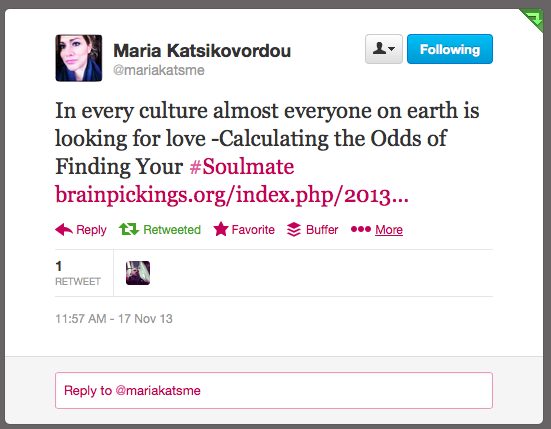 5. Acknowledge and Engage
This is maybe the most important step into gaining and retaining your followers. People will share your content, mention you, retweet you or they will maybe tweet about something that is really interesting to you.
In this case, always remember to acknowledge. Favorite their tweet, reply and thank them for sharing. Everybody likes to receive a little twitter love! Favorite is the minimum, I usually find that thanking people via reply is a guaranteed new follower.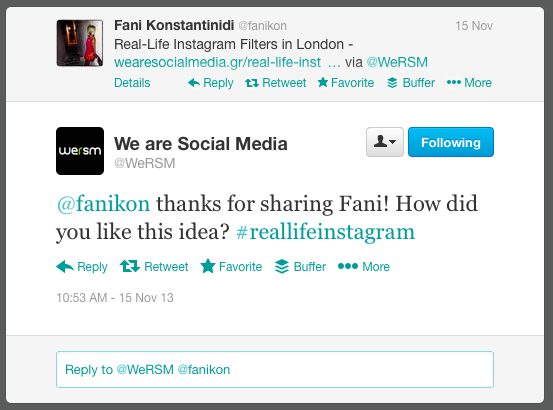 6. Use Hashtags
Hashtags are a great thing. They are. Otherwise the likes of Facebook, Instagram or even Google+ would not have implemented them too.
Hashtags are a good way to make your point, explain further and to put more eyes on your tweets. First of all, they appear in a different color than text, and that attracts eyes. Moreover if you use hashtags that are trending, this will most certainly bring you more readers.
However, don't over do it. The temptation to add one too many hashtags is great. But it won't have the positive effect you would have imagined. It might even make your tweet look ridiculous and drive away followers. The common rule would be to add a maximum of 2 hashtags per tweet.
FastForwardFridays #FFF –can we make this a "thing"? Here is my glimpse into Facebook's future (done 2 years ago)…http://t.co/xDEzOk8b5U

— George Takei (@GeorgeTakei) November 1, 2013
7. Follow interesting users
You will probably do this naturally. Following people you like  is a great way to get some new followers. If you follow people who share your interests, they are  more likely to follow you back and engage with you. This in turns exposes you to all of their followers who also share the same interests. From there, the cycle continues: they will retweet and their followers with similar interests will see it. You get it.
Give the people what they want, as long as they want the same things  you do. This doesn't mean you only have to tweet about one particular thing, unless you are working on a specific brand, but find people that you appreciate and they will in turn appreciate you. Just like real life.
8. Tweet at the right times
Let me start by stating that there is no global rule about the right time to tweet. This depends on who you are, what you tweet about and obviously on where you are (your timezone).
Twitter is generally very active during when people are actively checking their computers and phones, which seems logical. But again this really depends on your target audience which most likely has its own peak hour. So decide on who you'd want to read your tweets, think about what their daily routine is and start tweeting during the hours you think would work best. If it does not work that well, change your schedule ;)
Finally. It's after midnight in New York. Everyone there is asleep. I can say what I want.

— Steve Martin (@SteveMartinToGo) October 27, 2013
9. Ask questions
Asking a question is a great way to get people to reply to you. The easier and more straight forward the question is, the more likely it will be that some users will answer. It's a great way to engage people as questions always work wonderfully as a follow up tweet.  Celebrities do this all the time, which is among the key reasons they have tons of followers. Also, if you send a direct question to someone, they will feel more inclined to write back.
10. Add Media
Adding Media (photo or video) is also a great way to make people stop on your tweet. If you think about it, a twitter timeline is a succession of tweets, most of them being text updates. Adding an image or a video will have an immediate visual impact for users.
Moreover, a pic can be a strong way to reinforce your message, say more about the mood or promote your offer or the essence of your tweet. The following example shows how the image reinforces the idea of quality education the author wanted to pass on.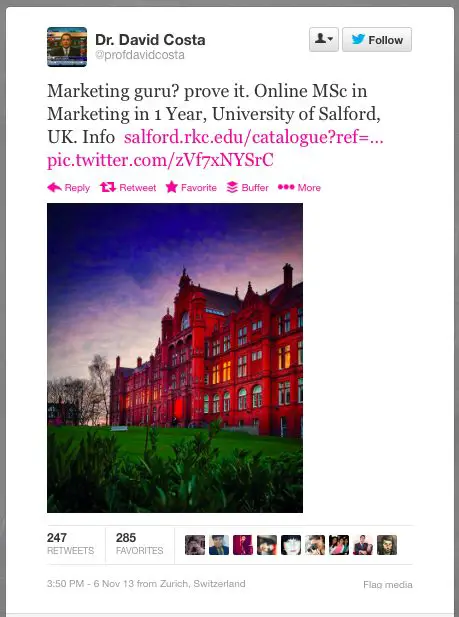 If you put these 10 tips into action, you should soon see new followers turning in. But keep in mind, twitter takes time and that your efforts should not be a one-off but that you should build a routine that allows you to keep your account live and running.
Related Stories:
You might also like
---
More from Twitter
---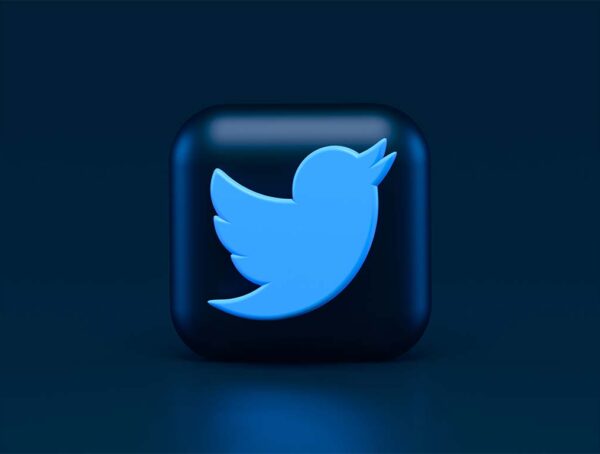 Not only do Twitter Blue subscribers get to edit their tweets, but now they will have up to 60 minutes …