'Find your In,' LinkedIn's latest advertising campaign, created by Droga5, invites everyone to find their ideal career pathway.
The campaign takes place in a laundromat where a rather young  woman gets inspired after receiving a LinkedIn notification on her phone.
https://twitter.com/Geoffdx/status/1663564387670691842
'Find Your In' aims to showcase how LinkedIn can unlock new possibilities, so you can be whatever you can imagine, with the help of LinkedIn.
Droga5, the agency behind the campaign, explains:
"It starts with a little girl who finds herself in a place that's perfectly ordinary: the laundromat. But we quickly learn there's more here than meets the eye. All it takes is a little bit of inspiration from a LinkedIn alert on a nearby phone to set off an unexpected and extravagant dance with her own potential. The future comes to life, teeming with opportunity and endless options to explore."
At first I was unsure about this ad. I found the bridge between a young woman dancing in a laundromat and the professional community of LinkedIn was a tough one to cross. But, the ad is catchy and I can see how it could be inspirational to some new LinkedIn users, or people who have fallen inactive on the platform.
LinkedIn has shown to be one of the most trusted social networking platforms lately and the company is keen to capitalize on its record high levels of engagement to contribute further to its growth among influencers and niche creators – hence probably the more creative take on the messaging with this campaign.
'Find Your In' will run across TV, web and social media platforms over the coming months.
---
You might also like
---
More from LinkedIn
---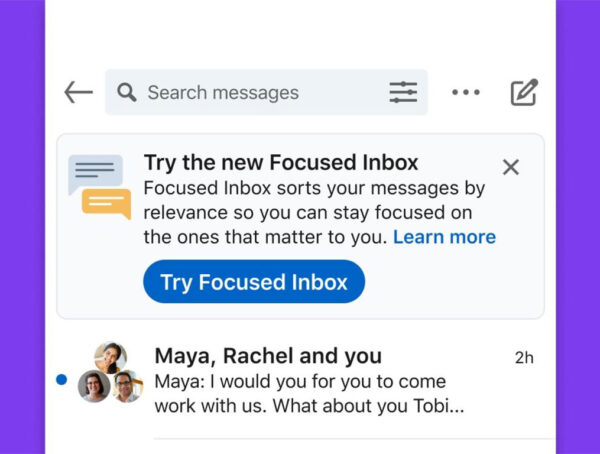 With Focused Inbox, LinkedIn wants to help you engage in the conversations that matter most. LinkedIn is rolling out a new …