Hendrick's Chat G&T is the brand's reminder to us all that today's technology can sometimes be 'too efficient' for our own good.
It has become difficult to find someone who has not tried testing the limits of ChatGPT. The AI language model has taken the world by storm and has proven very efficient at answering all of humankind's most pressing questions  – well not really "pressing" in most cases, mostly random. But is efficiency and accuracy what we, humans, really pursue? Hendrick's Gin is not convinced.
As an alternative to the highly accurate and efficient AI, Hendrick's chose to offer a "wildly inefficient" and "admittedly flawed" cocktail-swindling young man named Elliot, who answered questions during a live stream on Instagram.
Live from a Swedish castle, Elliot sang songs, recited poems, and yes, answered questions, both silly and existential, while sipping his favorite gin cocktail of course. His "capabilities" in some ways fall far short of those of AI and in others exceed well beyond them. He may not be able to provide a cogent explanation of quantum mechanics in the style of William Shakespeare – a task in which ChatGPT would undoubtedly excel – but he "can carve a cucumber into something somewhat resembling a porpoise."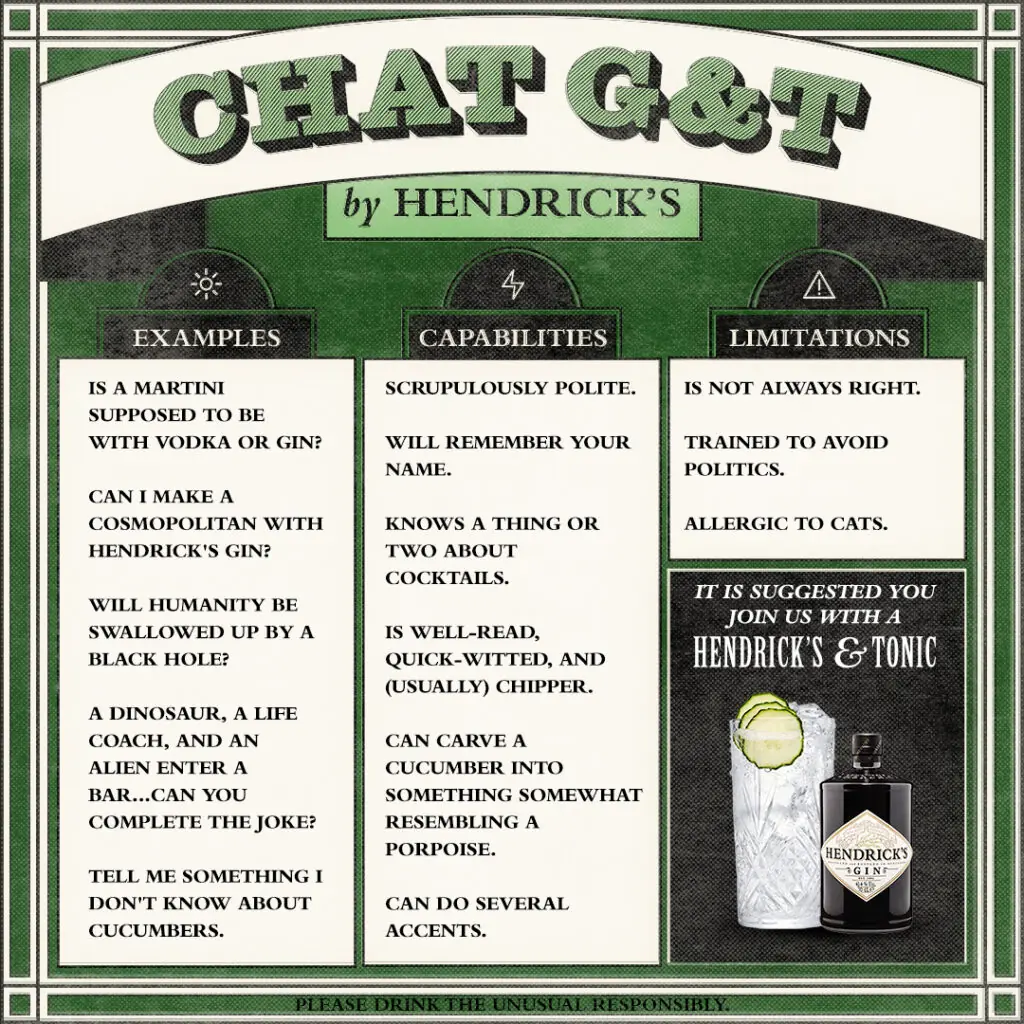 "We want to remind people that often the best parts of life lie not in conveniences, but instead come from the unpredictable, the puzzling and the magical experience of two or more real-life human beings building a relationship," Michael Giardina, vice president of marketing in the U.S. for parent company William Grant & Sons, told Adweek. "No AI chatbot can compete with our lovely Elliot, who can describe classic works of art with a curated cocktail pairing or write you a Victorian sonnet."
Hendrick's promised that Elliot would "happily reply to your curious queries until he becomes too tired or too peckish to continue," with assistance provided only from a dictionary or "his brainy sister Helen." As a "corporeal, fallible being," Elliot did not claim to be all-knowing during the experiment, billed as "the first-ever chatbot run by humans and fueled by Hendrick's." But he managed to bat back such broad volleys as "who are any of us" with responses like, "We are all bundles of carbon, aren't we?"
---
More from Featured
--- TIkTok is pulling the plug on TikTok Now, its BeReal clone, a little over nine month after it was first …