Ever wondered just how effective TikTok's Spark Ads are? This month, Amanda Wood, Senior Social Marketing Manager at Hootsuite, and her team test them to find out!
Fun fact: According to our Digital 2022 Report, TikTok ads currently reach nearly 885 million people worldwide. This is a significant and rapidly increasing number, and marketers should take note; TikTok's ad audience reach grew faster in the first three months of 2022 than it did in the final three months of 2021.
Video storytelling is already challenging, and the rapidly-evolving nature of TikTok can make it intimidating to create content that will stand out and engage audiences. If you're thinking about adding a paid TikTok social campaign to your strategy, we've got you covered: this month, we partnered with freelance writer and content strategist Michelle Cyca to conduct our social media experiment and test the performance of TikTok Spark Ads.
Keep reading to learn our insights and findings! You can thank us later.
The Experiment
We first determined which type of ad to run on TikTok. We landed on testing out TikTok Spark Ads — a feature added to TikTok Ad Manager in June 2021 that allows brands to promote organic content in their feed and works similarly to Facebook's Boost Post option.
A unique feature of Spark Ads is that you are not limited to your own organic content — you can also promote posts by other creators and utilize user-generated content, as long as you have permission from the owner. This allows businesses to leverage positive word-of-mouth from influencers and customers while saving the time and effort required to create an ad themselves. Unlike regular In-Feed Ads, the engagement generated by Spark Ads is attributed back to the original post, which extends the reach of your content and gives your channel's engagement metrics a lift.
We decided to test two Spark Ads with different objectives. Our first ad focused on community interactions, aiming to drive more users to our profile. The objective for our second ad was exclusively focused on obtaining video views. Both ads ran for three days across a wide audience, including men and women of different ages and regions.
Ad 1 – Video Views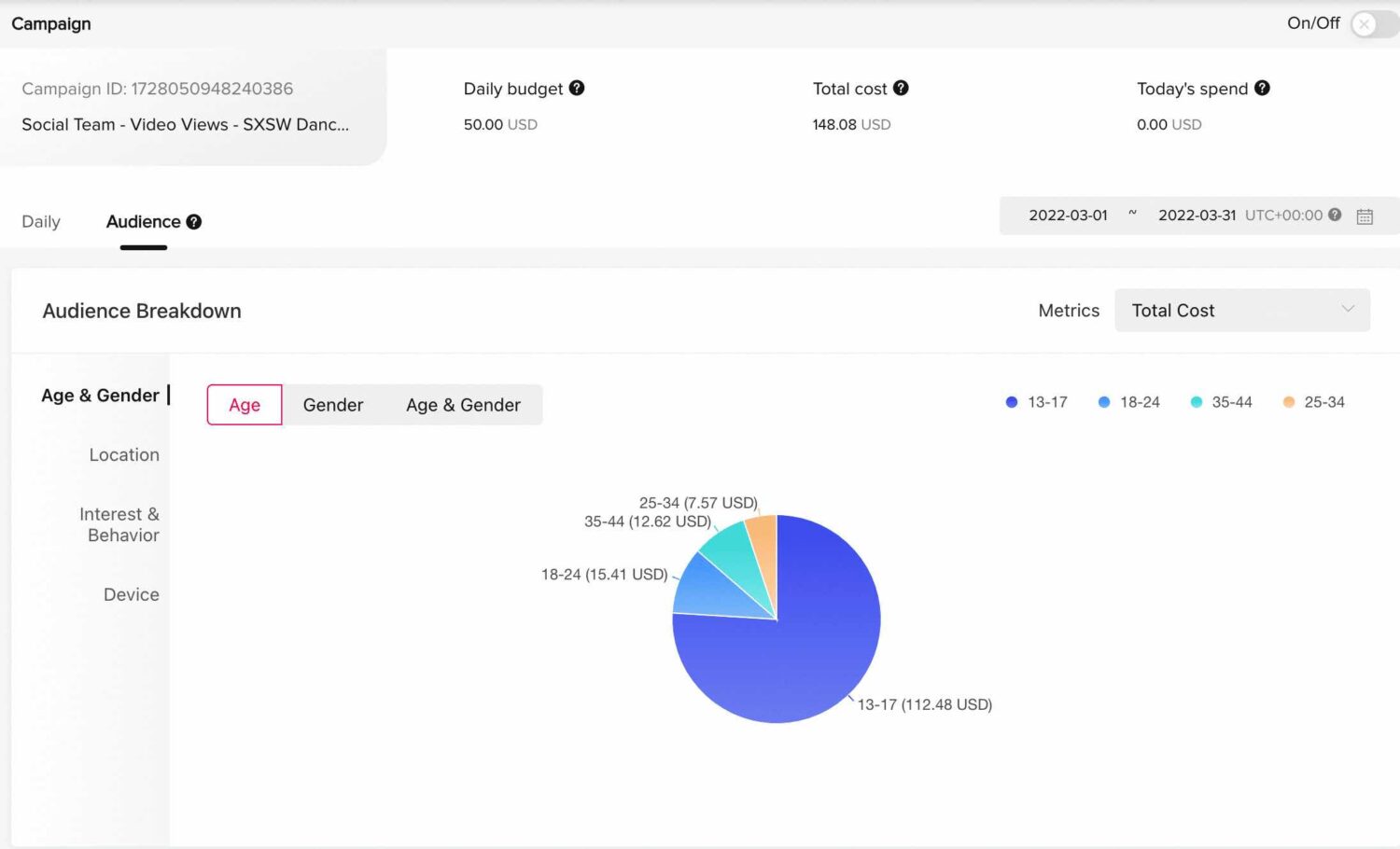 Ad 2 – Community Interactions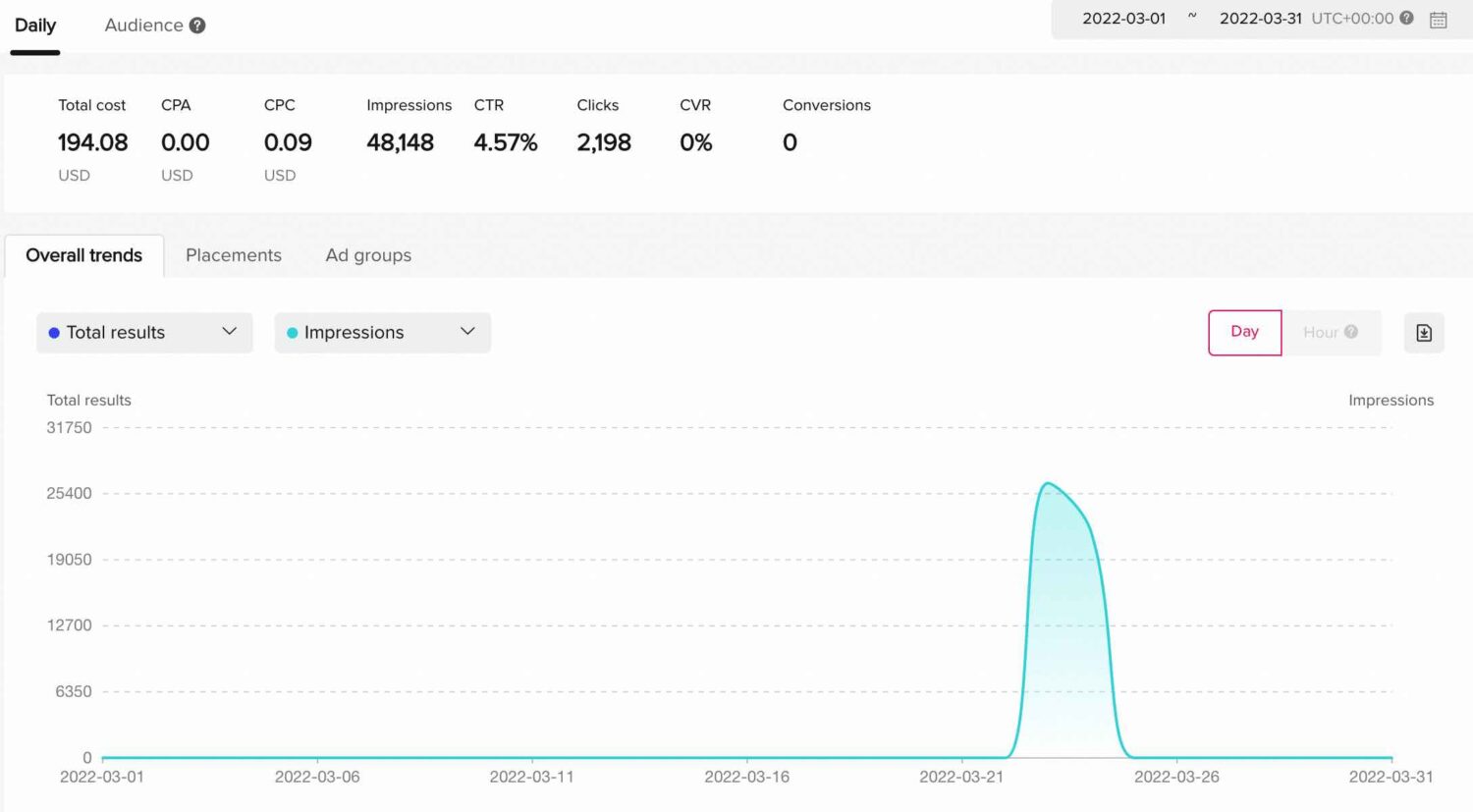 Here's what we found.
Key Results
After we ran both paid campaigns, we analyzed the results to measure the impact and performance of our investment. TL;DR — we saw solid results from both campaigns.
Here's a breakdown of how the two campaigns performed: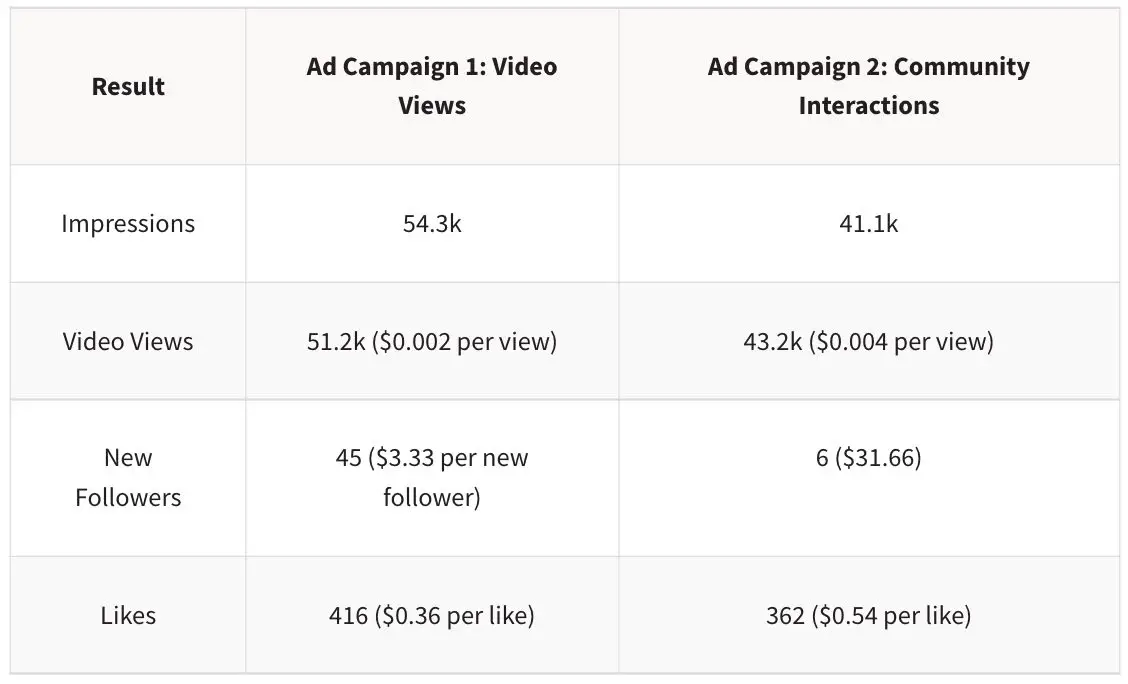 We ran two separate ads at two different times, with different ad spends. In our first ad campaign, the goal was to drive users to our profile. We received 2,198 profile visits over the course of the campaign, with a click-through rate (CTR) of 4.57% and cost-per-click (CPC) of $0.09. This demonstrates that the campaign was a success as, in comparison, the average CPC for Facebook Ads is $0.50. The majority of our ad spend went towards users aged 18-24, who yielded the most clicks.
In our second ad campaign, the majority of our ad budget was spent on users aged 13-17 who delivered the most impressions and the lowest CPC across the metrics we tracked. In terms of time spent on our ad, users watched our video for 7.65 seconds on average. Our ad performed equally well among women and men, and we had the most impressions from users in Canada, the UK, and the USA.
Key Learnings
One of the most important factors to consider when creating a TikTok video that you're looking to promote is to make sure that the content is: relatable, aspirational, inspirational or informative. At the end of the day, it's critical that you always create content that will resonate with your audience and feels authentic, genuine, or educational.
1. Be Smart With Your Spend
One of the key learnings from this experiment was that while we made a smaller investment in our Spark ads, we were very pleased with the positive outcome. TikTok Spark Ads don't seem to favour a larger budget; you could spend as little as $15-$20 a day on your ads and garner some great engagement.  This creates a fair playing ground for all businesses — from SMBs to get started to large enterprises.
TikTok Spark Ads are great for businesses who are new to boosted content and unsure of their required ad budget because the ads allow you to give your best-performing organic content a boost – without a significant investment. This is one of the most reliable ad strategies since you've already tested the content with your current audience.
2.  Test & Iterate
As a social marketer, I've found that the secret to any successful social campaign is to implement a test and learn process into your strategy. Ad campaigns rarely hit the sweet spot the first time around, so don't be afraid to try different approaches, tweak your audience and figure out what works best for your type of content.
As Michelle mentions, testing shorter campaigns with different content and target audiences is a great strategy to see what drives the strongest results. With each iteration, your ad strategy improves. You can also test different objectives; in our example, we changed our KPIs from video views to community interactions to see what translated best to our overall business goals.
3.  Find your Subculture
As a platform that promotes creativity and self-expression, TikTok makes it easy for users to find the people and communities that resonate with them. In our TikTok Culture Guide, you'll find that many TikTok users follow various subcultures. These communities and subcultures are usually built around shared interests, aesthetics, or lifestyles. More importantly, members of these subcultures also share the same core values and uphold the same causes.
Each subculture is different, and the algorithm favours quality content. The content itself of any TikTok ad is still a major player. Get familiar with the different subcultures that exist on TikTok—it will help you set better parameters for the audience you wish to reach.  I encourage you to change up your strategy once in a while—don't rinse and repeat the same setup for your ads.
In summary, it's important to understand who your audience is when trying out Spark Ads on TikTok. Like all paid campaigns, regardless of the budget you're putting behind boosted posts, the content and target audience are still critical to the success of the post or campaign.
While Spark Ads can boost your content and guarantee that people will see your post, this strategy does not necessarily mean that users will like it or engage with it. I encourage you to continue to test and iterate your ad strategy and take the time to curate engaging and authentic content that your audience will relate to and want to share.
You can also check out our Hootsuite blog to read up on some of our other experiments, learn more about digital strategy and keep up with notable industry news.
Amanda Wood
manages the brilliant Social Marketing team at
Hootsuite
. With over seven years of experience in social marketing, she's been at the forefront of driving brands to adopt a social-first mindset. Amanda is responsible for setting the organic and social boosting global social strategy and oversees publishing and engagement on all brand social channels.
---
You might also like
---
More from TikTok
--- TIkTok is pulling the plug on TikTok Now, its BeReal clone, a little over nine month after it was first …