How Do Link Stickers In Instagram Stories Affect Engagement? Hootsuite's Senior Social Marketing Manager, Amanda Wood, and her team seek the answer.
When was the last time you saw a swipe-up prompt in Instagram Stories? If you haven't already heard, Instagram recently released link stickers to its users. For many brands looking for an alternative to "swipe ups" and "link in bio," this has been a sought-after feature for creators to share links easily with followers.
With that said, there have been complaints about the feature, with some saying that the stickers are negatively affecting engagement.
We decided to put this to the test. We worked with our awesome partner Stacey McLachlan to conduct this month's social media experiment around the impact of adding links to Instagram stories on Instagram engagement rates.
Let's get to it!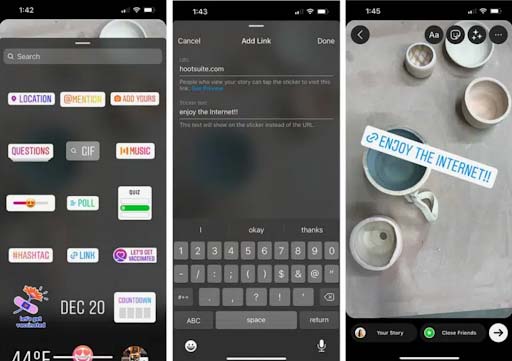 The Experiment

When we hear about engagement dropping from the URL stickers on Stories, it makes sense since users are prompted to leave the platform into a website instead of liking, reacting, or sharing the Story. Therefore, we hypothesized that including URL stickers would decrease engagement on Instagram Story performance.
In terms of methodology, Stacy experimented with the feature on her personal Instagram account over the past few months. She posted some Stories with URL stickers and some without.
She compared the top 20 posts for replies, reach, shares and saw what percentage included links and what percentage did not. While some Stories with link stickers did make the cut in her top 20 most-replied, most-shared, and highest-reach Stories, the vast majority of "most engaging Stories" were the Stories without the URL link stickers.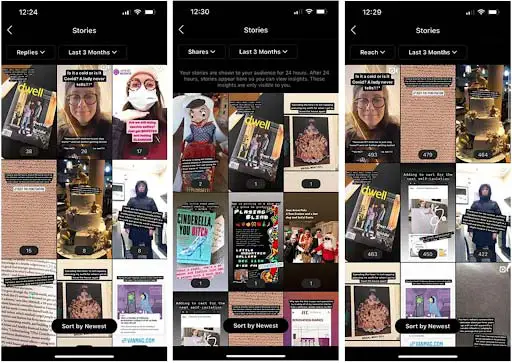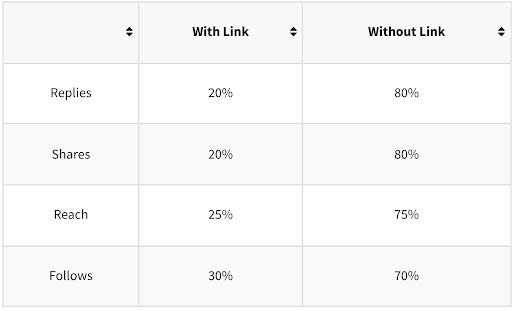 Key Learnings

As hypothesized, Instagram URL stickers produced a lower engagement rate overall. This makes sense since you are directing your followers off the platform instead of encouraging them to engage with your Story.
As a Social Media Manager, it's important for me to define the goals of our stories. If click-through rates that are tracked through UTMs are what we want to direct traffic to our website, then that is what we shall have.
It's critical to remember that not all posts need to have high engagement with shares, reactions, etc. It's all based on what your objectives are. There's no reason to shy away from link stickers unless the only thing you track is engagement.
So, that prods the question: if you are trying to get high engagement on your stories, how can you do this? Here are a few tips:
Try the question sticker
Asking a question to your audience is a great way to encourage engagement, spark conversation, and solicit advice and suggestions from your followers. It helps you learn more about your audience and can be a fantastic indicator of the content you want to produce going forward. Questions prod a two-way conversation and help increase engagement—it's a win-win situation.
Stream on Instagram Live
Live videos have become very popular. We found that 82% of people would rather see a livestream than a standard post. Stacey sums up the highlights perfectly: "Users can engage intensely by commenting in the chat or sending hearts, and you can review specific Instagram Live insights after the fact." You can also take snippets of your live stream or repost it as a video at a later time!
Leverage Instagram Story polls
Who doesn't love quizzes? There's a reason why Buzzfeed's quizzes have become so popular. People innately want to share their opinions and see the final results, which the Instagram Story polls feature provides. These polls can be anything—it can be an ask about any given topic or a way for you to get a pulse on sentiment about something. It's a fantastic way to add a pause to clicking through and gives your viewers a second to interact with your content.

That's just the tip of the iceberg. If you want our take on cultivating an engaging Instagram presence, check out our complete guide to building Instagram engagement and our ideas for creative Instagram Stories.
At Hootsuite, we also publish quarterly Digital Reports that include great in-depth data on different audiences and their internet/social media usage habits.
We hope these insights are helpful as you compose your own Instagram Stories! You can also check out our Hootsuite blog to read up on some of our other experiments, learn more about digital strategy and keep up with notable industry news!
Amanda Wood
manages the brilliant Social Marketing team at
Hootsuite
. With over seven years of experience in social marketing, she's been at the forefront of driving brands to adopt a social-first mindset. Amanda is responsible for setting the organic and social boosting global social strategy and oversees publishing and engagement on all brand social channels.
---
You might also like
---
More from Experts Talk
---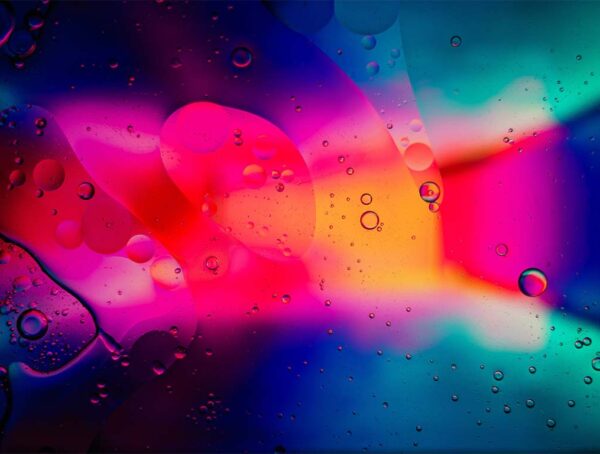 In this month's experiment, we set out to find out whether adding custom alt text on Instagram posts improves reach.