Instagram Stories have turned into Snapchat's nemesis, copying and releasing new features all the time, stamping on its features, and eventually, its user base. However, the latest punch was thrown by L2, which published troubling research on Snapchat's adoption rate by brands. 
According to L2's report, during New York Fashion Week, Instagram Stories overtook Snapchat and did so in a spectacular manner. More precisely, L2 tracked 54 brands and 1,377 posts across both platforms, and found out that during the fall of 2016, Instagram Stories and Snapchat were competing in terms of brand adoption. However, things shifted dramatically during the spring of 2017, with Instagram scoring 74% in brand adoption – leaving Snapchat reeling at 32%.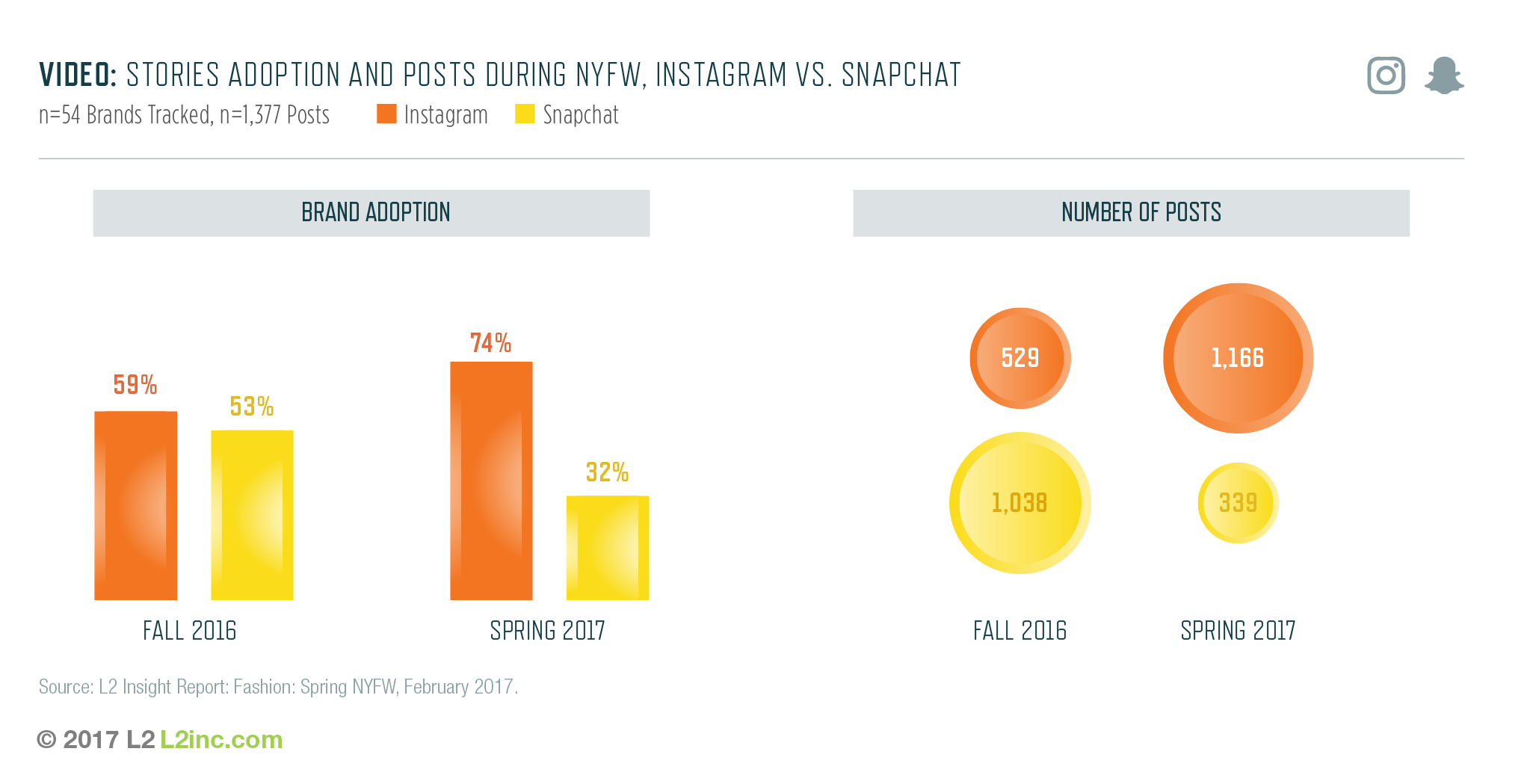 What's more interesting though, is the amount of content that brands shared on each medium. While Snapchat clearly had the lead during the fall of 2016, it shrank so much during the spring of 2017 that Instagram Stories had an ample win.
To put it all in context, it's helpful to see the following graph. According to the graph, fashion made up 8% of Snapchat's total content at the beginning of 2016, while October 2016 saw it dropping 5%. Given the fact that brands started abandoning the platform during the spring of 2017, it would be safe to assume that fashion brands, or at least NYFW-related ones, are quickly turning their heads towards Instagram's direction.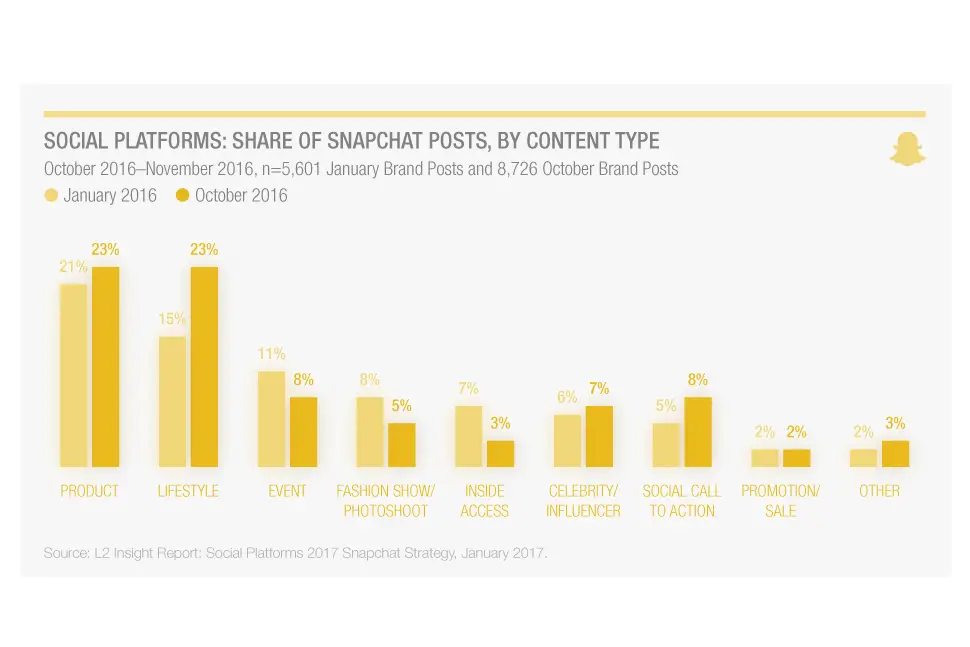 Is it the lack of clear and concise analytics? Is it the fact that Snapchat caters to would-be consumers and not their established niche? One could possibly assert that luxury brands have tried, but haven't seen the benefit of using Snapchat, or that the medium's raw content is a far cry from over-curated and airbrushed fashion photoshoots.
Then why turn to Instagram stories, that are just as unfiltered? We could see two main reasons leading to this.
First, Instagram Stories go hand-in-hand with Instagram – the platform. Stories allow for content to be published in retrospect, however, it's the pairing with Instagram, the highly visual app, that allows users to go back to ultra-curated feeds, when they've had enough of "real" content.
So, it's product maturity. Instagram Stories belongs to the "tried and tested" broader Facebook family, offering unparalleled audience granularity, and allowing advertisers to target exactly who they need to be talking to. This is a service that Snapchat has failed (or greatly delayed) to provide.
Sure, not all is lost. Snapchat has been keeping us on our toes with its self-serve ad platform, which offers targeting capabilities and somewhat robust analytics. It has also recently launched the ability to link to websites and microsites, a feature that can prove invaluable, especially in the case of influencers.
Are these enough to put Snapchat back on track? Maybe yes, maybe no. Although history shows that once a power user drops off, it's usually for good. And when it comes to luxury brands, which have an abundance of advertising budget to dispense, it's not only user base reduction, but also vital revenue shrinkage.
Images courtesy of L2inc.com
---
You might also like
---
More from Instagram
---
Images leaked by app researcher Alessandra Paluzzi show that Instagram is working on an AI chatbot. According to the images shared …