There is no doubt many of you know LinkedIn offers premium memberships. There is also little chance most of you actually registered for one. Why? Because up to now, there was little advantage of doing so, for the regular user at least.
Well LinkedIn is trying to change this. Starting today, a bunch of new features will help Premium users stand out on LinkedIn. That, and a new premium membership called Premium Spotlight that will cost only $9.99 a month.
LinkedIn got the message. It's not that people were not willing to pay for more on LinkedIn, it's that they did not understand how this would actually give them more. Today, LinkedIn rolled out an update that finally gives some good reasons to go Premium.
1. Stand Out With An Enhanced LinkedIn Profile
Now, Premium users will be able to customize their profile visually to make it unique and help it stand out. Premium users now get a larger profile pic and expanded profile header. Moreover, they get early access to a new custom profile cover image.
It comes with an exclusive gallery of beautiful images, but I really suggest you upload your own to stand out even more.
This new feature will be available to all users, but not before a few months. If you would like to request to be one of the first to get it, click here.
2. Get Help To Optimize Your LinkedIn Profile
It can be sometimes difficult to know what to put (or not put) on your LinkedIn profile. Well now you will get some personalized suggestions to help you get the right keyword in your profile and increase your chances to be found in search.
3. Stand Out In Search Results
This is probably the best reason to go Premium on LinkedIn. There are millions and millions of professionals on LinkedIn, so as they say themselves, "a little competitive edge can go a long way" to help you be found.
Premium users profiles will now look twice as big as other profiles in search results and offer more tidbits from your profile to help people spot you better when searching for partners or candidates.
Finally, LinkedIn also took into account the cost of going premium and will now offer a new starter membership, called Premium Spotlight, which will give access to these new features for a $9.99 per month. For info, the previous cheapest membership would have cost you $29,99 per month (Job Seeker). Check out Linkedin Premium offerings here.
Related Stories:
You might also like
---
More from LinkedIn
---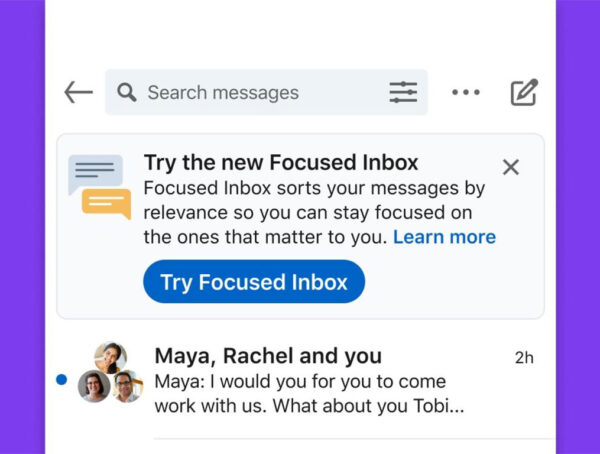 With Focused Inbox, LinkedIn wants to help you engage in the conversations that matter most. LinkedIn is rolling out a new …