Do you know how to avoid negative brand associations when you use Facebook Ads and Google Ads? Here are the tools that help you protect your brand.
Tech giants like Facebook and Google have been steadily positioning automation and machine learning at the centre of their advertising solutions; and justifiably so, as automation has thus far proven very beneficial to advertisers in many ways.
However, incidents, where automation has led to unwelcome results, have been documented on several occasions. What happens when an ad appears on a website which contradicts a brand's values as a result of automation? That website might make perfect sense from an advertising perspective, but at the same time might sacrifice brand equity.
Luckily, both Facebook and Google offer options which you can implement to ensure that your advertising campaign does not leave your brand exposed. Let's look at various steps you can take to protect your reputation.
Facebook
Facebook's advertising solutions are not limited to Facebook. When advertisers follow Facebook's advice to have their ads displayed automatically, they consequently – and perhaps unknowingly – agree to use Facebook's Audience Network, a network of publisher-owned apps and sites that collaborate with Facebook. The problem is that Audience Network consists of thousands of websites and apps, and chances are that not all of them reflect your brand values.
The good news is that Facebook gives you the opportunity to exclude publishers and content.
You can do that either by applying block lists (blacklists of publishers/apps) or by excluding categories of content.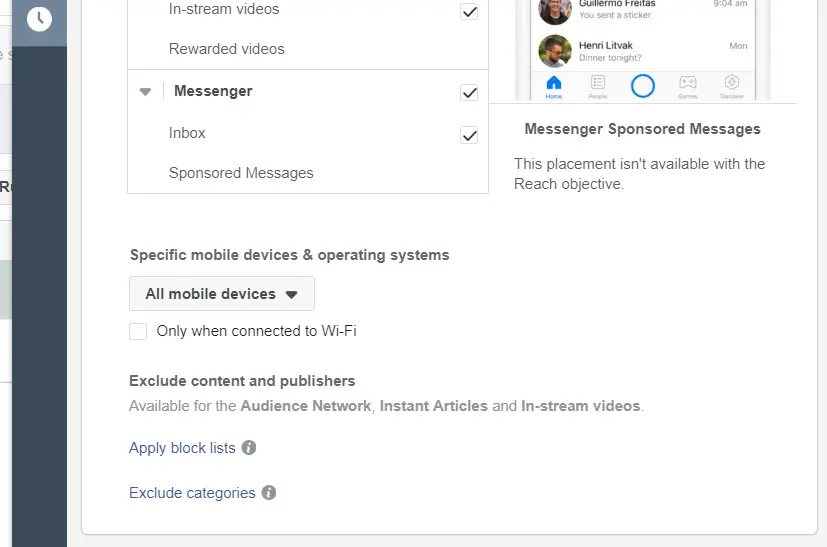 Block lists: On Facebook, you can block publishers of Instant Articles and In-Stream Videos. In the Audience Network, you can block specific websites and apps. If you have a Business Manager with multiple ad accounts you can connect a Block list with several ad accounts.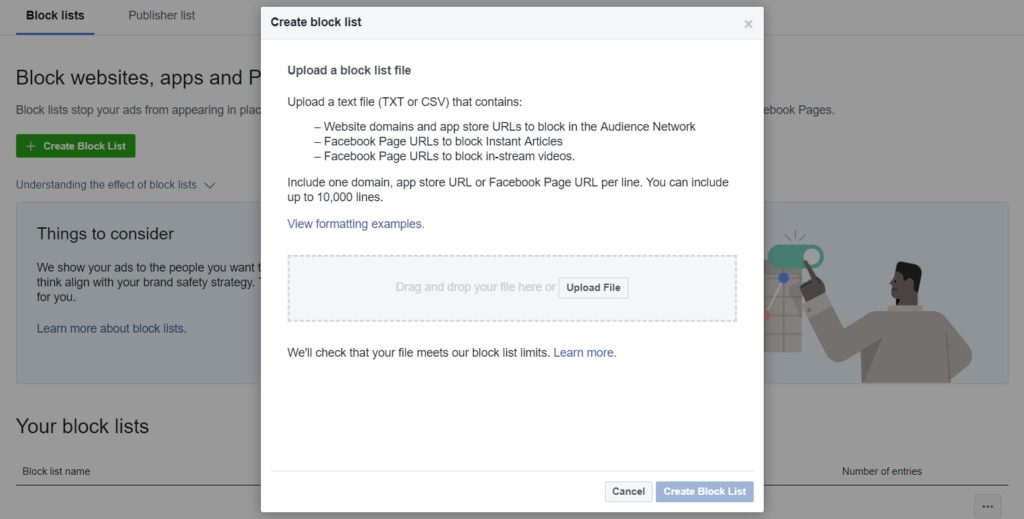 To see where your ads can appear, and to evaluate whether you accept your ads to be associated with certain publishers, you can download a "Publisher list." When you download a Publisher List you will see Audience Network publishers, In-Stream Videos and Instant Articles where your ads could potentially appear.
Recently, Facebook also announced Publisher Delivery reports, which advertisers can download to see where their ads appeared. This is another essential tool for brand safety.
Block lists and publisher lists can be found in Business Manager -> Assets -> Block lists

Exclude categories: Category exclusion prevents your ad from showing in selected content categories. The categories are similar to those of YouTube (see below) and certain exclusions only apply for the Audience Network.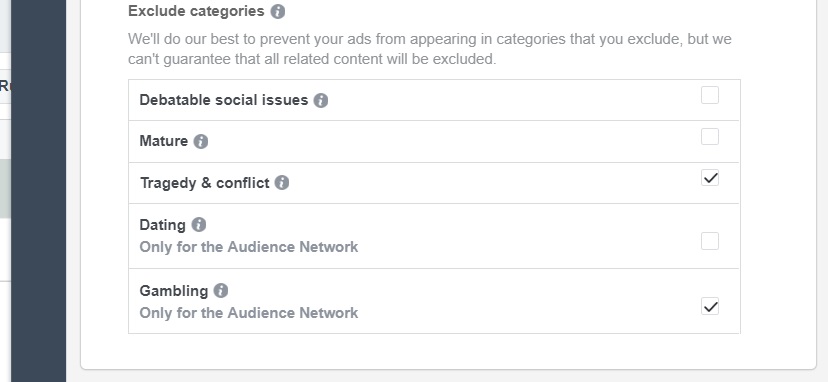 Of course, you still always have control over which placements your ads will be displayed in. You can choose to use only "safe" placements like Instagram or Facebook Stories, which take up the entire screen and protect you from unpleasant contextual connotations.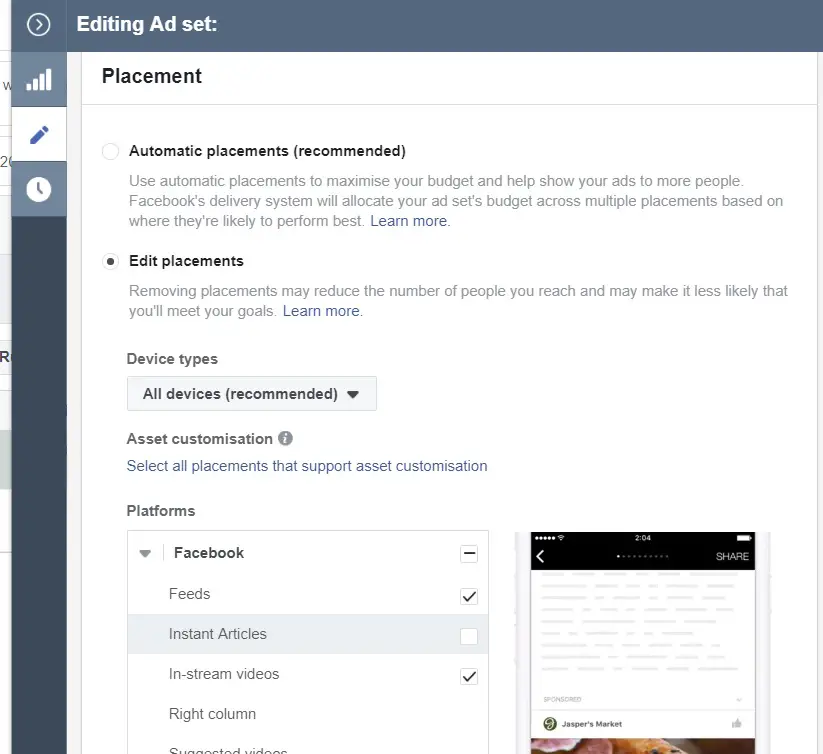 Google
Google offers several brand safety options as well, so if you can't afford solutions like Google Preferred, take notes.
One of the most efficient brand safety solutions you can adopt is to only use managed placements for your YouTube/Display campaigns. This way, you have manual control of websites and YouTube channels/videos which your ad can be associated with. That, however, defeats the purpose of using a network that can employ millions of potential placements.
That's why the exclusion of placements/content categories is more realistic.
As you'd expect, you can exclude websites, YouTube channels/videos, apps, and categories, at an account level. To do that, log into your account, go to placements, select "add placement exclusion" and "exclude from account" to exclude the desired placements.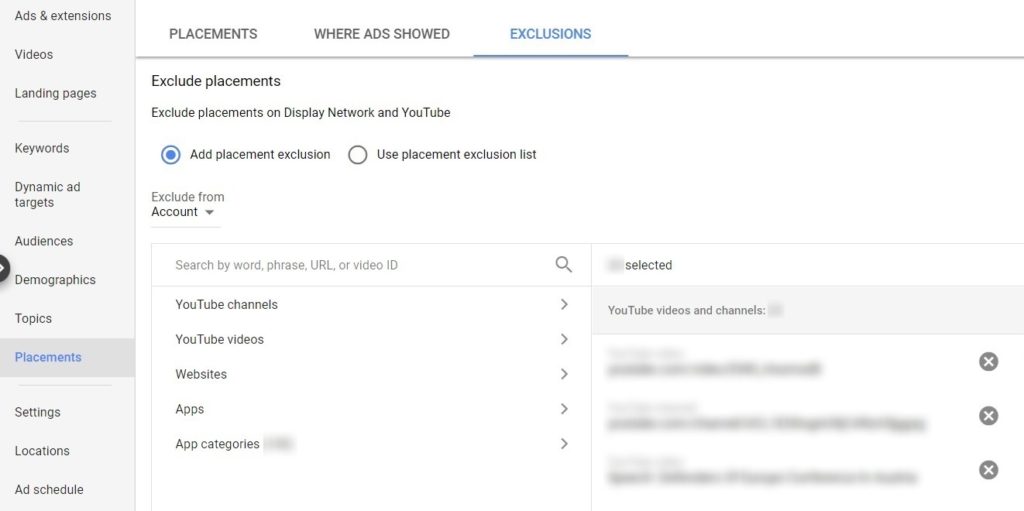 You can also use entire exclusion lists you have uploaded. To upload one, you have to go to Tools -> Shared library -> Placement exclusion list.
Knowing beforehand all the placements you don't want your ad showing is highly unlikely if you aren't part of a large organization with global "blacklists." That's why knowing how to control ad delivery based on content rather than website names is a lot more useful.
To set up content exclusion at the account level, log into your Google Ads account, click on "All Campaigns" and "Settings." Then choose "Account Settings." From there you can control:
• Inventory type for YouTube campaigns: This option allows you to choose a group of content categorized by Google to show your ads in. If brand safety is your primary concern, you should choose "limited inventory," whereas if you are more relaxed you can choose "standard" or even "expanded" inventory.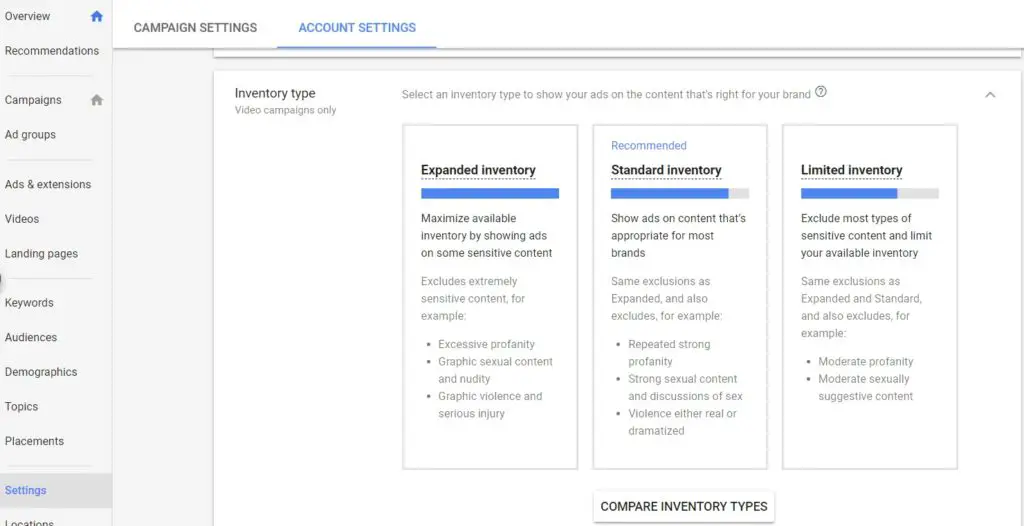 • Excluded content: By using this option you can specifically select the type of content you don't want your ad to be associated with. For example, you may be lenient with profanity, but you definitely don't want to allude to social issues. This is the place to do that.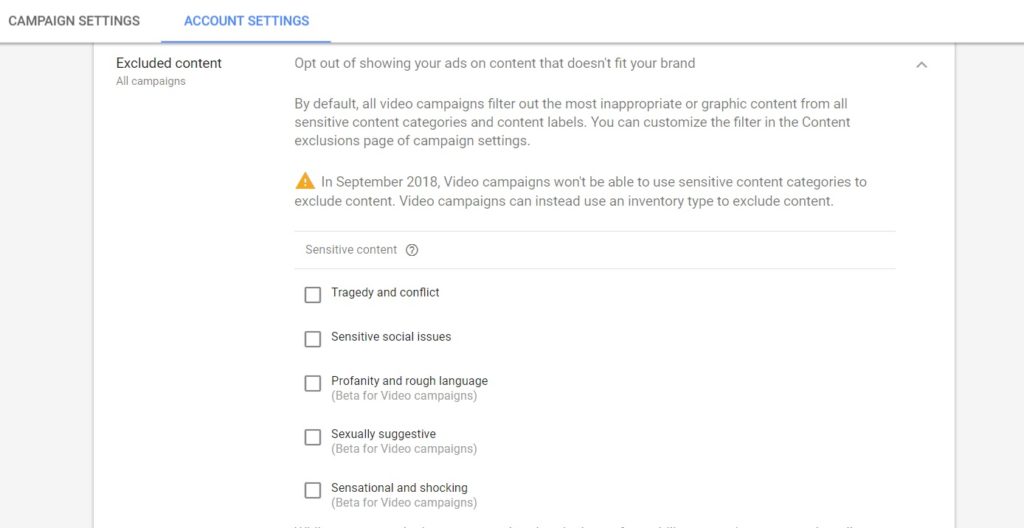 • Excluded types: Here you can exclude content based on maturity level, and content categories. For example, if you perform many display campaigns, and care about viewability, you should exclude "below the fold" placements (meaning that a user has to scroll down to view your ad).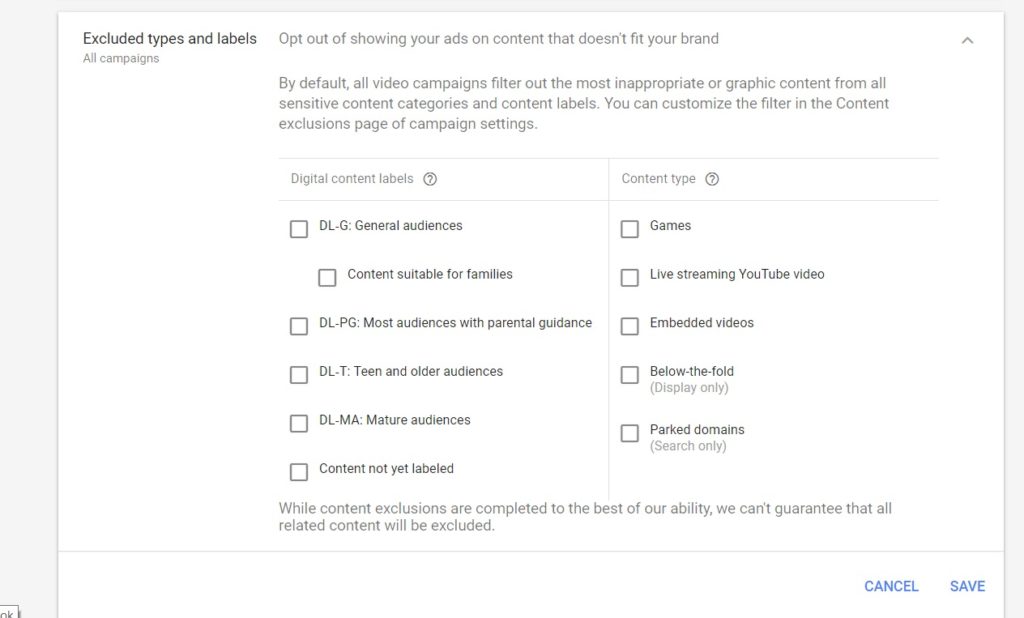 The options above don't mean that you're done. If you're serious above brand safety you should run reports of where your ad has appeared, and exclude unwanted placements. If you're running a YouTube campaign, for example, you can see videos your ad was shown on. Even if you can't assess every single one, find those that had the most impressions, and decide if you want to keep your ad being associated with them.
The same goes for when you're using Google Search ads, and especially if you're using dynamic search ads. Look at the search queries that triggered clicks on your ad, and set those you don't want to be associated with as negative keywords.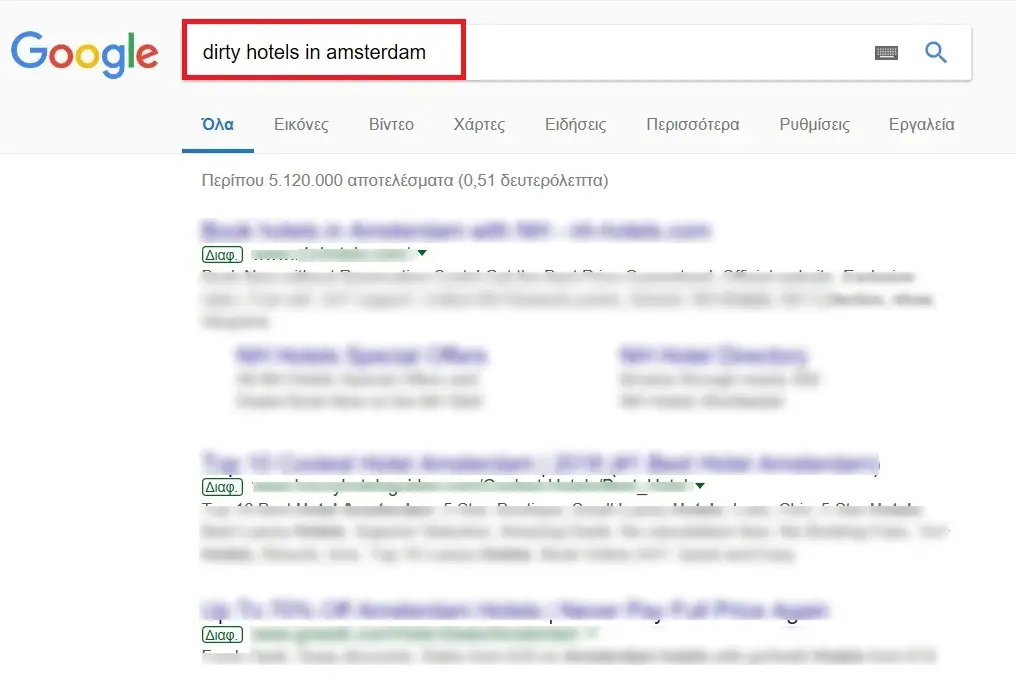 Would you like to share the measures you take to protect your brand's image from undesirable associations? What other brand safety features would you like to see from Google and Facebook? Let us know in the comments below.
Chris Palamidis
 is Head of Social Media & Google Advertising for Mindshare Greece. His main area of focus is digital media strategy. Chris has worked with tens of multinational clients and has helped them implement innovative digital media campaigns to reach their business goals.
Read next: Facebook Launches Creator Studio To Help Creators Manage Their Pages And Content
---
You might also like
---
More from Experts Talk
---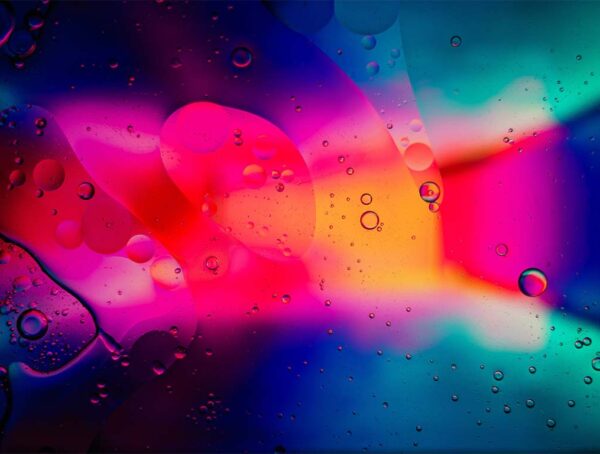 In this month's experiment, we set out to find out whether adding custom alt text on Instagram posts improves reach.