Pinterest has announced the launch of a new AR feature that lets you try on makeup before saving it for later or buying it from a retailer's website.
We've said it many times before, and we're sure you're aware of it: Pinterest is a place where millions of people come to find inspiration. Many of them come to Pinterest for beauty inspiration and advice using tools like skin tone ranges, shoppable Pins, or visual style recommendations. Pinterest is now going one step further and building AR into the process.
The result is a new "Try On" feature, powered by Lens, that went live this week in the Pinterest mobile app. It lets users try on different lipstick shades depending on their skin tone, and swipe up to shop from retailers or save for later.
Try On is available in the Pinterest camera in search, and features lipstick shades from brands like Estée Lauder, Sephora, bareMinerals, Neutrogena, and L'Oreal brands NYX Professional Makeup, YSL Beauté, Lancôme, and Urban Decay. A special "try on" button will also appear on some products, as well as in search with related terms like "matte lipstick" or "red lips".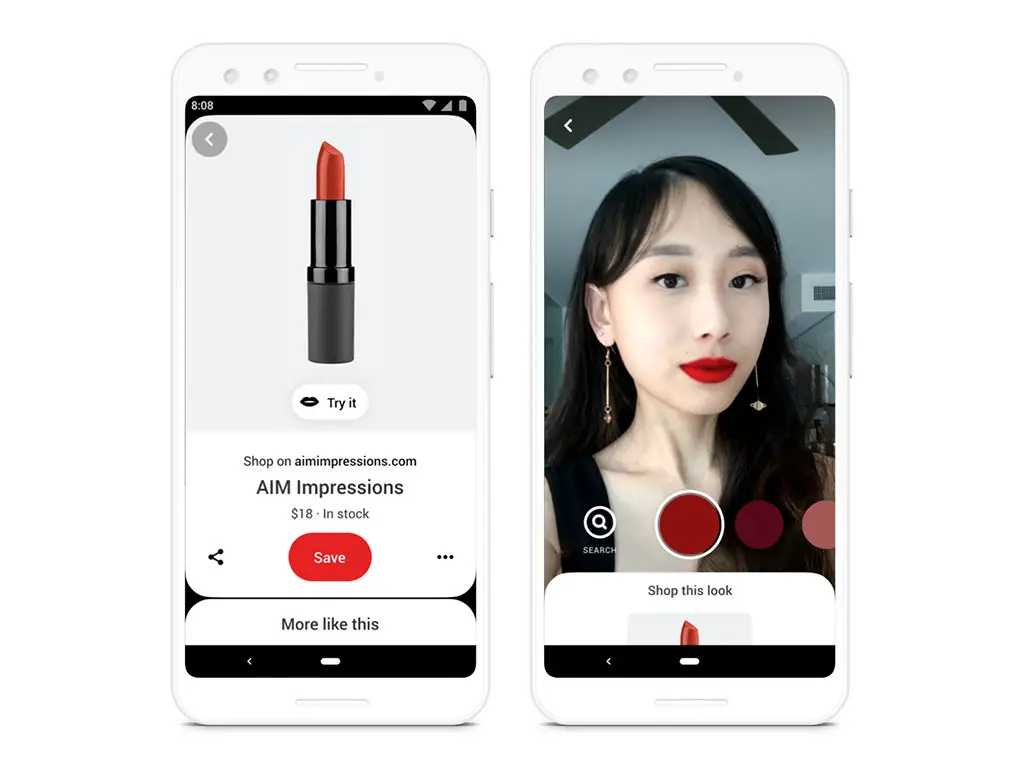 Pinterest has integrated Try On with its skin tone range feature, so people can see similar lip shades on skin tones that match their own. Try On offers users a more realistic picture of the person trying it as it doesn't feature skin smoothing or image altering effects. As Pinterest explained in a recent blog post, "we believe in celebrating you, and so our AR won't be augmenting your reality, but rather helping you to make happy and real purchases for your life."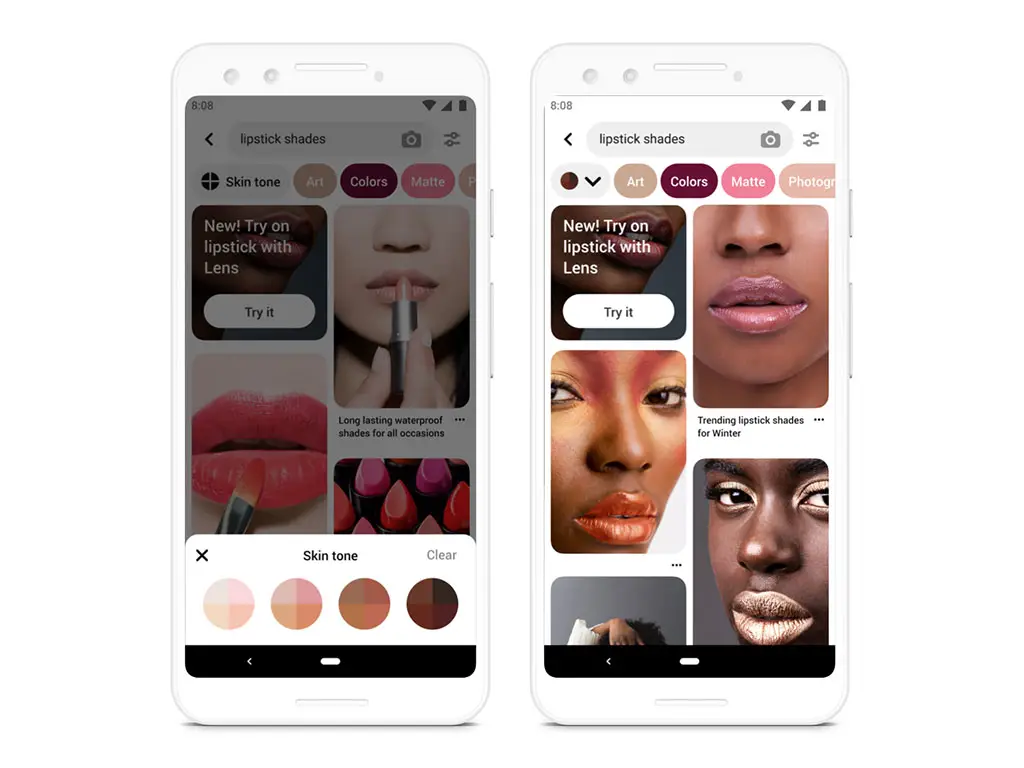 Users can also take photos of themselves trying on the different lip shades, and save them as Pins to come back to later and shop.
If they want to explore different looks but with similar lip shades, there is also a "more like this" link below Try On that lets them see Pins with related looks. The feature also lets them try on similar shades as someone seen in a Pin by clicking "see similar looks."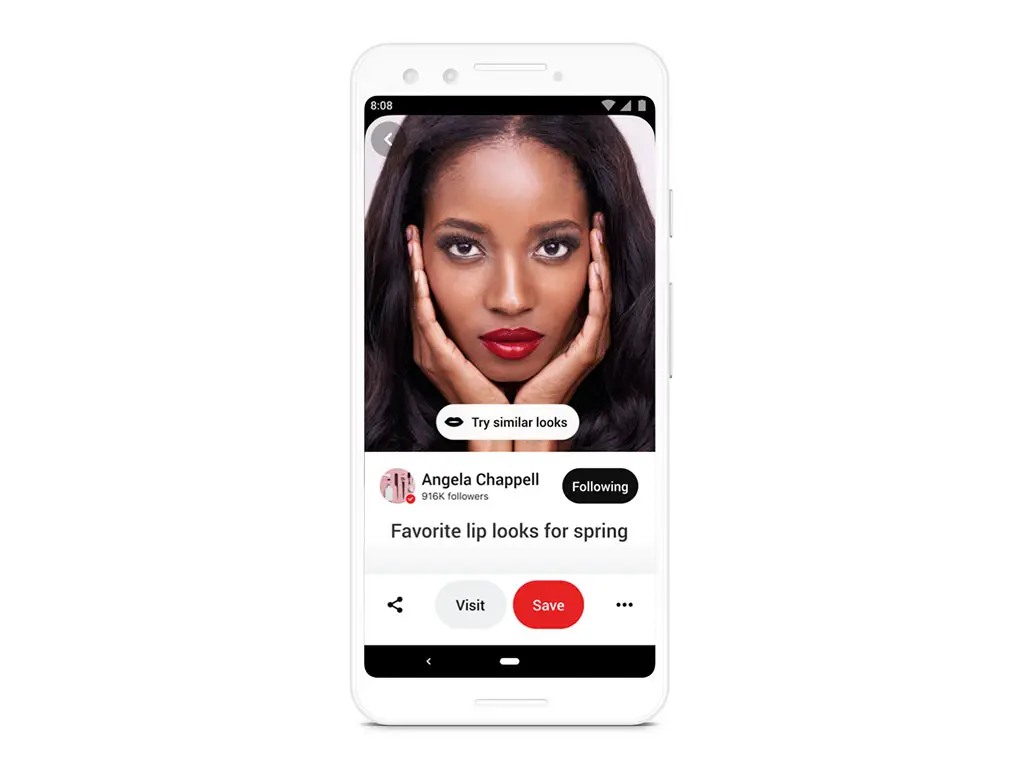 Try On for lipstick is currently rolling out to Pinners in the U.S. on iOS and Android, but more AR categories will be coming soon. Brands that want to find out more about the feature and how they might take advantage of it can fill out this form.
---
You might also like
---
More from Pinterest
---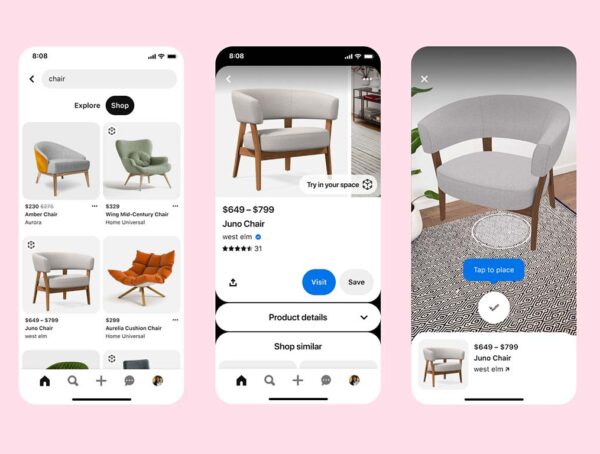 Pinterest is releasing a new AR Lens that lets users see how furniture would look in their homes before buying …