Pinterest is looking to further expand its video tools by acquiring the video creation and editing app, Vochi.
The acquisition of Vochi is part of Pinterest's commitment to helping creators create more quality video content on its platform and its "video first" shift.
The acquisition, announced earlier this week, means that Vochi's IP and its team of 40 people, including its founders, will now exist under the Pinterest banner and continue to develop video editing and AR effects technology for Pinterest.
The Belarus-based video editing app will expand Pinterest's video editing tools and allow creators to make more dynamic and engaging videos to express their inspiring stories better.
"Our vision is to create a place where Pinners can go from inspiration to realization, and having more creator tools can help us further this vision," said Bin Liu, Head of Creators Engineering at Pinterest. "We're excited to work with Vochi's talented team to bring more video creation tools and quality content to our more than 400 million Pinners around the world."
The move is aligned with Pinterest's move to take the platform from a static collection of inspiring pictures to a dynamic environment reigned by video.
For the past year, Pinterest has expanded its set of tools and features aimed at empowering creative expression in a video format, from introducing Idea Pins to collect and present creator's inspirations in an editable video-first space to launching the TikTok-like "Watch" tab, "Pinterest TV," and "Creator Originals" series.
Furthermore, to incentivize the shift in format, the platform has also introduced new ways for creators to monetize their videos, to more easily partner with brands, and create live streaming social shopping experiences.
In addition to offering more traditional editing tools, such as filters, Vochi uses AR to apply various motion, clone, and glitch effects, to isolated objects within a video or picture. It can also add animated objects to videos, like a burst of butterflies or neon shapes and much more.
Vochi will remain a standalone app for the time being and will not be removed from the app store. Pinterest has not revealed how it is planning to integrate Vochi's technology into its platform at present.
---
You might also like
---
More from Pinterest
---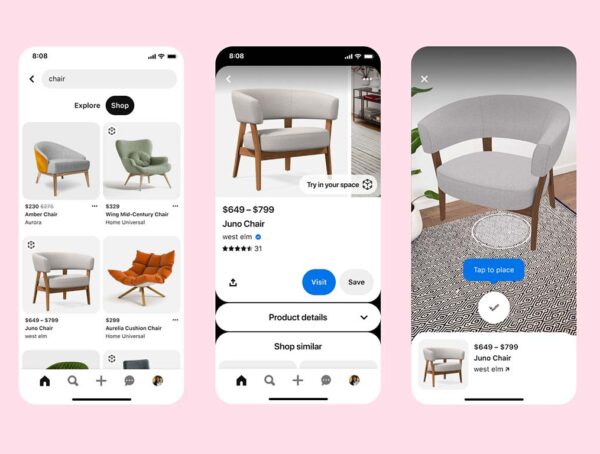 Pinterest is releasing a new AR Lens that lets users see how furniture would look in their homes before buying …