Pinterest has announced TwoTwenty, an experimental product team and in-house incubator responsible for ideas from anyone in the company.
Earlier this week, Pinterest announced the launch of "TwoTwenty," its in-house experimental products team named after the postal address of the first Pinterest office.
TwoTwenty is an incubator team made up of engineers, designers, and content and product experts aimed at rapidly testing and launching new ideas, such as Pinterest TV.
Pinterest involves anyone in the company to express their ideas via Makeathons and submit them via a dedicated portal called Idea Factory. TwoTwenty then incubates the suggested ideas, researching, prototyping, and testing them to identify features with traction.
Ideas that successfully come out of this experimentation phase are then put into production at scale and handed off to other Pinterest teams.
"With TwoTwenty, we prioritize a collaborative approach and accelerate ideas from employees around the company," explains David Temple, Product Lead for Team TwoTwenty. "With the resources of an established brand, we're able to explore and invest in new solutions to help people find inspiration to live a life they love."
Previous work from TwoTwenty includes the recent experimentation with live-streamed creator events, which evolved to include features like rewatching live streams and shopping product recommendations.
These features are now included in today's version of Pinterest TV. For the occasion, the team put together a virtual studio where producers work directly with creators to develop the content and deliver it live on Pinterest.
"TwoTwenty is where rapid innovation happens across disciplines, bringing the latest in technology together with emotional well-being to build products that complement people's lives, rather than consume them," explains Meredith Arthur, Content Lead for TwoTwenty.
Pinterest has also shared that TwoTwenty is looking for new team members. Interested applicants can visit the twotwenty.pinterest.com page to learn more.
---
You might also like
---
More from Pinterest
---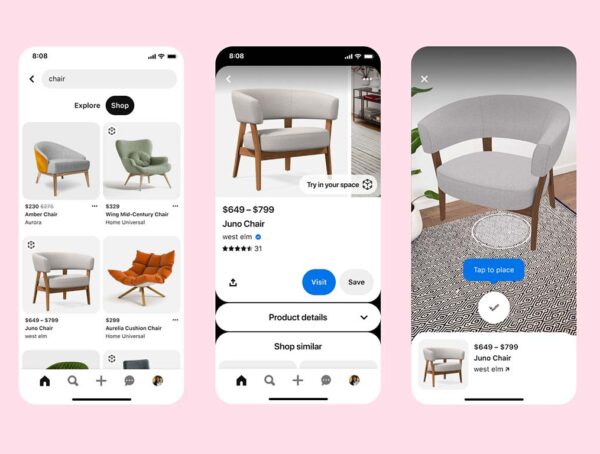 Pinterest is releasing a new AR Lens that lets users see how furniture would look in their homes before buying …