Pinterest has introduced its new Pinterest TV product, featuring new fresh episode series from its top creators every weekday.
Pinterest is increasingly offering engaging, shoppable experiences in more immersive formats as well as actionable entertainment. Now, the inspiration platform wants to gather these experiences under a new content panel called Pinterest TV.
The platform announced the launch of Pinterest TV, which will feature a series of live, original, and shoppable episodes featuring creators from the platform.
Starting on November 8, Pinterest will air new episodes from Monday to Friday at 3 pm PDT / 6 pm EDT in the US – on iOS and Android.
Pinterest TV episodes will be refreshed each weekday with a new episode focused on a different category among food, home, fashion, beauty, and more. After they have gone live, episodes also become available on-demand. In addition, at the end of each working week, products will drop in a live shopping setting where Pinners can take advantage of discounts from brands including All Birds, Crown Affair, Melody Ehsani, Outdoor Voices, Mented, and more.
To watch Pinterest TV, Pinners can click on the new TV icon in the upper left corner of their Pinterest app and view episodes, interact with hosts, ask questions via chat, and get answers live.
Pinterest TV will feature top Pinterest creators like Christian Siriano, American Fashion Designer and Project Runway alum, Director & Screenwriter Monica Suriyage, and Olympic gold medalist in diving and knitting guru Tom Daley, among others.
"I am so excited to be bringing the inspiring ideas on Pinterest to life by hosting my own live series on Pinterest TV. My show is titled Tom Tries… and I will essentially be embarking on an odyssey of trying new things! Each Wednesday, starting November 10 at 3 pm PST, I will be paired up with a different grandma or grandpa who is also an expert crafter/Creator, and we will spend thirty minutes trading crafting secrets!" said Tom Daley Olympic gold medalist.
Along with Pinterest TV, Pinterest is launching a virtual studio where Pinterest producers work directly with each creator to develop unique content, providing "backstage" A/V support and going live with engaging episodes.
Pinterest TV will also provide creators with the opportunity to showcase and tag products that Pinners can shop and purchase on the retailer's site. In addition, hosts will have a shopping toolbox to enable live shopping experiences, including a product drawer with prices and product details, product drops and brand collaborations, a display of how much is left, and a limited-time-offer module to offer discounts.
---
You might also like
---
More from Pinterest
---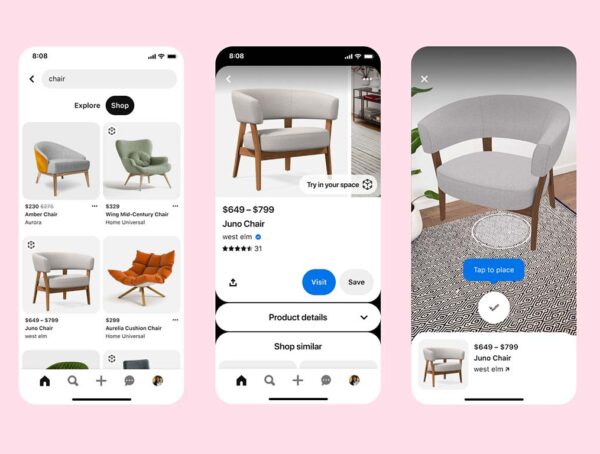 Pinterest is releasing a new AR Lens that lets users see how furniture would look in their homes before buying …