Creators and special guests will headline Pinterest's "Make it here" annual global Creators Festival on October 20. 
Pinterest last week announced that it will host its second annual global Creators Festival later this month. The virtual event, themed "Make it here," will be hosted in countries worldwide, including the US, Canada, UK, Australia, Germany, and France.
The festival will feature internationally recognized talent, top emerging creators, special guests, and Pinterest executives who will announce the company's latest creator products, features, and experiences.
"Pinterest is building a future for creators focused on inspiration over entertainment and reaching audiences in an engaging, positive, and actionable space. This special event represents a new era with creators, and we'll unveil the latest products and features we know they want and need to create meaningful engagement with their communities," said Aya Kanai, head of content and creator partnerships at Pinterest. "What makes the Festival so special is, we're handing creators the microphone to share our new products as well as offer guidance and help other creators be successful on the platform."
The hour-long, live-streamed event will cover topics like growing an inspired audience, launching a brand, creating high-quality content that fosters more meaningful engagement and monetizing content, as well as overcoming creator burnout.
"The Pinterest Creators Festival will explore what it really means to 'make it' as a creator and shine a spotlight on why Pinterest is the best place to do it," said Colleen Stauffer, global head of creator marketing at Pinterest. "We'll dig into why Pinterest is different from any other platform and hear success stories and advice directly from creators who have already 'made it' on the platform."
Apart from being an inspiration platform, Pinterest is also known as the "kindest corner of the internet," where creators have found a space that prioritizes emotional and mental health and offers a kind and inclusive environment to create their content.
During the year, Pinterest has also launched several new products and tools to help creators feel seen and empowered, including an international expansion to the brand's skin tone range and hair pattern search feature, which shows inspiration and ideas similar to the skin tone range or hair type users select; and a ban on all weight loss advertisements, including language and imagery used for the matter, to deter negative body image and commentary; and most recently.
"It's an exciting time for creators on Pinterest," said Kanai. "We've been intentional about listening to their feedback and have created the tools and products that are really going to up-level their content game and bring them even closer to manifesting their inspiration and dreams with an engaged and supportive audience."
To participate in the event, users can register on Pinterest's page dedicated to the October 20 Creators Festival.
---
Featured image: Pinterest
You might also like
---
More from Pinterest
---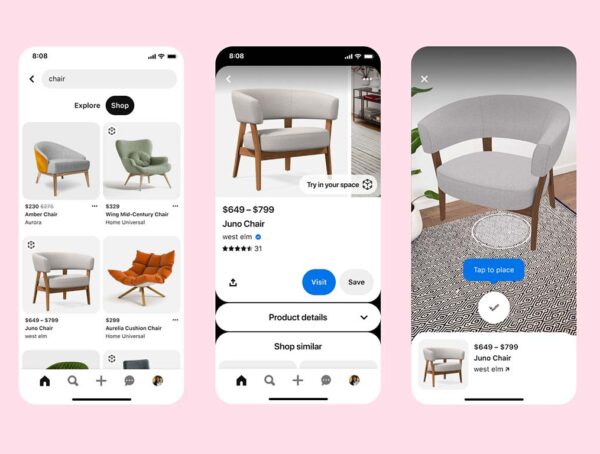 Pinterest is releasing a new AR Lens that lets users see how furniture would look in their homes before buying …