Pinterest has announced an update to its ad policies, prohibiting all ads with weight loss language and imagery.
Many people all around the globe are facing mental health and body image challenges, especially due to the COVID-19 pandemic. Constant lockdowns – and the lifestyle changes that they have wrought – have caused a sharp rise in unhealthy eating habits and eating disorders.
As people emerge from this situation, it's become clear that they need support and positivity, especially when it comes to their body image.
As part of its efforts to remain a place for inspiration and positivity where everyone – regardless of their body shape or size – is accepted as they are, Pinterest is updating its ad policies to prohibit all ads with weight loss language and imagery.
This change is making Pinterest "the only major platform to prohibit all weight loss ads," yet it's only "an expansion of [existing] ad policies that have long prohibited body shaming and dangerous weight loss products or claims."
Pinterest's updated policy will now prohibit:
Any weight loss language or imagery;
Any testimonials regarding weight loss or weight loss products;
Any language or imagery that idealizes or denigrates certain body types;
Referencing Body Mass Index (BMI) or similar indexes; and
Any products that claim weight loss through something worn or applied to the skin
Pinterest has already banned weight loss or appetite suppressant pills, supplements, or other products, before-and-after weight-loss imagery, weight loss procedures like liposuction or fat burning, body shaming (i.e, imagery or language that mocks or discredits certain body types or appearances), and claims about unrealistic cosmetic results.
Any ads that promote healthy lifestyles and habits (or fitness services and products) are allowed, but they shouldn't focus on weight loss.
In addition to the above, Pinterest will be surfacing useful and relevant content for people searching for body neutrality, and prohibiting content "that displays, rationalizes or encourages eating disorders and other types of self-injury."
When Pinners search for keywords related to eating disorders, Pinterest blocks search results and directs them to places where they can find more information and get access to resources to help them.
Furthermore, Pinterest offers several emotional well-being activities that were developed by emotional health experts. These can be accessed within the Pinterest mobile app and website. For example, if someone searches for "#pinterestwellbeing" they'll get to explore gratitude and self-compassion exercises, and other interactive practices to help them improve their mood.
---
You might also like
---
More from Pinterest
---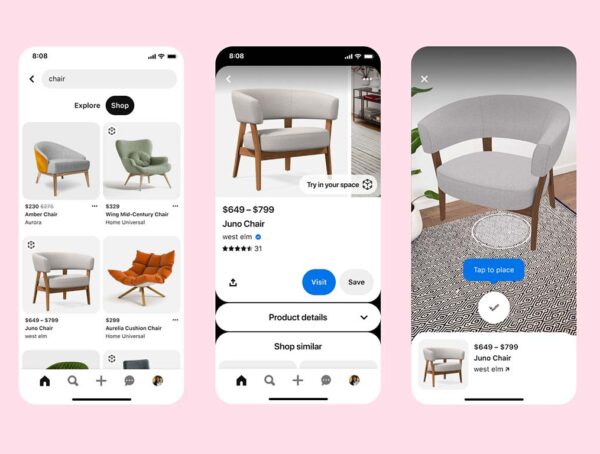 Pinterest is releasing a new AR Lens that lets users see how furniture would look in their homes before buying …