This month, Hootsuite's Senior Manager for Social Marketing, Amanda Wood, and her team test the performance of Instagram Reels versus TikToks.
As part of our collaboration with We are Social Media, we are excited to bring you another round of insights and learnings from the social media experiments we run each month! These experiments help our team further understand the platforms that we use daily, and we're sure you'll also find them very useful.
For this month's experiment, we worked with Stacey McLachlan to conduct a test around the performance of TikTok versus Instagram Reels.
For those of you who aren't familiar with how Reels or TikTok videos work, there are some subtle differences between the two, but both Instagram and TikTok allow users to create, edit and share short-form video content.
They also both incorporate music and sound effects and offer a variety of fun filters and effects for users to play with. The Instagram Reels Explore page is based on various data sources and ranking signals, while TikTok's "For You" page is more customized to its users' interests.
There has been some debate in the social media marketing world on whether the Reels or TikTok format gets more attention. TikTok advocates claim that the TikTok algorithm is "better," while Reels fans believe that Instagram is trying hard to push this new format to its users.
Let's dive into the findings from our experiment.
Instagram Reels Versus TikTok Videos: The Experiment
Before we developed our methodology, we wanted to align on a hypothesis.
We consulted the social team for their thoughts. Brayden, our Social Marketing Specialist, gave us his thoughts—"If a brand has little to no following, I think it's way harder for their Reel to go viral," he says. "Whereas with TikTok, I don't think your brand necessarily needs to have a big following for your TikTok to blow up and go viral."
On the other hand, Eileen Kwok, our Social Marketing Coordinator here at Hootsuite, voted for Reels as the superior platform for engagement, saying, "the competition on TikTok is high right now."
Stacey ultimately chose Reels for the hypothesis—predicting that Reels will perform better since Instagram seems to be pushing Reel content heavily.
We created and posted five short videos per platform on fresh test accounts that were as identical as possible over the course of a week.
One thing to note was that we strayed away from including hashtags that may have skewed the results and cross-posted the Instagram Reel to the main feed and Reels tabs.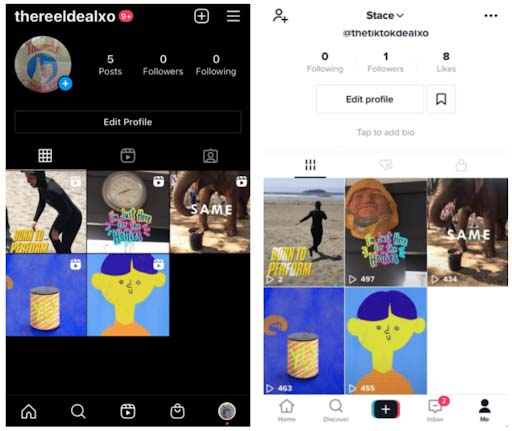 Key Learnings
During the week, we monitored the performance on both platforms, and there was a clear winner by the week's end—TikTok.
On the Instagram Reels account, each video got a maximum of 2 views per post versus the same TikTok videos garnering on average 450 views. It was indeed a stark difference!
While the experiment showed that TikTok was the superior platform for reaching a new account and new content, it's essential to acknowledge that it did not test how much engagement Instagram Reels would have with a pre-existing audience.
If you already have an existing engaged audience on Instagram, you might find it's a better strategy to double down on that audience and focus on Reels.
It's safe to say that TikTok does a better job of pushing content out to its users than Reels does—especially with no audience to begin with. Perhaps down the road, we will test this experiment again with existing accounts that already have a large following and possibly garner a different result.
As TikTok and Instagram Reels continue to develop as platforms, it's crucial for brands to keep up to date on how their algorithms work as they elevate their social media strategies. These platforms may or may not even house your target demographic. So stay updated on social data to see the advertising audiences and reach of different platforms.
At Hootsuite, we publish a quarterly update on our Digital 2021 Trends Report that includes some great in-depth data on the internet and social media usage. I encourage you to test and experiment with these platforms yourselves—you might be surprised by the results you receive!
Amanda Wood
manages the brilliant Social Marketing team at
Hootsuite
. With over seven years of experience in social marketing, she's been at the forefront of driving brands to adopt a social-first mindset. Amanda is responsible for setting the organic and social boosting global social strategy and oversees publishing and engagement on all brand social channels.
---
You might also like
---
More from Experts Talk
---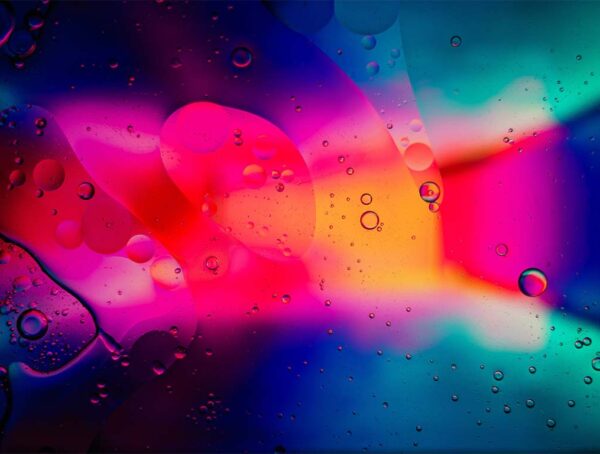 In this month's experiment, we set out to find out whether adding custom alt text on Instagram posts improves reach.