In this month's social media experiment, we set out to find out what LinkedIn pods are and whether they actually work.
Picture this: after finally clicking publish on that LinkedIn post you spent hours curating, you wake up the next morning to hundreds of likes and comments, dozens of LinkedIn connection requests, and a personal message from the marketing executive of that brand you've been too shy to reach out to.
It sounds like a fever dream, doesn't it? Perhaps. In this month's social media experiment, we set out to find the answer. Working with our partner, Hannah Macready, we put LinkedIn pods to the test to see if they actually work.
What are LinkedIn Pods?
You may be wondering, what exactly are LinkedIn pods? LinkedIn pods (also known as engagement pods) are a group of people who agree to like, comment and engage with each other's posts on a regular basis. This is oftentimes done by sharing a LinkedIn post in an engagement pod group or application, where members are encouraged to view and engage. Most engagement pods work on the principle of reciprocity –  so, if you want people to like, comment, or share your content, the same is expected from you.
We've conducted similar experiments around black hat social media tricks in the past, but with this example, we wanted to venture into the world of social platforms used primarily for professional use. While LinkedIn has already implemented curated prompts and suggested responses that make it easier for users to engage with others' posts, we wanted to know: what happens when users take it one step further?
Hypothetically, if all goes to plan, the LinkedIn algorithm will boost this 'highly-engaged' content. We joined a few LinkedIn pods to put this experiment to the test – let's dive into the findings!
The Experiment

Before diving into the experiment, we had to start with the basics: learning how to join or create a LinkedIn pod. Hannah identified a few ways to do this and experimented with different engagement pods to compare the results and see which ones worked best. She created a different LinkedIn post for each method to accurately track any discrepancies in engagement:
Manual LinkedIn Pod: You can start your own pod by creating a group message thread with LinkedIn users you'd like to pod with. For this method, Hannah created a small group chat with a few close colleagues, where she outlined the strategy and encouraged everyone to interact with each other. She immediately started receiving a barrage of LinkedIn notifications showing support from her colleagues. However, she also saw some unfamiliar accounts viewing her profile and received some spam LinkedIn messages — all within a few hours.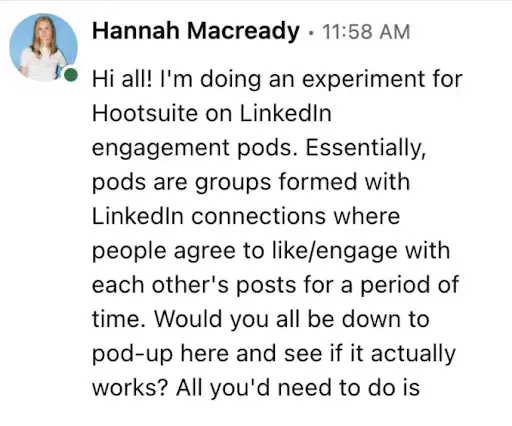 Organized LinkedIn Pods: There are groups on LinkedIn that are focused on creating pods. Hannah searched "LinkedIn pods" and "engagement pods" and joined a few that  focused on the social media and digital marketing industry. What we discovered early on about these pods was that the number of members varied in these groups; one had over a million members, while others had just a few dozen. We chose a mixture of both high-member pods and a few smaller pods to test. In one of the more popular groups, Game of Content, there were specific rules:

There is only one post present in the group at all times, and it's made by an admin. This post is repopulated every couple of days to stay relevant. Group members can then comment on the post with the URL to their LinkedIn post, and other members are encouraged to engage with the posts.
As the week went on, we noticed quite a few people replying to comments with phrases like, "Done! Here's my link." Hannah joined in and slowly started to see engagement reciprocated on her own posts.

Automated Pods: Third-party apps/extensions like lempod are specifically built for automating LinkedIn engagement pods. We tested this by installing the extension and including a link to Hannah's LinkedIn post. Immediately afterwards, Hannah was prompted with a screen including a list of people labelled, "Members who will engage" and "Members who have already engaged." Sure enough, within minutes, the people on the graph started translating into the likes on her post.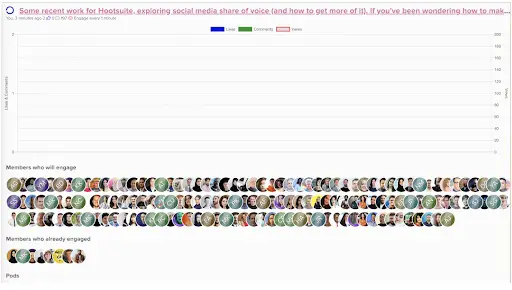 Results

After testing these different methods, we consolidated the results. Here's what we found: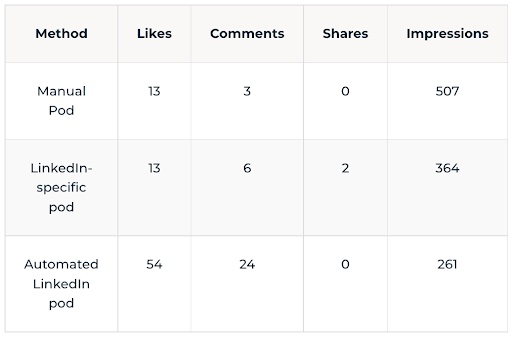 TLDR: Upon a first glance at the numbers, leveraging the automated LinkedIn pod appears to be the most effective strategy. However, after digging into each of the experiences, we found that out of the three, the manual pod was the most impactful. Despite this, none of the LinkedIn pods really made a splash in helping Hannah expand her network and make more new connections.
The reason for this is that the manual pod method was the most organic. Because Hannah was leveraging people she already knew, the comments were authentic, relevant, and sincere. In addition, the people in her manual pod worked within Hannah's industry, which is likely to drive post visibility from other industry professionals outside of her network. With all this said, this may not be a sustainable strategy, as it isn't realistic to ask friends to do this on a consistent basis over the course of several weeks or months.
With the organized LinkedIn pods, we found that while more comments were reciprocated, the responses were vague and less relevant than those found in the manual pods. As well, many of the people in these groups worked in different industries, which diminished the benefit of having our content show up on their feeds.
While the automated pods generated the most likes and comments, we didn't see any relevant profile visits, direct messages, or connection requests. Also, the comments were pretty generic and lacked any personality. It would be easy for anyone to see right through these automated bot-sounding spam comments.
Key Learnings

So, what do all these findings mean for your social strategy?
Well, for starters, there is certainly some merit in using pods that are made up of relevant, authentic connections within your industry.
Building manual 'pods' can help amplify your content and get you more views, likes and comments – but, in our eyes, we wouldn't even call these groups "pods." You are simply sharing content with people who will be interested in and supportive of your work. At Hootsuite, we actually have an advocacy tool within our platform called Amplify that helps employees share company content with their network (often people who already work in their industry), by suggesting content that they can simply repost or personalize based on what their audience may be most interested in.
With the automated pods, if you're trying to game the system by joining pods that are full of fake accounts or that are unrelated to your industry, you're not going to see much benefit (and it's not the route we recommend). Social is all about building community and making real connections with real people, so likes won't mean much if they're coming from accounts that don't have relevance to you (especially if you know they are fake!). In addition, joining organized pods and subscribing to automated pods will make your comments appear like spam and may actually work to your detriment if your real connections on the platform catch on. The last thing you want to do on LinkedIn is to lose your connections' trust. Similar to how we wouldn't suggest businesses buy Instagram followers, we wouldn't suggest they use engagement pods either.
And LinkedIn agrees. Its community guidelines also explicitly state: "Don't do things to increase engagement with your content artificially. Respond authentically to others' content and disagree with others ahead of time to like or re-share each other's content."
With this in mind, what can you do to increase engagement?
Instead of spending your time trying to garner more likes on your post, focus on the content you're creating for your network. Experiment with different content types, stay up to date on new platform features, send personalized messages to make connections, share insight into something you learned that week and participate in the community. After all, LinkedIn is a platform where engagement is always welcomed and different thoughts and ideas thrive.
If you're unsure about where to start, we've put together best practices and tips to help you level up your LinkedIn strategy. And if you're curious to learn more about how the LinkedIn algorithm works, we've got resources for that too!
We hope these insights are helpful as you build your social strategy for 2023! You can check out our Hootsuite blog to read up on some of our other experiments, learn more about digital strategy and keep up with notable industry news. We also recently published our Social Trends 2023 Report which includes insights into the top trends in the new year.
Brayden Cohen
has spent the past 8+ years working with disruptive brands helping them grow and scale their marketing strategies through digital channels. He's worked on and consulted for small and large teams at start-up and enterprise DTC and SaaS organizations building integrated social, content, influencer, and employee advocacy campaigns and programs to grow their brands globally. Brayden currently leads the talented team behind Hootsuite's social media channels with over 9+ million followers, in addition to its influencer marketing, and employee advocacy programs.
---
You might also like
---
More from Experts Talk
---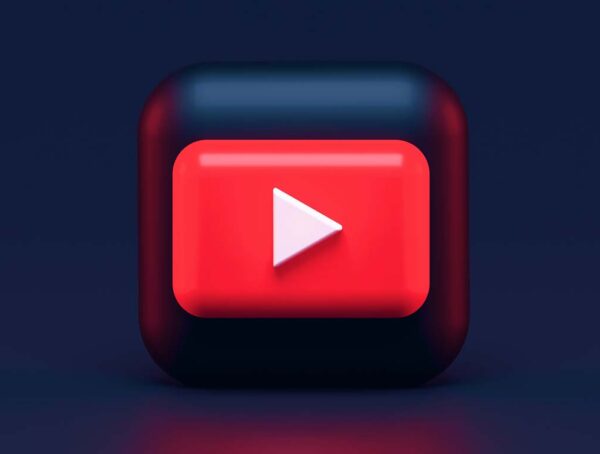 In this month's social media experiment, we set out to find out whether posting YouTube links on other platforms results …