If you've access to the LinkedIn Live beta, here are some great ways to use the feature as part of your content strategy.
At the time of writing, LinkedIn Live video broadcasting is only currently available for a limited number of members and LinkedIn Pages. For those of you who have access to the beta – or those interested in learning more about the feature's real value – LinkedIn has put together some examples of live video across industries and different organisation sizes, to show how powerful it can be.
In a recent LinkedIn Marketing Solutions post, Head of Video Product, Peter Roybal, explains that apart from bringing together professional audiences in real-time and in an interactive environment "Live allows enables organisations to create powerful brand moments, deepen relationships with followers and increase their engagement on the platform. In fact, broadcasters are seeing 7x more reactions and 24x more comments on average for live streams compared to regular video."
Transport Your Audience To Events
Events are a big part of a content strategy, allowing brands to use the temporary to "create powerful experiences and brand associations." LinkedIn Live – just like any other live broadcasting tool – can transport audiences to events and let them take part in real-time.
For example, Microsoft streamed CEO Satya Nadella's keynote from the Inspire partner conference, the European Commission streamed its Economic Forecast, and MIT streamed its commencement ceremonies.
Get Interactive
Real-time engagement is an essential derivative of live video, and we should all be thinking about how to foster this interaction with our live streams. However, one must be prepared to respond to comments during the stream, in real-time.
For example, Thrive Global hosted an AMA with Ariana Huffington about careers, Emirates NBD went live with an Ask Me Anything format, and Workday conducted a #wdaychats on Live, spotlighting healthcare trends. One of Workday's marketers moderated the chat room during the live stream and responded to questions within the feed.
Showcase Innovation
Using live video to announce new products or services, or to showcase new company efforts, is a constructive way to build innovative brand perception. Some companies have been able to do this very effectively.
For example, Audible live-streamed the opening of their #InnovationCathedral, a historic Newark landmark that the company rehabilitated into an innovation centre, while National Geographic live-streamed from their Explorers Festival.
Hootsuite went live to discuss how to make your "Google My Business" listing stand out and announce news around their partnership.
Promote Your Talent Brand
LinkedIn Live is also a very powerful tool to help companies showcase why they're a great place to work, and many companies are using LinkedIn Live to stream "their coolest office spaces, interview hiring managers about open positions and hear from employees themselves."
For example, Inter-American Development Bank live-streamed a conversation between HR and Communications leaders, answering audience questions about what it is like to work at IDB, what is needed to apply, and the application process and BCG streamed advice for the graduating class from the leader of Pride@BCG.
Start A Series
Everyone loves serialised content and starting a live series is quite easy. Followers will expect regular episodes of your live content on a daily, weekly, or monthly basis.
Cisco goes live every few weeks with a #LoveWhereYouWork stream where employees speak about why they love working at Cisco, and GroupM conducts a weekly stream – the example provided was their Chief Product Officer discussing the impact that blockchain will have on marketing and media.
Apply For LinkedIn Live Beta
As we mentioned above, LinkedIn Live is only currently available to companies or members who apply for entry into the Live beta program and are approved. Those of you who have already been admitted can download a LinkedIn Live Best Practices Guide here.
---
You might also like
---
More from LinkedIn
---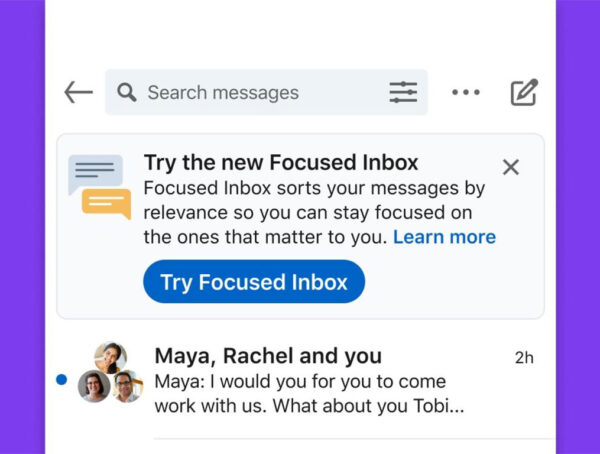 With Focused Inbox, LinkedIn wants to help you engage in the conversations that matter most. LinkedIn is rolling out a new …