TikTok is rolling out a new Promote option, to let business accounts easily turn their organic posts into ads.
TikTok is finally ready to let users boost posts. The new 'Promote' feature was announced last week, and according to TikTok, will be more "simple, cost-effective, seamless, and fun" compared to traditional ads on other platforms.
TikTok has been testing the feature with selected profiles over the past few months, and it is now rolling it out globally, to help businesses reach more people and grow their community with their TikTok videos.
Promote lets creators turn any organic TikTok video into an ad, directly within the app, which can be helpful to start reaching new audiences, build a following, and drive traffic to an external website.
The option, which is similar to Facebook's Boost button, enables users to put together a simple ad campaign quickly, and easily.
It will become available to all via a new fire icon added on videos – but can also be accessed through TikTok's Creator Tools menu, or via Business Suite.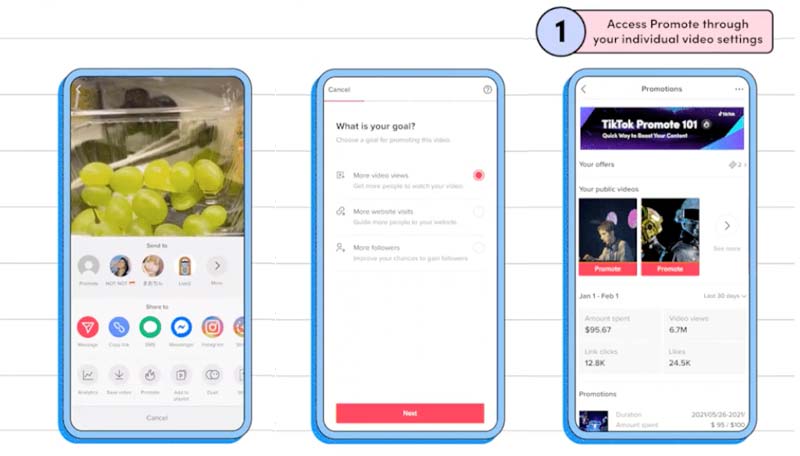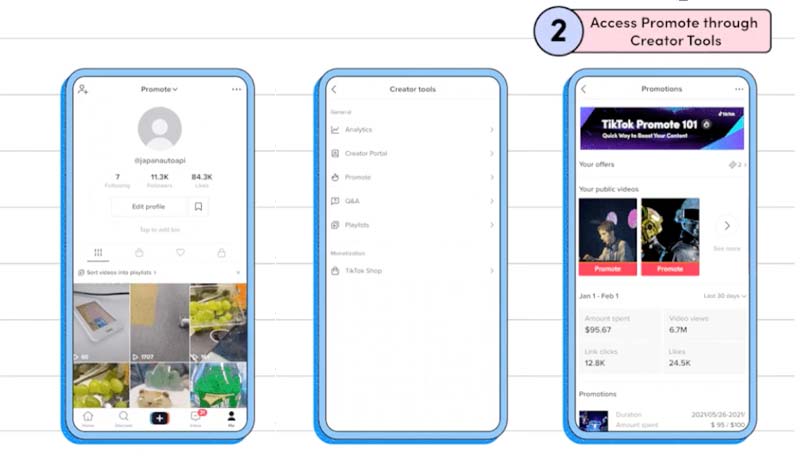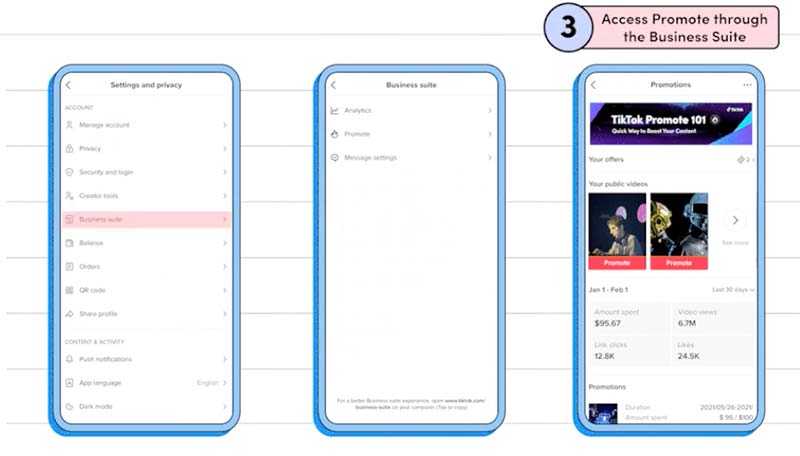 To start promoting TikTok videos, users, creators, and managers will need to select the video they wish to promote, and then set up the campaign goal, its budget, duration, and desired target audience.
Approved promotional videos will offer insights and statistics into their performance and reach.
TikTok Promote Objectives
In terms of campaign objectives, TikTok lets advertisers choose between obtaining more video views, more website visits, or more followers to the TikTok account.
When users select 'More website visits' as their campaign objective, they will be asked to enter a website URL and choose a CTA such as 'Learn More,' 'Shop Now,' or 'Sign Up.'
TikTok Promote Targeting Options
In terms of targeting, they can either choose 'Automatic,' meaning TikTok will display the promoted clip to people that it determines will likely be interested, or 'Custom,' through which an advertiser can define the targeting specifics (gender, age, interests).
The process of approval for each solicited promotion will take into account, among other things, whether or not the video infringes music copyrights.
Generally speaking, videos created on trends are built on popular tracks, and such clips will not make it through to promotion.
To learn more about TikTok's Promote guidelines, the platform has put together a dedicated page where creators can learn anything from how to set up video, to how to watch how the campaign is performing.
Promoted clips will appear in the 'For You' feeds of the selected targeted audiences, and will display a 'Promoted' label to notify users that the video has been boosted.
---
You might also like
---
More from TikTok
--- TIkTok is pulling the plug on TikTok Now, its BeReal clone, a little over nine month after it was first …