Ad design platform Creatopy released a case study comparing the performance results of ads run on TikTok vs. Instagram Reels ads.
At the end of September, TikTok announced that it surpassed 1 billion monthly active users. On the other hand, Instagram reached the same milestone in 2018 and has over 500 million daily active users.
This number does not specify how many of those users are active on Instagram Reels, but the fact that the platform introduced Reels ads last summer proves that their popularity continues to grow.
Ad design platform Creatopy sought to settle doubts about a subject that has sparked much debate. So, do TikTok ads perform better than Instagram Reels, or is it the other way around?
To find out, Creatopy ran a study with two similar video ad campaigns on the two platforms between September 14 and October 5. Both campaigns had the objective set to Reach, a total spend of $1,000 on each, the same video, ad copy, and landing page.
They also targeted similar audiences in terms of age, location, and interests.
Here are the staggering (and surprising) results: Reach on Instagram Reels was almost double than on TikTok (389,298 vs. 199,477), and impressions were practically triple. It cost them $2.60 to reach 1,000 people on Reels instead of $5.03 on TikTok.
The Instagram Reels ad brought more clicks (36) than the TikTok ad (28), and the CPC was higher on TikTok. Furthermore, there was a significant difference in the CPM, with TikTok being more expensive ($4.38) than Instagram Reels ($1.67).
Comparative results
Instagram Reels came out as the winner. Something the team at Creatopy did not place their bet on. The difference was most marked in terms of reach and impressions. With the same daily budget and frequency cap, the reach on Instagram Reels was almost double, and the impressions nearly triple that on TikTok.
Instagram Reels performed better in terms of costs as well, costing $2.60 to reach 1,000 people, as opposed to $5.03 on TikTok – and the video ad received more clicks on Instagram Reels.
Due to the high number of impressions and the low number of clicks, the cost per click turned out to be quite high on both platforms—$35.72 on TikTok and $28.08 on Instagram Reels. But the goal of the campaigns was, after all, Brand Awareness.
There's a significant difference in the CPM as well, with TikTok being more expensive ($4.38) than Instagram Reels ($1.67).
Observations
Creatopy noticed that a previous video on its TikTok page received an exponential boost after it launched its second video as an ad campaign. Their unpromoted first video had only reached a small number of views in the first few days but reached 100k users after they launched their ad campaign on the other piece of content.
Another interesting observation that the study draws attention to is the difference in age distribution between TikTok's US users and Instagram's US users. Debra Aho Williamson, eMarketer principal analyst at Insider Intelligence, says that Instagram users are aging slowly but surely, whereas TikTok generally has a younger user base – even compared to Instagram.
As the campaigns targeted the 25-44 age group, researchers at Creatopy believed that they could potentially attribute the Instagram Reels ad's success to the fact that Instagram provides a larger pool of users to be targeted than TikTok. However, the study could not confirm the validity of the theory, which as a result, remains a hypothesis – though a good one to factor in when strategizing.
Conclusion
By analyzing all the key metrics, Creatopy concluded that Instagram Reels ads are a much better option, both in terms of reach and cost. "This was our first ad campaign on Instagram Reels and TikTok, so we cannot compare the results with anything else we've done. Even so, it was clear to us that we could reach a much larger audience on Instagram with the same budget," the report states.
"When you're doing experiments with online advertising, the final results may surprise you… For example, given TikTok's popularity and continued growth, we were pretty sure that it would blow Instagram Reels out of the water. But exactly the opposite ended up happening."
There are many factors to consider when comparing two platforms, even when you use the same ad, including the adaptability of the same content to different platforms with different characteristics and user behaviors. "It's important to draw some conclusions but not to get too stuck on them," the study concludes.
---
Featured image: Rafael Henrique | LightRocket | Getty Images
You might also like
---
More from Instagram
---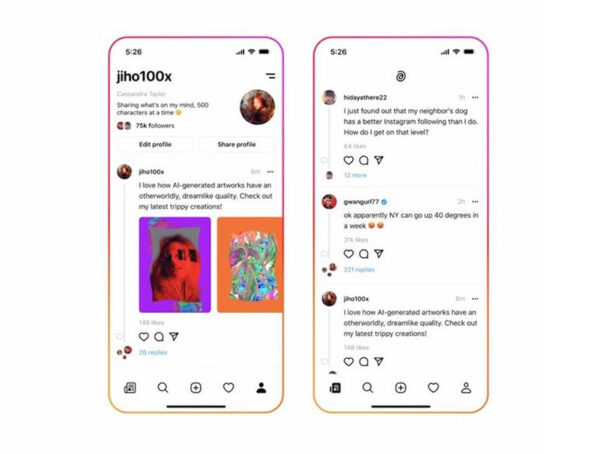 Instagram's rumored text-based Twitter competitor still does not have a name, but now we know what it might look like. The …