Pinterest is introducing two new features that help advertisers on its platform optimise their ad campaigns and achieve their conversion goals.
People who visit Pinterest are not only looking to discover or to be inspired – they're already in the buying mindset, and so it's important to give them the ability to complete the journey, making it as easy as possible to convert. That's why ads on Pinterest are so valuable – "They add value to the discovery process."
To help advertisers connect more effectively with Pinners and optimise their ad campaigns for conversions, Pinterest is bringing two new conversion features – conversion optimisation and Promoted Video for 'conversions' goals.
In the announcement for the new features, Pinterest explains that "conversion optimisation is a new campaign type that optimises Promoted Pins for specific consumer actions" – not just clicks. Advertisers on the platform will be able to now choose conversions as their campaign objective, inspiring Pinners to take actions like checkouts, signups, or leads.
With conversion optimisation, Promoted Pins will reach people who are more likely to take a specific action – automatically – without the need for "manual inputs" from advertisers. Pinterest says that brands testing the new conversion optimisation were able to get more traffic, more leads, and more sales with an overall lower cost per acquisition.
Furthermore, Pinterest is now also expanding its "Promoted Video offering to serve advertisers who have traffic or conversion goals." Promoted Video that are using 'conversions' goals will lead Pinners to a landing page that includes a closeup of the video that was used in the ad, as well as the advertiser's website.
As Pinterest explains, "Promoted Video has proven to be a powerful format to drive these objectives as it uses sight, sound and motion to demonstrate product features and benefits."
These two new features are now available for all Pinterest business accounts.
---
You might also like
---
More from Pinterest
---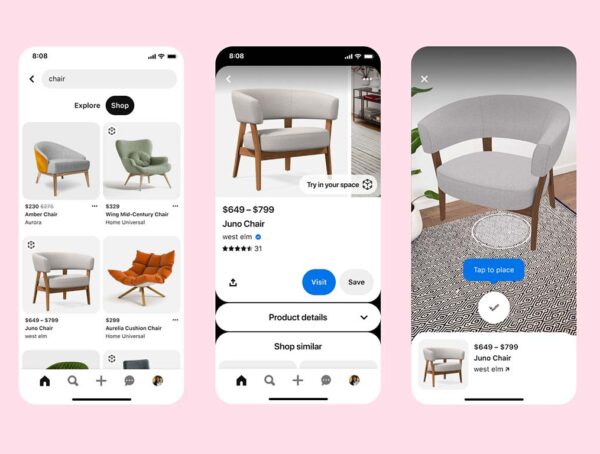 Pinterest is releasing a new AR Lens that lets users see how furniture would look in their homes before buying …