To save advertisers precious time, Pinterest has announced the launch of a new ad specialty: dynamic creative.
Pinners engaging with shopping surfaces increased over 85% in the six months before September 30, as Pinterest rises in the ranks as "the destination for personalized shopping."
As a result, the company is looking for new ways to make it easier for advertisers to create more relevant ads for consumers.
In this vein, Pinterest is now launching a new way to automate the process of tailoring ads to different audiences with a new ad specialty. Advertisers will be able to use Dynamic Creative platforms, RevJet, StitcherAds, and Smartly.io to design their own performance-driven Pins, with dynamic audience-specific messaging.
This is done using the aforementioned platforms' dynamic creative tools and templates, to generate different versions of new Pins using assets that have been uploaded, or a product feed to automatically import product data (price, location, availability, etc.).
Some parts of the Pins using dynamic creative will dynamically display different product images, copy, pricing, and more. The dynamic content will be shown to an advertiser's assigned audiences.
The process lets advertisers create hundreds of ads automatically, bringing "unique messaging to their desired audiences." Apart from saving them time and resources, dynamic creative lets advertisers serve relevant custom ads to unique groups of people.
Furthermore, it helps them test different creatives and identify which elements drive more performance.
---
You might also like
---
More from Pinterest
---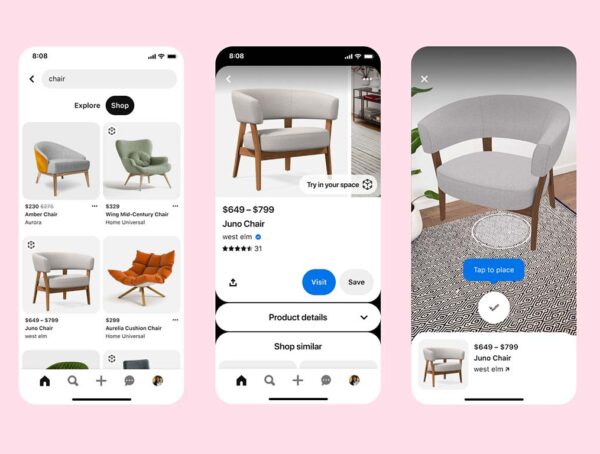 Pinterest is releasing a new AR Lens that lets users see how furniture would look in their homes before buying …