Pinterest announced the launch of a new hand-curated shopping profile called Pinterest Shop, in celebration of Small Business Saturday on Nov. 30.
Unlike other platforms – where some content will need to compete with personal photos – everything on Pinterest can be shoppable, and so small businesses can better reach and connect with Pinners in a truly authentic way. This is because Pinterest is a "visual discovery engine," and "not a social network," so there's a lot of value in the open mindset that Pinners have as a result.
It's that open mindset that brings people Pinterest – to discover new ideas and new brands to shop. To reinforce this, and to celebrate Small Business Saturday this week, Pinterest has launched Pinterest Shop, where Pinners can discover and shop unique products from small businesses.
The profile is hand-curated by Pinterest and features hundreds of shoppable Product Pins from 17 different small businesses. The small businesses chosen to be part of Pinterest Shop all "make and sell unique goods, are mission-driven, diverse, and have uploaded their product catalog to Pinterest."
The latter makes their products automatically available to buy, as shoppable Product Pins.
Each of the 17 boards on Pinterest Shop highlights the creativity, craftsmanship, and entrepreneurship of the small businesses involved, and feature around 20 products to give Pinners a better idea of each business and its "world." Finally, each Pin takes them to the small business' checkout page, allowing them to buy the products directly.
Pinterest says it will "continue updating the account with products from select businesses," but the business profiles currently on there are:
The Citizenry was founded by two college friends, Carly Nance and Rachel Bentley, in Dallas, Texas. After growing frustrated by the mass-produced goods offered by traditional retailers, they set out to transform modern home goods with The Citizenry, a company that celebrates the artisans behind the products. Each season, they introduce a new collection from a new corner of the world.
Aplat Collection Founded by Shujan Bertrand in San Francisco, Aplat is a culinary design company that makes products centered around sharing food, wine, and flowers. Shujan was inspired by her years spent in France for this collection — her designs embrace a more sustainable future, crafted to conserve and replenish limited resources by using them more wisely and efficiently.
Hyggelight After moving to Ohio from Florida, Cyndi Hileman looked for ways to survive a harsh winter in her new state. She turned to Pinterest and typed: How to be happy in the winter? She discovered the Danish concept of hygge and the importance of candles to create the perfect atmosphere. She also discovered seed paper and decided to combine both to give candles a second life. The Growing Candle was born.
Swell Forever Swell Forever was founded by Atlanta native Brooke Henze in 2014. In 2012, she walked away from a stable job in San Francisco and tried to make sense of what to do with her life. The idea dawned on her that few gift options on the market come from the heart. She came up with the Forever Blanket, her first collection of customized heirloom gifts. For every blanket purchased, Swell Forever makes a donation to their adoption fund.
The Neon Muse By fusing technology and fashion, The Neon Muse delivers custom light up apparel for men, women, and children. Each jacket is handmade in Las Vegas and a portion of the proceeds going to a charity specific to that design. Founder Katarina Simic started the company in 2017 with the intention of translating neon signs and their aesthetic to wearable art on clothing. After wearing a sample out to an event, she got an overwhelmingly positive response and knew she had to make it into a business.
FOUNT In early 2014, husband and wife Phillip and Jackie Wachter began making leather bags in their kitchen with a World War II sewing machine they found on Craigslist. They now run a bustling creative studio in downtown Cleveland, employing 46 team members and counting.
Flyaway Bluejay Holly Feld fell in love with scent at a young age collecting perfumes and candles on every occasion and every trip. To continue her passion for a beautifully scented home, she started creating her line of naturally scented products called Flyaway Bluejay. Her candles are made of plant-based wax and are scented with essential oils. She uses Pinterest to create a lifestyle around her brand and reach new customers.
Art of the Gentleman Art of The Gentleman's founders, Robert Remak, Devin Panlaque, and Trevor Blessinger, met in a corporate office where they bonded over their passion for style. What started as a friendly feud over who had the best looks, turned into an office following where their co-workers would ask for advice. They decided to create an outlet that represented all of their unique styles and would make dressing up easier for those who aspire to the Gentleman Moniker.
Hart Studio Designer Hart Hagerty lived in Shanghai for six years after majoring in Mandarin from Vanderbilt University in 2009. Upon her return to Charleston, she launched HART STUDIO, her line of tassel earrings inspired by traditional Chinese designs and produced entirely by Chinese artisans. She has sold tens of thousands of pairs so far. "My brand is an extension of me, and there is no other platform that exhibits your tastes better than Pinterest."
Future Glory Co. Future Glory Co. is a socially conscious maker of handcrafted leather bags and accessories. Founder Theresa Lee used Pinterest at the genesis of her company, creating secret boards with her partner to brainstorm branding and product ideas. She also uses Pinterest as a research tool for future products, and she relied on her Pinterest boards to design her new studio space in San Francisco.
Etta + Billie Alana Rivera is the founder of Etta + Billie, an all-natural skincare line for foodies. She created her line from her kitchen and found inspiration in her favorite foods. Lavender shortbread became Lavender Soap. Coffee with fresh mint became Cold Brew Mint Coffee Scrub. Cardamom Old Fashioned became Grapefruit Cardamom Body Oil. Alana, a long-time user of Pinterest, turns to the platform to find inspiration on how to style her photoshoots and packaging ideas.
Moon Picnic Moon Picnic co-founder, Sam Miller, travels the world looking for the best toys books and objects to inspire his customers. "The range of toys available in the mainstream market in the United States is narrow. We wanted to introduce some unusual and artistic designs that sparked children's imagination and creativity."
Little Blue Olive Seven years ago, a mother-daughter duo, Brandy and Terri Bashkingy, founded Little Blue Olive, a small business based in Vancouver, Washington, making crown headbands for birthdays. They create beautifully designed and customizable birthday crowns and party hats for babies, toddlers, children, and adults that are perfect for celebrating every event. Pinterest is the social platform that drives the most sales and represents 13% of her total sales.
CurlMix is a family-owned company on the South Side of Chicago that gives curly women the best wash and go. Co-founder Kim Lewis quit her first job fresh out of college to throw herself into the beauty space. Knowing she'd need some capital to start her first business, she had the idea to sign her husband up for Who Wants To Be A Millionaire. He went on to win $100,000 and invest in their first business.
Indego Africa Indego Africa is a non-profit organization dedicated to empowering artisan women in Africa through employment opportunities and education. Their mission is to help artisans lift themselves out of poverty and become empowered businesswomen. They partner with more than 1,100 women in Rwanda and Ghana to sell products that are designed by their Creative Director in New York City and handmade in Africa. They invest all of their profits from sales into business education for the artisans.
Yellow Owl Workshop: Yellow Owl Workshop is a collection of fun and unique jewelry, socks, and prints designed by Christine Schmidt and her crew in San Francisco. The goods are eco-friendly and made in the U.S.
Stasher Frustrated by the plastic waste choking our planet, Kat Nouri invented Stasher—the first endlessly reusable and radically functional silicone bag with a Pinch Loc seal that you can cook, store, and freeze in. Stasher is the perfect innovation for travel and organization. It has not only disrupted the food storage industry but also prevented nearly one billion single-use plastic baggies from piling up in landfills and polluting our oceans.
Image credit: Pinterest
---
You might also like
---
More from Pinterest
---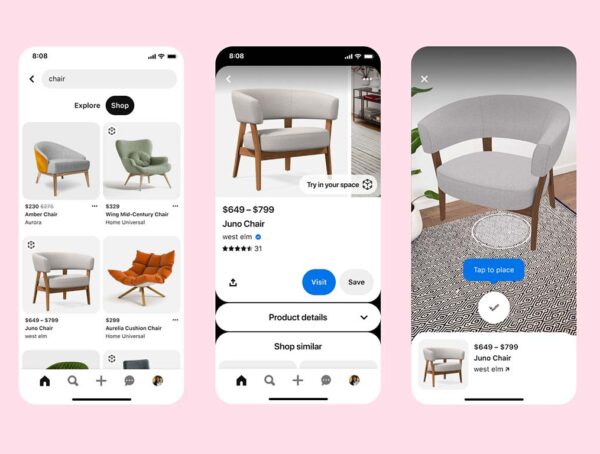 Pinterest is releasing a new AR Lens that lets users see how furniture would look in their homes before buying …