Following the introduction of interest targeting in January, LinkedIn is introducing three new ways to help advertisers reach the right audiences on its platform.
One of the biggest challenges of advertising is being able to reach the right people. And with so many different ways to define a target audience, it can get really difficult to decide how to reach only those who are more likely to be interested in your business. So, LinkedIn is now introducing three new ways to help advertisers target the right audiences and improve their ROI: lookalike audiences, audience templates, and interest targeting with Microsoft Bing search data added to it.
We heard the rumors months ago, and now they're here. LinkedIn's lookalike audiences bring together the characteristics of ideal customers with the professional network's rich member and company data to help advertisers create and target audiences that are similar to existing customers, website visitors, and specific accounts.
With lookalike audiences, you can reach high-converting audiences by discovering others that are similar to those who have already shown interest in your business. For example, they may have engaged on your website or provided you with their contact details.
Lookalike audiences also help you extend the reach of your current campaigns to gain more reach while keeping their prospects qualified. Finally, they can also help you engage new target accounts. This is especially useful for B2B advertisers who are targeting accounts.
Lookalike audiences will help you expand to additional companies that match a particular profile.  If you'd like to begin with lookalike audiences, you can do so by creating a Matched Audience in LinkedIn Campaign Manager.
LinkedIn brought interest targeting to its Campaign Manager back in January, allowing advertisers to reach members with ads that match their interests. Now, LinkedIn has expanded interest targeting to include a combination of interests and "professional topics and content [an] audience engages with through Microsoft's Bing search engine."
Finally, LinkedIn has launched audience templates that help advertisers who are new to LinkedIn ads, to reach new audiences through "more than 20 predefined B2B audiences" to help them get started faster. The audience templates include things like skills, job titles, groups, and more, and can be activated with just one click.
The new features will be available to all advertisers within the next two weeks.
---
You might also like
---
More from LinkedIn
---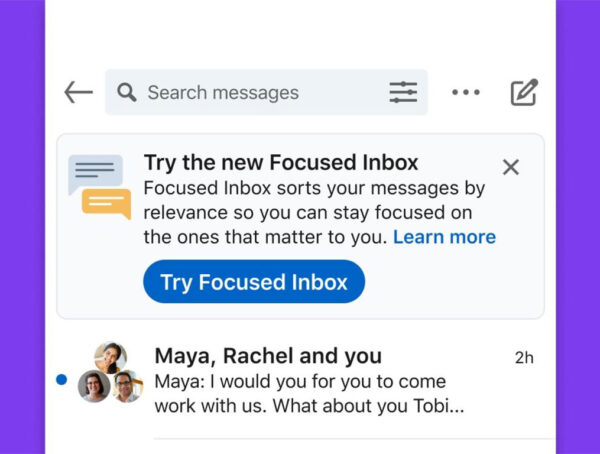 With Focused Inbox, LinkedIn wants to help you engage in the conversations that matter most. LinkedIn is rolling out a new …