Adobe has released its Global Emoji Diversity & Inclusion Report, exploring the impact of emoji inclusion and representation on how people communicate.
Emojis have become an integral part of the way we communicate digitally. Over time, they have grown to represent anything from daily life objects to emotional expressions, leading to hours spent looking for the right one to express the most with the least amount of effort.
As part of a wider effort to help all users feel represented by the right skin tone, gender, sexual orientation, or cultural identity, emojis have become more gender-inclusive representations.
But what happens when such representation of identity just doesn't cut it? What impact does emoji inclusiveness of cultural specifications have on society as a whole? Adobe has sought to answer these questions with its Global Emoji Diversity & Inclusion Report released this week.
The report, which surveyed 7,000 frequent emoji users from 7 countries (the United States, the United Kingdom, Germany, Japan, India, France, Australia, and South Korea), highlights how people use diverse emojis to express themselves, the impact emojis have on society when people feel adequately represented by them, and the critical gap that still exists in representation today.
Here are some insights to take note of.
More Inclusive Representation is Needed
The report found 83% of the people interviewed, particularly Gen Z-s, highlighted the need for a more inclusive representation. Over half of the study participants said they felt hindered in their digital communications by the emoji underrepresentation of culture, age, and ethnicity.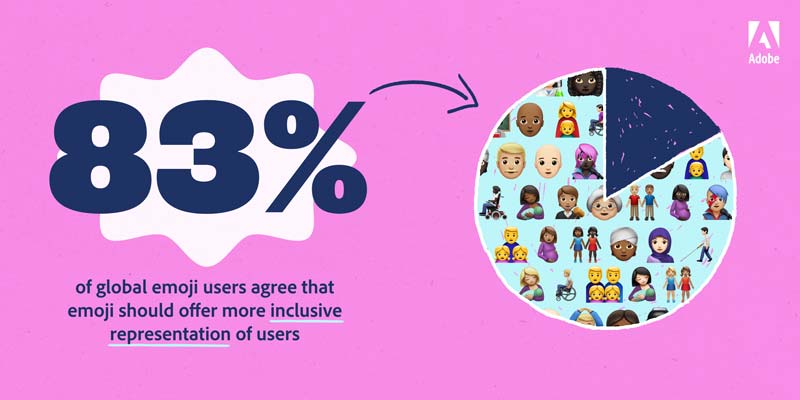 54% of them claimed that their identity is not adequately reflected in the current emoji options.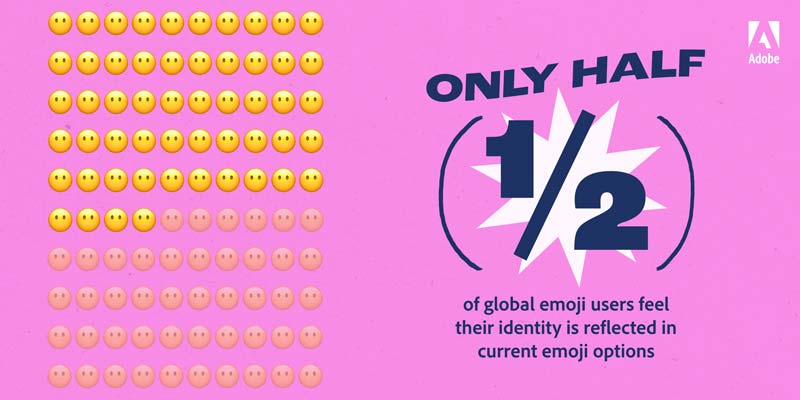 Using the Wrong Skin Tone Modifier May Be Insensitive
Surprisingly, less than half of the people interviewed pointed to the choice of the wrong skin tone modifier as insensitive and uncomfortable. The "wrong skin tone modifier" is defined as one that doesn't adequately match the skin tone of the person sending the emoji.
Creation and Use of Inclusive Emojis Promotes Positivity
The study also reports that 76% of the interviewed emoji users agree that the creation and use of inclusive emojis will promote unity, respect, and understanding of one another – and that inclusive emojis can even instigate positive conversations about important cultural and societal issues (70%).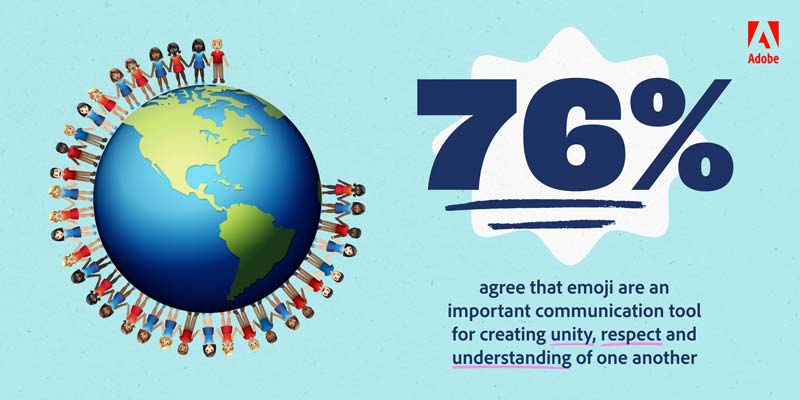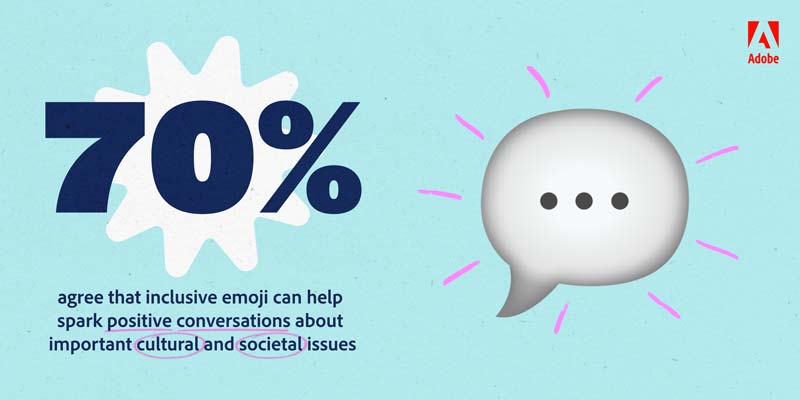 "The media we use to express ourselves help us share our personal narrative — advocating for our values and informing others' perception of us — all towards the goal of creating more empathy and compassion for our personal causes," explains Paul Hunt, Adobe's typeface designer, and font developer, and delegate to Unicode consortium's emoji subcommittee (ESC).
Adobe is also partnering with Emojination, a grassroots organization that advocates for more inclusive emojis, to champion the creation of more representative emojis for people worldwide. Adobe pledges to support Emojination in developing new inclusive emojis and to encourage people to suggest the creation of new ones – as needs change.
How would you like to see the emoji system develop in the future to represent better your physical self, cultural identity, personal emotions, or localized cultural touchstones?
If you find a missing emoji is needed to express yourself better and feel included, you can reach out to the Unicode Consortium with your suggestion, but the approval process won't be easy. Adobe wants to support end-users, helping them craft and submit their "missing emoji" proposal.
---
You might also like
---
More from Featured
---
Soon You Will Just Have To Say 'Siri' To Trigger Apple's Digital Assistant. The change is coming as part of …