If you have been advertising with Facebook ads for quite some time then you've seen it happen at least once; your ad was not approved.
A couple of ads not approved from time to time is not a big deal, but be warned since repeated disapproval may lead to your Facebook ad account being shut down. There are various reasons for which your Facebook ads might not be approved, so you have to remain vigilant. In this tutorial we will go through two things: First, the factors that influence the length of Facebook's approval process, and second the ways to avoid having your ads not approved.
Factors That Influence The Length Of The Approval Process
Getting an ad approved by Facebook usually takes anything from a few minutes to up to two days. Here are some factors that influence the length of the approval process:
Ad account history: The more you advertise on Facebook, the quicker your ads will get approved. The reason for this is probably a "trust score" your account already has. The fewer disapproved ads you've had in the past (in combination with your ad spend) the higher the chance that your ads will be approved faster.
Ad copy: In some regions, you have to choose your words wisely. Pay attention to the ads that deal with race, religion, and family relationships, otherwise your ads may not get approved.
Ad Creative: Facebook's algorithms are precise enough to detect nudity, logos that you do not have rights to use, and pretty much any other of ad policy violation.
Domain: Your landing page is also subject to control. It must be directly related to the ad, be functional (no redirects or any errors), and can´t request a software download in order to show its content. The longer you have been using a domain with no trouble, the shorter the pending review time period will be.
Targeting: In some areas, you have to be careful about choosing your target audience. For instance, if you advertise alcohol or a betting agency, you have to, of course, limit your targeting to people above 18 + (or according to the country's law).
If you think that you follow the above, but you still get the dreaded "ad not approved" message, you can simply try duplicating your ad. In our experience, it works most of the time.
What To Do If Your Ad Is Not Approved
As we will explain later in the tutorial, an ad can get disapproved for various reasons. Although it rarely happens, an approved ad can get disapproved too. The reason for this is Facebook uses both humans and AI to approve ads. At first, your ad might have been approved by the "algorithm", but a Facebook employee might later find that the ad doesn't comply with an ad policy.
If an ad of yours is not approved, go to the Ad level in Ads Manager and click on "Edit Ad." Then you can change your ad so that it follows the rules. That's also where you will see Facebook's reasoning for not approving your ad, which can guide you to fix it.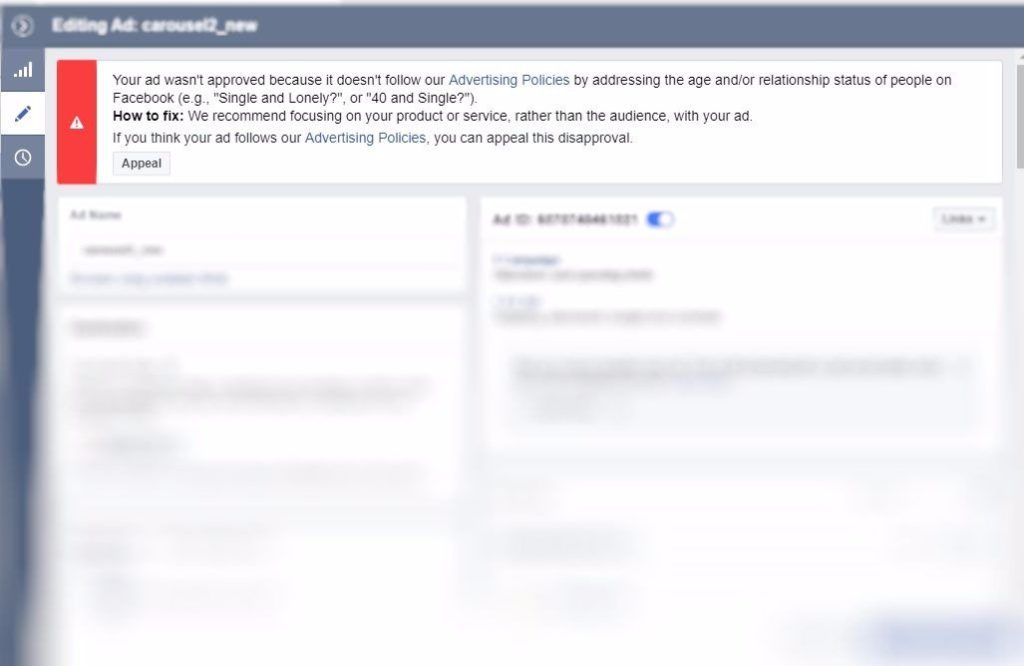 What Is Against Facebook's Rules?
Facebook has quite an elaborate list of prohibited or restricted content. Remember that each country has its own rules that do not necessarily apply to other countries. Here are some problematic categories.
It is prohibited to promote adult content or products, except for those that deal with planned parenthood or contraception (of course you have to target people above 18).
Always be careful when you promote dating services. Before creating ads, you have to be whitelisted for such a service; otherwise your ads will be disapproved automatically. Then, you have to obey specific rules, such as targeting 18+, or specific relationship statuses. In countries like Canada and the entire European Union, it is forbidden to use the "Interested In" parameter, while it's crucial to use it anywhere else. Besides this, you have always to include only people that are "single" (you can use combination single and unspecified); otherwise, Facebook will not approve your ads.
Being on whitelist is a must, especially when advertising online pharmacies. You can never promote prescription drugs, or products that contain prohibited substances. The list of those can be found here.
You can promote alcohol, as long as you target the appropriate – for that country – age, and follow the rules for text and creative. This also applies to gambling and online lottery.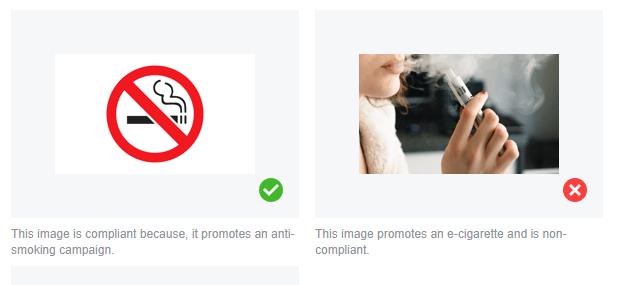 What else should you have in mind? Here is a quick list:
Tobacco – except for anti-smoking campaigns, or counselling for addicts,
Drugs – except for counselling for drug addicts, etc.
Dangerous dietary supplements – keep in mind that the level of danger will be assessed by Facebook itself,
Weapons, ammunition or explosives (except for exhibitions of weapons, etc.),
Content that violates the rights of any third party (copyright, trademark etc.),
Sensational content (meaning pictures or news that can be shocking),
Ads promoting document forgery,
Malware or spyware,
Misleading or fake content (e.g. "before" and "after" photos),
Multi-level marketing, penny auctions, or instant loans.
How To Get Away With "Sensitive" Topics In Your Ad Copy
Facebook requires advertisers not to use text that might reveal very personal information, because users could think that their personal data are misused and provided to third parties. This includes direct references to age, race, ethnicity, religion, belief, sexual orientation, disability, family or financial status, criminal record, union membership, or a person's name.
Here are some examples of ad copy that will get approved vs ad copy that will get disapproved:
"New diabetes treatment" vs "Do you have diabetes?"
"Our financial services will resolve any financial situation." vs "Are you broke? Look at our service."
"Get rid of all charges!" vs "Were you accused of a crime?"
"Service for young people!" vs "Service for people between 20 and 25
"Meet single people!" vs "Meet other single people!"
In your ad text, you should always focus on the product or service itself rather than your target group.
As already mentioned, you should always be careful with "sensitive" content, such as alcohol or lotteries. The text in your ads should be as neutral as possible, but in the case of alcohol, you can point out certain benefits like free delivery, wide offer, etc. Last but not least – never forget about proper age targeting!
You should always try to avoid "big promises" such as "We will make your debts disappear" or "Significant weight loss in three days!" As already mentioned, your landing page is subject to control as well, and it should always be consistent with your ad.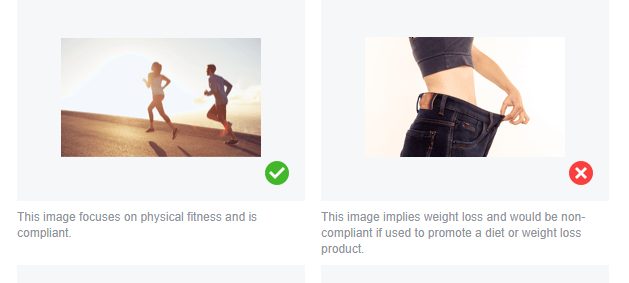 Another practice that might lead to your ad not being approved is the use of so-called "fake buttons." It is not advisable to show "call-to-action" buttons that are misleading – for instance a "play video" button that directs people to a standard landing page. If you add a "Shop now" button to a banner that leads to an e-shop, you're fine.
Grammar And Design Matter
It can happen that your ad won't be approved because of grammatical mistakes, or bad punctuation. Both grammar and punctuation should comply with Facebook Advertising Policies, not to mention that profanity in ads is prohibited – along with "creative solutions" such as replacing letters with asterisks.
You might remember that Facebook used to have a "maximum 20% text" rule on ad creatives. Although this is not an obligation anymore, too much text on the image can lead to under-delivery of your ad. In extreme cases, it can also lead to your ad not running. Therefore, we strongly suggest following this rule still. To check the amount of text in the image, you can use this tool.
A Quick Ad-Approval Checklist:
Always double-check your ads. Grammar, punctuation, the amount of text… all these matter!
If you are in the "prohibited area", you can at least try to boost your posts. If the post is informative rather than "encouraging to shop", it is likely to be approved.
If your ad was disapproved and you are sure that everything is alright you can always appeal.
Do not forget to teach your graphic designer and copywriter about the rules. That way you avoid misunderstandings and will save your time.

---
You might also like
---
More from Experts Talk
---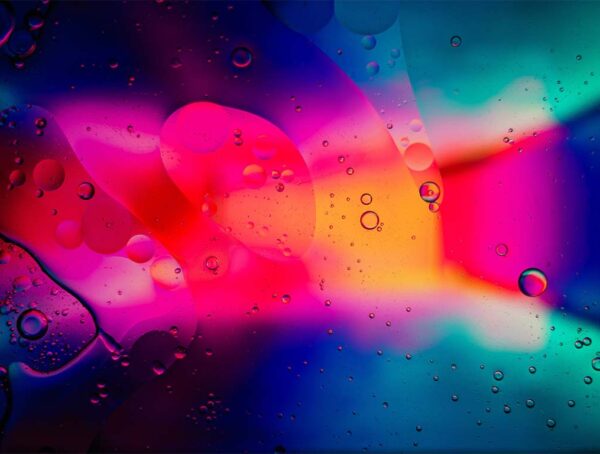 In this month's experiment, we set out to find out whether adding custom alt text on Instagram posts improves reach.