What's the optimal number of hashtags to use on Instagram? Hootsuite's Senior Social Marketing Manager, Amanda Wood, and her team look for an answer.
According to Instagram, despite allowing users to use up to thirty hashtags, they recommend including only three to five. So, we decided to put this to the test and find the sweet spot in our latest social media experiment around how many hashtags Instagram users should really be using.
Once again, we teamed up with Stacey McLachlan to conduct the experiment. As a Senior Social Media Manager, I've spent my fair share of time on social, but I'm still constantly learning new things as social platforms' algorithms continue to develop and evolve. We find these experiments helpful in strategizing and managing our daily social media posts and hope you do too.
Hashtags are often used to increase engagement with your followers, build brand awareness, show support for social issues, add context to a social media post and help your target audience find your account. With all this in mind, what is the sweet spot for the optimal number of hashtags to use for engagement and reach?
Let's dive into the experiment and findings!
The Experiment
We decided to use a popular wedding Instagram account with over 10,000 followers to conduct this experiment and keep the day-to-day content as similar as possible to avoid skewing the engagement. Over the course of a month, we posted twenty photos, ten of which included thirty hashtags, and the other ten only included three to five hashtags.
The goal was simple—our attempt would find out if a shorter, more curated list of hashtags will get just as much engagement on Instagram as maxing out thirty hashtags.
Key Learnings
After the month was up, we analyzed the results and found that Stacey's highest-performing post only consisted of three hashtags, and the second-highest performing post only consisted of four hashtags.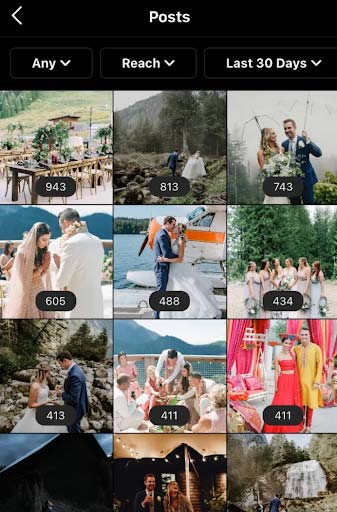 After compiling a list of the engagement averages, here's what we found: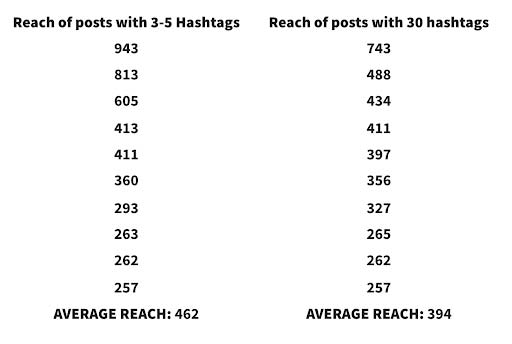 The posts with three to five hashtags performed slightly better (15% better, to be exact) than the posts with thirty hashtags. Not only is maxing out hashtags time-consuming—it could, in fact, impact your reach. Stacey also consulted Hootsuite Analytics to see the impact on likes and comments across the posts and found that the number of hashtags used didn't really change these metrics.
In comparison to posts on the account that did not use any hashtags at all, the ones with hashtags did have a larger reach. As Instagram specified, having three to five that are relevant to your content provides an opportunity to reach some niche audiences.
While we can't confidently claim that three to five hashtags are necessarily the sweet spot number of hashtags to use on Instagram, maxing out hashtags at thirty hashtags per post did not garner a great response in terms of engagement.
Hashtags can take up space, and this space could be better used to ask questions, show your brand's personality, or tag other brands to engage with your post. When it comes to spicing up your Instagram engagement, it takes more than just the right hashtags (or the right number of hashtags) to generate saves, shares, comments, followers, or likes.
Stay up to date on social media trends to better engage with your audience. We recently released our #SocialTrends2022 Report with some great insights to help you plan your social media strategy for the New Year. Utilize different parts of the platform, such as Instagram Reels, Stories, Polls, and Lives to attract people to your authentic and unique content.
Let us know if you found this experiment helpful! If you haven't already, check out our last social media experiment or our Hootsuite blog for more experiments, industry updates, and social media news.
Amanda Wood
manages the brilliant Social Marketing team at
Hootsuite
. With over 7 years of experience in social marketing, she's been at the forefront of driving brands to adopt a social-first mindset. Amanda is responsible for setting the organic and social boosting global social strategy and oversees publishing and engagement on all brand social channels.
---
You might also like
---
More from Experts Talk
---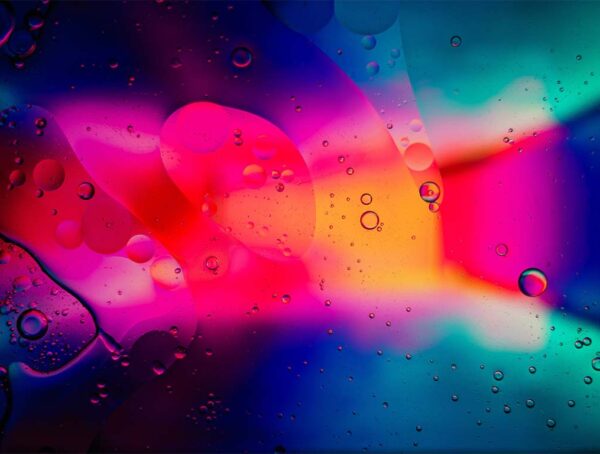 In this month's experiment, we set out to find out whether adding custom alt text on Instagram posts improves reach.