This month, Hootsuite's Social Marketing Senior Manager, Amanda Wood, and her team test what happens when you buy followers on TikTok.
It's that time of the month again! We're thrilled to share the insights we've learned from our latest social media experiment around buying TikTok followers. Once again, we teamed up with Stacey McLachlan to conduct this experiment.
These experiments help Hootsuite's team further understand the platforms we use daily, and we're hoping you'll also find them helpful.
As a platform with billions of users, it can be hard to develop a following to be a power user or TikTok-famous influencer. However, TikTok has been downloaded more than two billion times and has 100 million active users in the U.S., so it should come as no surprise that businesses have been created to supplement this craving for internet fame, selling follows, and likes.
As with all our other experiments, there's only one way to determine whether buying followers would help or hurt your reputation and brand.
Read on to find out what we discovered!
Buying TikTok Followers: The Experiment
Based on the findings from our previous experiment around buying Instagram followers, we hypothesized that buying TikTok followers would not help increase engagement, so we created a new account to put this prediction to the test.
Thanks to a bit of online research, we found various websites like TikFuel, TokMatik, StormLikes, Social-Viral, and Social Wick that all offer (at the time of writing) to sell TikTok followers.
While some were more polished and had a better UX than others, they all offered a range of packages that made it cheaper the more followers you bought. For example, after crunching the numbers from five random sites, 100 TikTok followers would cost on average $3.50 or $21 for 1,000 TikTok followers.
For the sake of validity in this experiment, we bought followers from two different sites to better our chances of results if one turned out to be a scam. We bought 2,500 followers from Tokmatik for $39.99 and 1,000 more followers from TikFuel for $16.47. After our purchase, we saw followers start pouring in.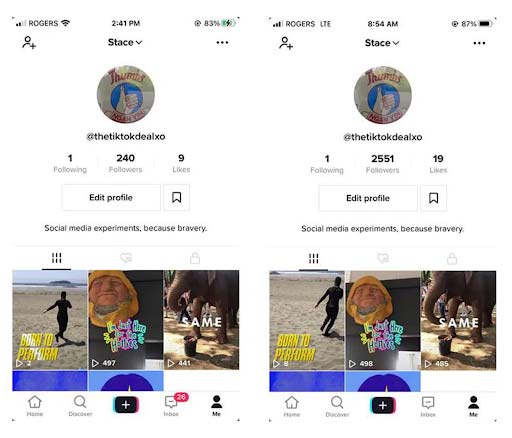 Key Learnings
We analyzed the results and found that though we gained more followers (which we paid for), buying the additional followers did not create more engagement, despite the content we housed on our account.
As we suspected, our engagement was awful — the followers we bought did not even translate to an increase in views on our TikTok videos, let alone likes or shares.
To top it all off, TikTok sent us a polite notification after noticing the overwhelming number of fraudulent followers that they would be removing the fake accounts to ensure authenticity on its platform.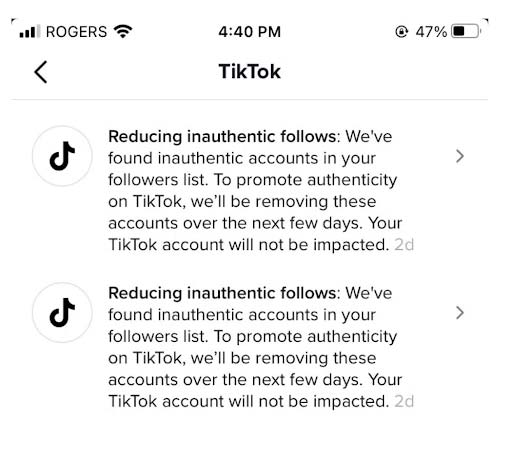 I love how Stacey summed up her findings. "If your goal is to build a community, increase your reach to future customers, make conversions, drive traffic, go viral, or spread your message to an interested audience — a.k.a. the reason any brand starts a social account in the first place — don't bother buying followers," she says. "Just cut out the middleman and light your money on fire."
For starters, with a lower engagement rate and a higher discrepancy between engagement and followers, your chances of being featured on TikTok's "For You" page will be reduced. Buying followers also comes with a short-lived gain.
TikTok's algorithm has been shown to boost engaging organic content to promote all types of creators. However, as we saw with the notification we received, TikTok wasted no time removing fraudulent accounts, which in return, really made the purchase a waste of money.
Websites that sell TikTok followers also don't do a great job of creating believable handles. However, in a world where influencers and social media black hat tricks are well known, brands you may want to work with (or other users) will be able to see through the ruse in a matter of seconds — just by looking at your account and followers.
How to Create Organic and Authentic Growth on TikTok
So, how do you create organic and authentic growth on TikTok? Our answer is simple: it takes hard work and comes from listening to your followers, curating engaging content that your audience wants to see, posting at strategic times, formulating a consistent schedule, and analyzing your metrics to gain insight into what is working and what isn't.
It's essential to recognize that while growth takes time and creativity, the work is worth it. Loyal followers will be the ones to share your content and, in return, boost your engagement. If you're unsure how to get started, we created a guide to help you start growing your TikTok audience—without buying followers.
We hope you found this experiment helpful! If you're interested in learning more, check out our last social media experiment or our Hootsuite blog for more experiments, industry updates, and social media news.
Amanda Wood
manages the brilliant Social Marketing team at
Hootsuite
. With over seven years of experience in social marketing, she's been at the forefront of driving brands to adopt a social-first mindset. Amanda is responsible for setting the organic and social boosting global social strategy and oversees publishing and engagement on all brand social channels.
---
You might also like
---
More from Experts Talk
---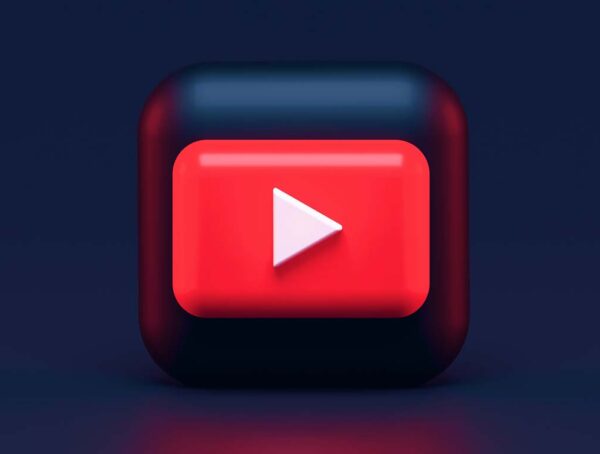 In this month's social media experiment, we set out to find out whether posting YouTube links on other platforms results …