Google has announced a series of tools in Display & Video 360 that make it easier for digital media buyers to find and secure ad inventory on streaming content.
People are spending more time than ever watching connected TV, and Google says this has led to a 75% increase in available inventory in April 2020, compared to the previous year. This increase doesn't even take into account YouTube and YouTube TV which over 100 million people watch on their TV screens every month – in the U.S. alone.
As COVID-19 lockdowns are being lifted across the globe, connected TV usage is still well above previous levels, and more advertisers than ever before are moving to video streaming advertising. To support them, Google is introducing new tools in Display & Video 360 that make it easier for them to find and take advantage of ad inventory on "high-quality" streaming content.
Dedicated TV Section in Marketplace
It can be hard to keep up with all the options available to programmatic buyers via deals, as more and more premium streaming content becomes accessible. To help advertisers find the deals that best represent their objectives, Google is rolling out a new dedicated TV section in Marketplace for publishers and inventory, that allows advertisers to reach their TV audiences across different devices.
Here, advertisers can find deals for publishers like the Disney Media Networks that include ABC, ESPN, Freeform, FX, Hulu, and National Geographic, simplifying the process of finding and securing inventory, as it's "displayed graphically." Advertisers are able to filter results quickly to find the right inventory for them and even check out publisher profiles "to explore more data around performance, audience and inventory volume."
Finally, they can send requests for proposals (RFP) to publishers directly from the section.
The new interface will be rolling out over the next few weeks and Google wants to expand it with "national linear TV broadcast and cable networks as well as local TV stations" soon.
Packaged High-Quality Inventory
To save time for advertisers, Google has now introduced two new 'ready-to-buy' options, helping them find the right inventory, easily. Those who would like to skip the negotiation process can find bundled inventory from publishers, broadcast networks, and cable networks, as "ready-to-execute deals" or "auction packages," available to Display & Video 360 users in Marketplace.
"Auction packages allow you to easily select inventory that's already assembled by publishers based on genres, popularity, seasonality, formats or audiences. For example, you can easily add available themed packages from publishers, such as 'Hulu – Parents', or from exchanges, like Telaria's 'Cord Cutters' bundle. In addition to being a convenient and fast way to access pre-packaged inventory, auction packages are also a great way to harness publishers' data to reach the right people in the right context."
Furthermore, YouTube Select's dedicated streaming TV lineup is now available to Display & Video 360 buyers in the U.S. letting advertisers reach people watching YouTube on their TV screens.
Streamlined Buying
To give advertisers a place to set up and optimize their TV ad campaigns after securing the deals they want, Google is adding the "'OTT line item', a new workflow in Display & Video 360 tailored for buying TV ads across screens. To avoid configuration errors, this streamlined buying experience only features options that are relevant for connected TV ads, with appropriate configurations selected by default."
The OTT line item picks inventory for connected TV apps automatically, and seamlessly includes content that can be viewed on other devices as well. Advertisers will, therefore, be able to buy video ads from Disney Media Networks and include them across connected TV, laptop, smartphone, or tablet.
---
You might also like
---
More from YouTube
---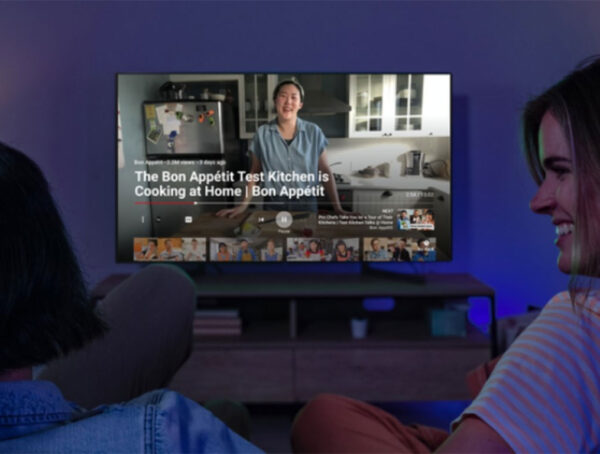 YouTube is bringing longer unskippable ads to its TV app, unless you're paying for the platform's premium subscription YouTube says these …