Twitter has introduced a new button – "I don't like this tweet". It allows you to give feedback on what you want to see or not in your feed.
In its latest update on iOS, Twitter has added a new feedback button that let you flag the content you don't like or want to see in your feed. Each time you flag something, Twitter's new feed algorithm takes it into account to serve you better content next time you log in.
The dedicated "I don't like this tweet" button is available for iOS users via the usual feedback drop down menu, located in the top right corner of each tweet.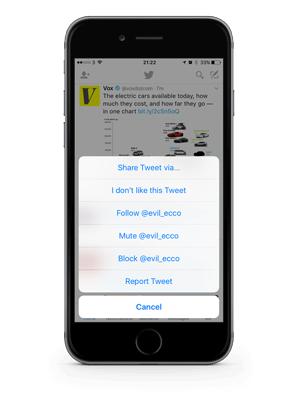 Now on top of the other options, you can decide to flag the content to Twitter without having to block or unfollow someone.
For example, you might want to follow me (@Geoffdx) because you love my social media updates. But every time I share a picture of my dog (I do that a lot) then you may not want to see those tweets. The new feedback button is believed to let you keep on enjoying my social media updates, but without having to see my dog pics in your feed every time I post them (now, why would you not want to see my dog by the way? :P)
In a statement issued to BuzzFeed, a Twitter spokesperson explained how it works:
[quote][I don't like this Tweet] helps Twitter better understand the types of Tweets that you'd like to see less of in your Home timeline. We may use this information to optimize and tailor your experience in the future."[/quote]
Twitter moved away from a chronological timeline last year and the new button is the next logical step. By asking users what they don't want to see in their feed, Twitter is actually teaching its algorithm to show us more of what we really want to see. Clever.
---
You might also like
---
More from Twitter
---
Not only do Twitter Blue subscribers get to edit their tweets, but now they will have up to 60 minutes …