Pinterest launched Promoted Video last August, and is now giving the ad placement a few new upgrades, including autoplay. 
Since August when Promoted Video first appeared on Pinterest, a multitude of businesses have been using the ad format to connect with new customers on the platform. And today, Pinterest is upgrading Promoted Video in a few ways.
The first upgrade is autoplay. There is no need to hit Play with Pinterest Promoted Video anymore. It will now autoplay as you scroll "across it" in your feed.  You can "just sit back and watch your video unfold." If you're worried that autoplay videos will alienate users – think again. As Jenny Chiu explains in a recent blog post announcing the upgrades,
[quote]unlike on other platforms, where ads interrupt people as they're trying to enjoy posts from friends, on Pinterest people are actually looking for videos that inspire them to give ideas a try.[/quote]
Advertisers buy Promoted Video on a per-impression basis, so "the more people watch, the less you pay." Chiu explains that "thanks to autoplay every impression is significantly more likely to lead to a video view." Therefore, as people watch, cost per view goes down.
The second upgrade to Promoted Videos is that they won't only autoplay in people's feeds, but also on in their search results. So, whether they're looking for something specific, or "just browsing," people will be able to see Promoted Video. As Chiu explains,
[quote]when someone knows exactly what they're looking for on Pinterest, your video can be right there to show it to them. Your videos will also show up when they tap open a Pin and scroll down to the "More like this" selection of related Pins.[/quote]
Advertisers can also retarget all users who saw a video, with another campaign. These features will be available later this summer.
---
You might also like
---
More from Pinterest
---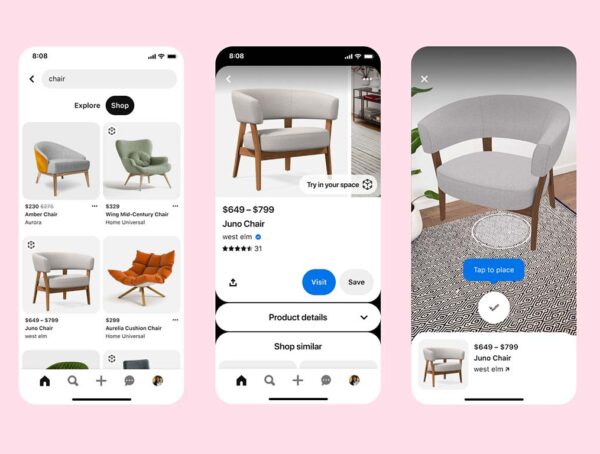 Pinterest is releasing a new AR Lens that lets users see how furniture would look in their homes before buying …