LinkedIn is definitely one of my favourite social network lately. But except from my own feelings, Linked-In is a must for all of you who really want to get something out of the time they invest on social media. Whether you are looking for your next dream job, for business leads or simply to get connected to great people, Linkedin is the place to be.
Connections are at the heart of the leading professional social network. The more you connect, the greater your chance are to get to know the people that will offer you your next job or may the next big deal your business has been looking for.
And you are in luck, because together with a great infographic from WhoIsHostingThis, we will show you how you can double organically your Linkedin connections by spending just 5 minutes a day on the platform, thanks to these 5 strategies:
1. Be active
Only 1 third of users log in on LinkedIn daily. This is great for you, it means there is a lot of space for you to get noticed! Take the time to update your status every day, comment on a few updates from other users and join a group discussion. It is guaranteed other users will see your activity and want to find out more about you. And this is why it is extremely important you keep your profile updated.
2. Make it personal
There is nothing more counter productive than using the predefined messages on LinkedIn. When you want to reach to someone, take the time to write a personal message, based on what you learned about them on their profile and always explain why you wish to connect. People will appreciate to know straight away why they should connect with you.
Remember to keep it short and mention connections you have in common to increase your chances to get an answer!
3. Reach out
Reaching out starts from your profile. Use your profile headline and summary to be clear about who you are and what you are looking for. After that, join groups that are relevant to your industry, engage in group discussion,  and make sure it is as easy as possible for other users to contact you through your personal information or the open link network. Do not forget to make your profile public so that other users can see your information. Hidden profiles are not a good solution if you are looking to reach out.
4. Be smart
Think WYSIWYA (What You Share is Who You Are) – Be smart about your updates. Share insights, opinions, news and articles that are relevant to your industry and/or what you are looking for. Ask questions and do not fear to express your opinions, although always make sure your updates can be backed up on real data or information.
5. Promote your profile
The more people will get to find out your LinkedIn profile, the more chances you get to have people connecting with you on LinkedIn. So try to share your profile on all your commercial support material, starting from your email signature and your website or blog.
LinkedIn offers different plugins and buttons you can add to your online presence for people to find you.

How do you use Linkedin?
Related Stories:
You might also like
---
More from LinkedIn
---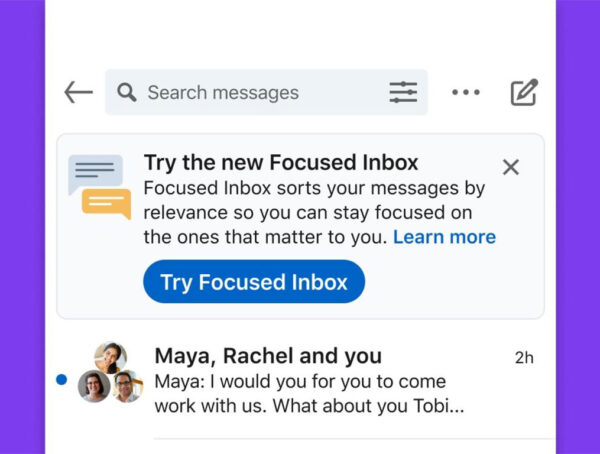 With Focused Inbox, LinkedIn wants to help you engage in the conversations that matter most. LinkedIn is rolling out a new …