Your customers spend most of their time on social media, especially millennials and rising generations of young shoppers, making it the place where you need to spend your ad dollars.
However, keeping costs down and proving that you're driving significant returns on ad spend (ROAS) from promoted social campaigns is a challenge. It's so easy for your PPC budget to trickle away without producing optimized results, so you need to do all you can to make the most of your paid social campaigns.
One tactic that's still not being maximized is to match web content personalization to your social ads. Along with many other benefits, website content personalization can give wings to your social media ads and take them to places they've never gone before.
When you use dynamic web content personalization wisely, you can make sure that what people see when they click through from your social ads is optimized for relevance. Consumers won't lightly forgive you for fooling them into clicking through to a content page that's irrelevant – and that includes content that's irrelevant to their interests as well as content that's irrelevant to what they were expecting to see when they clicked on your ad.
The use of ad blockers has quadrupled in the last few years, which shows how important it is to exclusively deliver ads that resonate and promote content that resonates.
Banner blindness means that potential customers won't see that which does not interest them, either literally or figuratively. Smart content personalization helps you to engage leads with content that's related to topics that individual audience members are already interested in. It increases conversion rates, improves brand loyalty, and raises revenue. In short, web content personalization is a powerful and effective rising star.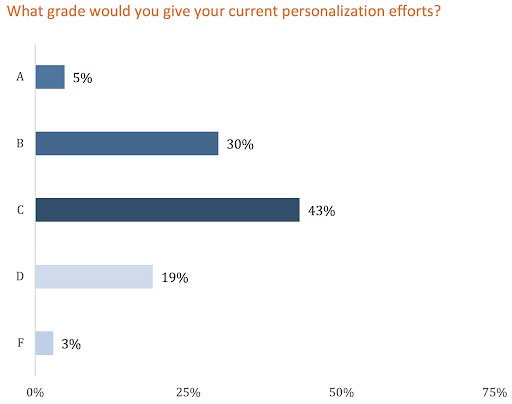 Image source: Evergage
And yet, you don't have to time to literally build a different website for every customer or write separate interactions for every viewer. Although 92% of marketers use personalization in some form or another, 65% would grade their personalization efforts grades of C or worse. What's more, the majority of marketers who do use personalization, use it in their email marketing campaigns – under half attempt web content personalization.
It's clear that marketers need a way to scale web personalization efforts. Here are three powerful yet achievable suggestions for combining website content personalization with your social media ads.
Personalized landing pages
Personalized web content has a symbiotic relationship with personalized social media ads. When you combine the two, you create a marketing campaign that can achieve more than the sum of its parts. Website content personalization makes your website part of an overarching and holistic personalized customer experience that delivers a more consistent customer journey.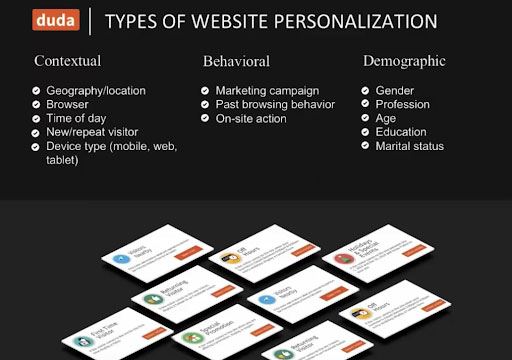 Image source: Duda
That's where Duda gets it right. This web design platform for agencies offers content personalization rules that tap into the UTM tags in your social media ads to adapt the same landing page to be fresh and relevant for each visitor. With Duda, you can display a different landing page according to:
The visitor's location – for example, showing the storefront and directions for your closest store
Time of day or year, such as presenting visitors with the lunchtime menu, winter warmers, or an Easter sale offer
Device – like offering a special discount for mobile orders
Any campaign tag you want – for example, you could customize the landing page for cat owners with more than one cat, offer a first-time order discount, or show only yellow products
This makes it easy to create a dynamic webpage that is customized to each visitor, without compromising on scalability or your agency's high standards. By setting up a smart system of personalization rules, you're exempt from having to create a landing page variant for every segment of your audience that you target with a tailored ad campaign.
Set an upward spiral of personalization
Social media ads aren't a one-way street. You can personalize them and use them to direct people to personalized content, but you can also use personalized content to tweak and improve them.
Your website content personalization helps you to gather data on visitor behavior when they visit your site. By tracking which pages they read and what content they absorb, you can learn what to suggest for future retargeting ads. The style of future ad creative, content suggestions, product suggestions, and more can all be informed by their choice of which web pages to view.
Check out the below example of how "Try The World" does this to drive upsells. With their Facebook pixel in place on their site, they can set up a custom audience consisting of people who have bought one product and then offer them a free upgrade on the day that they're likely to start enjoying their initial purchase.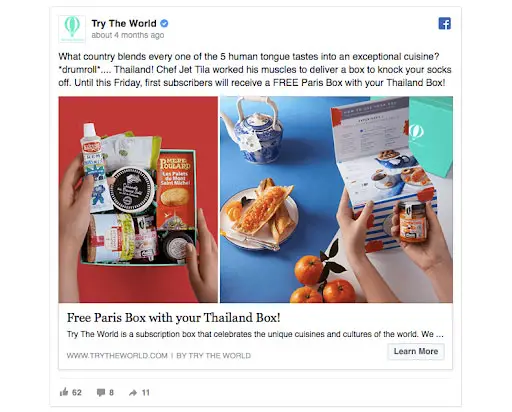 Image source: Klientboost
"Showcase your product at the most exciting moment of its lifecycle," says KlientBoost CEO Johnathan Dane about the brilliance of this campaign setup. "If Try The World's ad pictured the subscription box in the post office or unopened on the dinner table, they'd be missing out on a great opportunity to engage emotionally and reach beyond rational thinking."
But you can set up creative campaigns that do this well even before your audience converts. For example, if your visitor looked at content on gold jewelry and hypoallergenic jewelry, you could retarget them with social media ads about a new type of silver-plated gold jewelry that is great for people allergic to nickel. If another visitor looked at content on gold jewelry and wedding jewelry, you may choose to target them with ads about your new line of engagement rings.
Dynamic personal interactions
Take website content personalization and social media ads one step beyond when you combine them with chatbots. Your social media ads lead the viewer into a conversation with chatbots on Facebook Messenger or Whatsapp, to spark a dynamic, personal interaction that feels intimate and individual, but is still scalable.
You could send these ads through Messenger, or use a standard social media paid ad that prompts a conversation, such as "'Quick survey: Saturday night or Sunday morning?" or "What's your favorite color?" Including buttons for the possible replies entices the viewer to respond, which then allows you to contact them again via Messenger on an unpaid basis, further nurturing them with links to website content that dovetails with the information they've provided.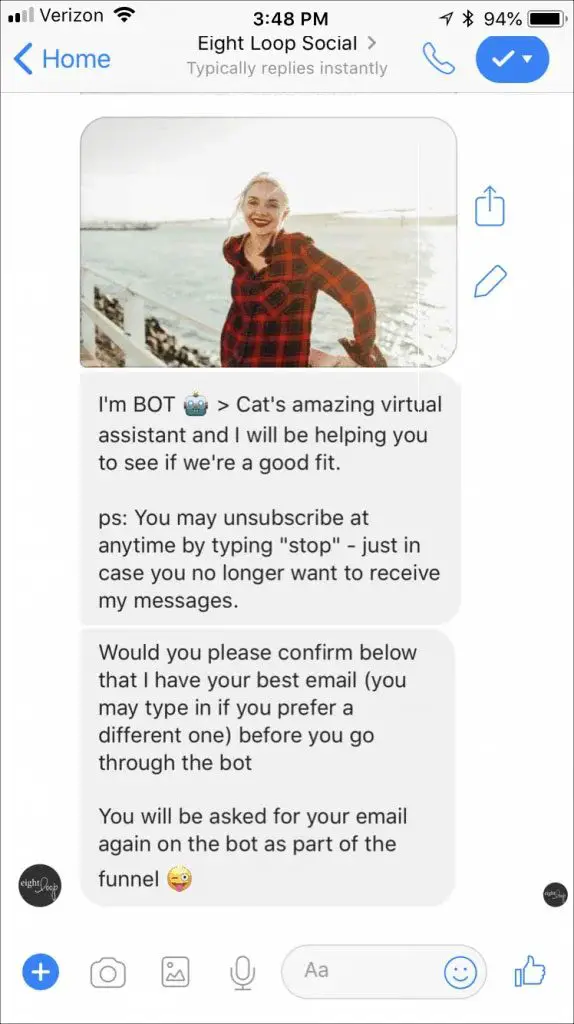 Image source: Mobilemonkey
In the above example, top social media marketer Cat Howell created an ad-fed, conversational nurture funnel that uses chatbots and paid social together. Her MobileMonkey-powered chatbot introduces itself and then asks a series of lead-qualifying questions in a friendly, one-on-one conversation that takes the lead through a sophisticated, personalized funnel that culminates with a sales call being scheduled.
You can easily set up variations of this type of funnel that take place over a longer period of time, sharing links with your leads that point to your blog articles that are most relevant to their objectives or pain points.
Web content personalization is your social media ad's best friend
The right tools make it easy to add web content personalization, and the possibilities are almost endless. Your personalized web content improves social media ads and raises ROAS on paid social by tailoring landing pages to customized social ads, increasing the accuracy of your paid social campaigns, and combining with chatbots for a natural and relevant customer experience.
Now you have no excuse not to draw on web content personalization, even if you're a busy agency without much time on your hands.
Robert Katai
 is a visual marketer and content marketing strategist at 
Bannersnack
. He writes regularly about digital marketing, social media and content marketing. He is passionate about visual marketing, Instagram and the future of digital marketing communication.
---
You might also like
---
More from Experts Talk
---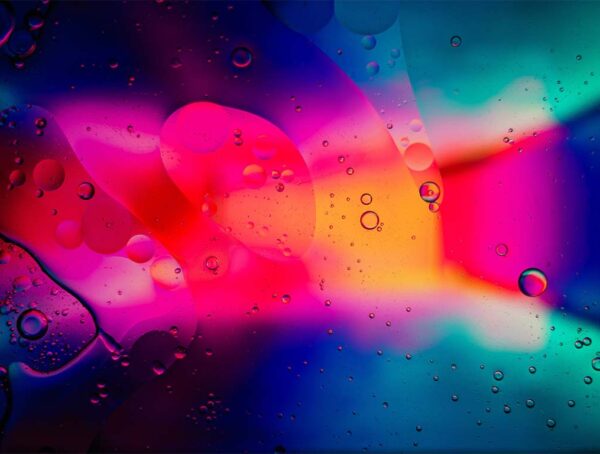 In this month's experiment, we set out to find out whether adding custom alt text on Instagram posts improves reach.