Have you ever spent more than you had planned on Facebook ads? These tools will help you keep your spending in check.
With the new year just around the corner, many of us look forward to spending time with family and friends, reflecting on 2018 and deciding what we want to change next year. Those are all noble aspirations to look forward to, but, as any Facebook advertiser can tell you, it may be a little difficult to focus on when you have several Facebook ad campaigns running and try to keep your spending in check.
"Did I remember to account for the days the campaign was paused when readjusting the budget?"
"Did I create two Ad Sets with lookalike audiences with a lifetime budget or one?"
"Is the campaign going to underdeliver if that bidding rule causes that Ad Set to pause?"
These are all concerns that might go through your mind if you do Facebook advertising. Especially when you run Facebook ads at scale, and you schedule campaigns for multiple clients and brands, worries about the performance of scheduled campaigns are ubiquitous, especially during the festive period, and especially relating to your budget.
Fortunately, Facebook provides a few tools that can be used to control a campaign's budget with confidence, so you can be sure that your ads will not spend more than they're supposed to.
Facebook ads, much like Google ads, follow a three-tier advertising structure: Campaign, Ad Set and Ad. Campaign dictates the type of the advertising objective, the Ad Set controls targeting, budget and bidding and the ad level control the visuals for each Ad Set in a campaign. The fact that a campaign might have multiple Ad Sets with either a daily or a lifetime budget might make spending control problematic.
The most obvious action for those interested in structuring their campaigns in a way that facilitates budget planning and tracking is choosing the lifetime value option as a way of deciding how much money they are willing to invest in each Ad Set. Even if you have multiple Ad Sets in a campaign, choosing a lifetime budget for each one will give you an easy way to see how much money the campaign will eventually cost. You can also choose the metric "Budget Remaining" in the Settings -> Goal, Budget and Schedule category when you're viewing a campaign's performance, which will give you the budget left in each Ad Set.
That's all great when you have campaigns with fewer than 10 Ad Sets, but after that scheduling and keeping track of the budget for each one becomes more difficult, miscalculations might occur. That's why an excellent option when you want to have peace of mind about spending is the "campaign budget" option.
Budget Optimization
With campaign budget, you can set your budget at campaign level rather than Ad Set. The budget is then distributed across different Ad Sets depending on their needs. To access campaign budget, you have to turn on budget optimization at the campaign level.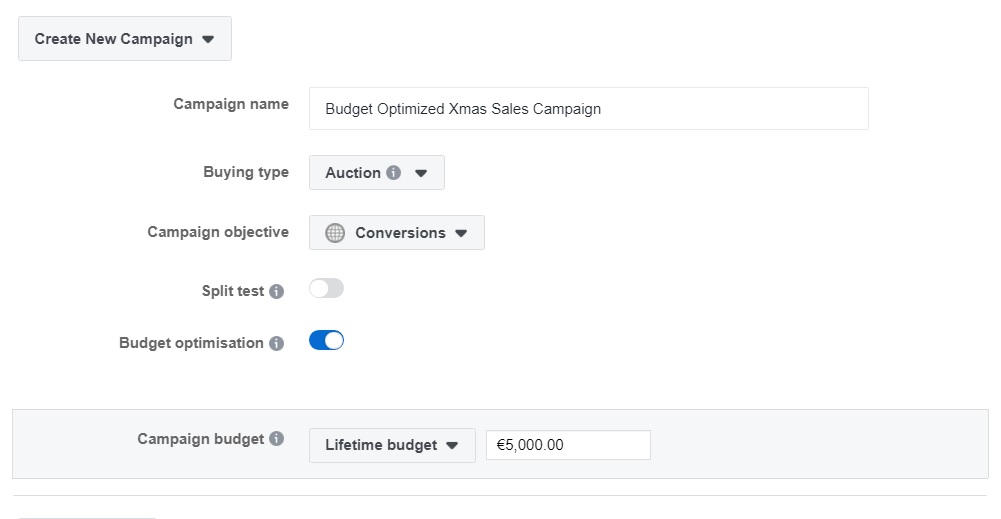 You can choose for your campaign to become budget optimized even if this wasn't the case when you first set up the campaign. In this case, though, the campaign must meet certain criteria such as having fewer than 70 Ad Sets which are all published.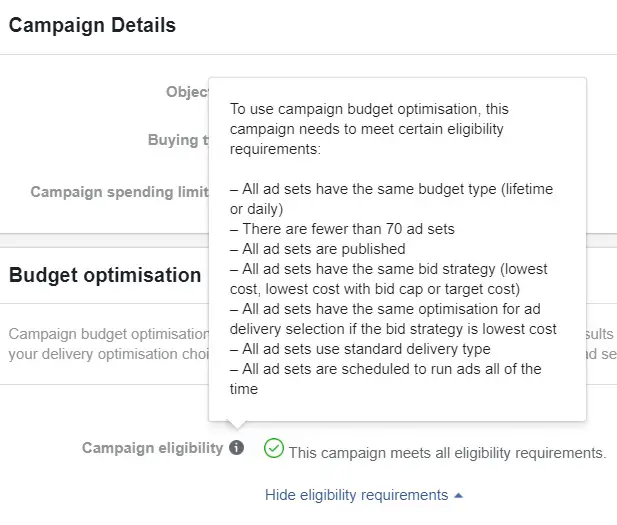 Campaign Spending Limit
A campaign spending limit as the name suggests is a limit which is placed at the campaign level. The campaign spending limit is a less sophisticated method compared to Budget Optimization and it ensures that your campaign stops delivering once the limit is reached. It doesn't pace your budget nor does it distribute your budget across Ad Sets. It only stops the ads from delivering when you reach the campaign's limit. You can always edit the limit or remove it altogether.
To set a campaign spending limit, edit a campaign you've created at the campaign level and you'll see the relevant option. Set the amount you'd like to use as limit and publish the changes.
Account Spending Limit
Account Spending Limit works exactly like campaign spending limit but on account rather than Ad Set level so it doesn't apply only to selected campaigns but to the entire account. To create an account spending limit go your payment settings, find the account spending limit section and click "Set account spending limit" and set the desired limit.
Warning: account spending limit doesn't apply to ad accounts using manual payments. Account spending limit applies to the entire ad account and refers to an overall lifetime spend so make sure you don't mistake account limit with campaign limit or lifetime budget of an Ad Set.
Rules
Another tool you can use to make sure your campaign doesn't exceed the allocated budget is to use automated rules. Just like spending limit, an automated rule can be used to turn off your campaign when the amount of money a campaign has spent exceeds the limit you have set. This is probably one of the least notable benefits of automated rules which generally can be used to automate a variety of different functions.
When it comes to turning off campaigns based on money spent, you might be better off with a campaign spending limit which will do the same or with budget optimization with campaign budget which will distribute your campaign's budget effectively and make sure you don't overspend.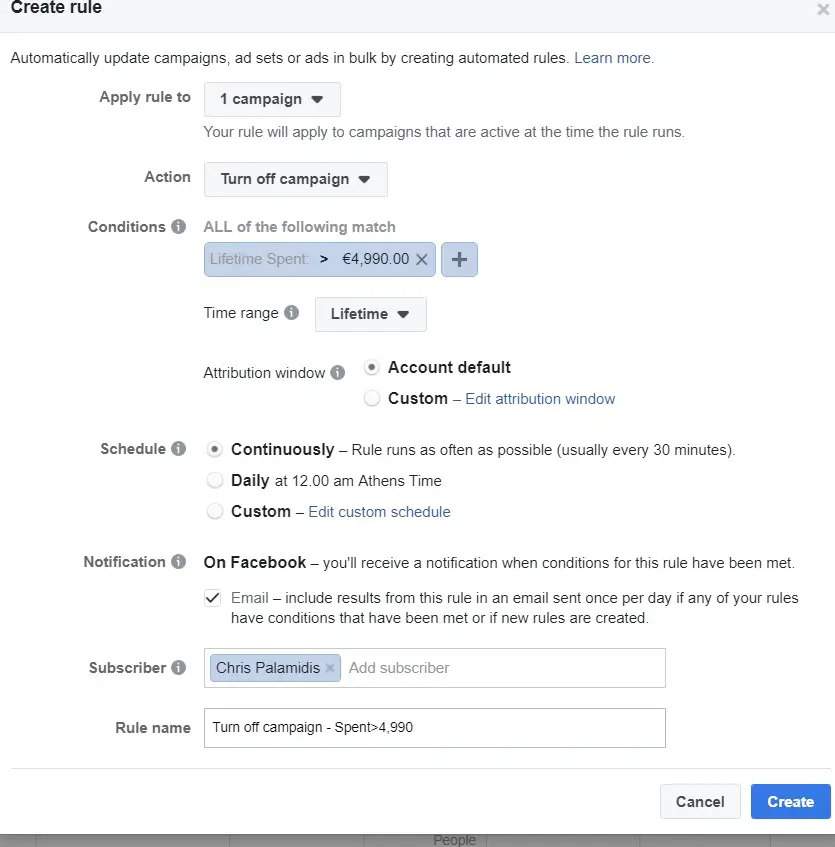 These are some of the tools you can use to keep your budget in control. Naturally, they don't substitute manual monitoring of the campaigns but they can be very useful. Do you have any other tools you'd like to share?
Chris Palamidis
 is Head of Social Media & Google Advertising for Mindshare Greece. His main area of focus is digital media strategy. Chris has worked with tens of multinational clients and has helped them implement innovative digital media campaigns to reach their business goals.
Read next: What Is Facebook Attribution And How To Use It
---
You might also like
---
More from Experts Talk
---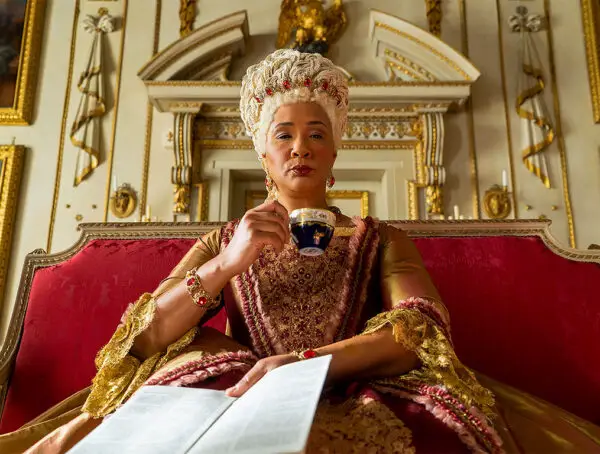 A new musical could soon come to life on TikTok, WhatsApp users are flocking to Signal and Fiverr will run …