Social media and the campaigns that drive brand success, are nothing without the people who make things happen!
Each week we profile one innovative industry executive and get them to answer 12 questions. Then, we share their insight with you!
After briefly meeting at Jon Burkhart's Ballsy event in October, I had the opportunity to reconnect with Matt Desmier; founder of Silicon Beach, Director at Wise Old Uncle Ltd., Director of Think, Create Do and "Butcher" at Meetdraw, Bournemouth's not-for-profit organisation for the digital sector.
So with that, I'll let Matt do the rest of the talking!
Hello Matt!
Hello! As Linleigh said, I am Matt Desmier and I am currently based out of Bournemouth, UK working as one third of the strategic innovation consultancy Think Create Do. There, we work with brands and organisations to help inform their next BIG decision.
But because I'm a naturally inquisitive person, I also put a lot of time and energy into producing a wide variety of events including: Silicon Beach, Silicon Beached, She Who Dares Wins and Once Upon A Time (that last one I co-produce with Mark Masters).
About Social Media In General
1. Which is your favorite social media platform? (please briefly explain why)/

Twitter. I've met some brilliant people through it and I'm constantly learning new stuff every day.
2. Which social platform is used most by your brand/agency?

Again it has to be Twitter. I've won work and clients through it, use it religiously to promote events, and also use it constantly to source new, interesting speakers for those events.
3. In your opinion, what is the future of social media, and which platforms do you think will lead the way?

Whether you see it as a positive thing or not, social media has had, and is having an indelible effect on modern – and I use the word lightly – culture. And with the advent of programmatic data-led targeting, this is only set to increase.
So I think the future that social media gives us, will see it intrinsically linked with everything, even more so than now, especially as the younger generation who've never experienced a world without it, grow up and enter the work force.
International news via Twitter, rendering the news, as we know them, obsolete; Local news via Facebook, entertainment via YouTube, recruitment via LinkedIn – these things are already happening, you wait until a generation who have no other frame of reference get involved.
If you like our stories, there is an easy way to stay updated:
Follow @wersm
About Great Social Media Campaigns
4. Please tell us about the one social media campaign you liked the most this year.

Hmmm. Pure social media 'campaigns' seem so few and far between, especially as social media empowers us to have conversations and build relations. Using social media for campaigns seems so 20th century right now. If I had to name one, it would probably be the Ted Baker Instagram campaign by Poke.
5. What about the latest campaign your brand or agency was involved in?

In general, the work that Think Create Do does with businesses, doesn't call for the use of social media as campaign work. That being said, we are working on a really exciting social campaign for the launch of a high profile crowd-funding related project… But we're under NDA.
6. What is the most important thing brands and agencies must keep in mind, in order to build a successful social media campaign?

Again, I'm ever so slightly dubious about social media only campaigns. The world has moved on, and social is just another touchpoint that consumers expect to engage through. But the things that brands and agencies should always bear in mind on social, is authenticity, honesty, and consistency.
7. In your opinion, which is the most important KPI to watch during a social media campaign?
Ha ha ha, I'm sure I'm starting to sound like a broken record, but you can no longer consider social in isolation – so the most important KPIs are the most important KPIs of the project. Is it sales, engagement, awareness, activation, etc…
About The Future Of Social Media Marketing
8. What will be the role of social media in the marketing mix of the future?

If it isn't already, social media is going to be the most important element of the marketing mix, not so much from a campaign perspective, but more because it's where stories are or will be spread.
9. What would you say is the biggest obstacle within the field of social media marketing?
The fact that businesses are still questioning the importance of the medium!
10. If you had to give one piece of advice to someone who has just started out in the industry, what would it be?

Be confident and have an opinion. Assuming this person starting out is 'young', the chances are that they probably know more than their boss (when it comes to social media). The difference is that the boss has an opinion and the confidence that comes from experience to share their opinion. Get yourself an opinion and you'll go far!
11. In your opinion, which is the "ad format of the future"?

Purpose-led, multi-channel, ongoing and consistent. The ad format of the future will be branding.
Fun Fact
12. Finally, tell us one thing someone would NOT be able to find about you from looking at your social media profiles.

I'm a fully-trained bra fitter having once been sent by my employer on a specific specialist course.
Excellent Interview Matt! Thank you so much!
Stay tuned for more weekly expert interviews and all things social media by subscribing via the link above or following us on Twitter below!
Follow @wersm
Until next time…
---
You might also like
---
More from Interviews
---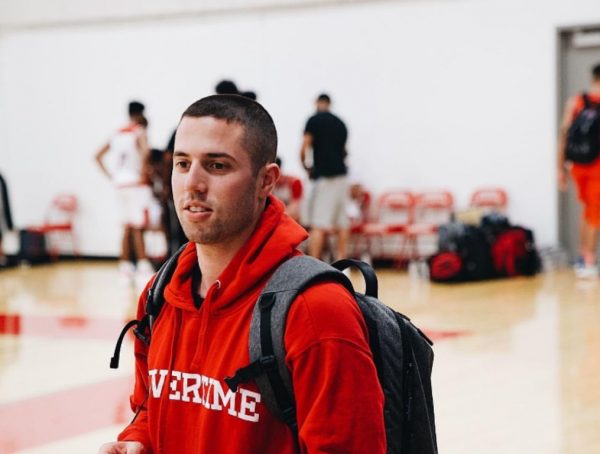 Please welcome this week's 12 Questions Expert Spotlight guest, Head of Social Media at Overtime, Thomas Weingarten. Thomas is an all-in …