Social media and the campaigns that drive brand success, are nothing without the people who make things happen! Each week we profile one innovative industry executive and get them to answer 10-12 questions. Then, we share their insight with you!
This week, I met with the CEO of TBC London, Jon Burkhart, who also happens to be a well-known author and key note speaker specializing in marketing consultancy!
Hi Jon!
Hello Linleigh. That is correct, and also I'm the founder that teams up with both brands and agencies to create relevant content. Some fun facts about me:
– I was the co-creator behind the world's first blog dedicated to real-time/reactive creativity UrgentGenius.com and the force behind UG experimental creativity marathon "hack days"
– I am a co-author to the book: Newsjacking: The Urgent Genius of Real-time Advertising
– I am a consultant to brands and agencies that want to build a bespoke 'reactive content labs' aka creative newsrooms
– AND a keynote speaker on content strategy and reactive content at conferences like South by Southwest Interactive (9 talks in 6 years) where I now serve on the advisory board
– As well as the creator of Millennial Mentoring, a programme where digital natives mentor CEOs, I am also an
– Ex-agency copywriter & creative director with 15 years of experience at Iris, VCCP, AKQA, HHCL, and others
About Social Media in General
1. Which is your favorite social media platform? (please briefly explain why)
Twitter. I've helping brands find a relevant way to chat with folks on Twitter since the beginning. In the early days, people were properly "surprised and delighted" by brands who knew the rules and conversed with them like humans. I was a part of this movement. Then, the "shiny new toy" syndrome kicked in, and brands decided that it was a free medium for shouting and spamming folk. Creating the Urgent Genius real-time content lab at Iris Worldwide was a reaction to all this brand misbehaviour.
2. Which social platform is used most by your brand/agency?
For me, it's Twitter then LinkedIn then Pinterest. I run my own consultancy and staff-up and down depending on the project, so keeping my personal channels alive is my main responsibility.
3. In your opinion, what is the future of social media, and which platforms do you think will lead the way?
I love the visual channels especially Pinterest, Instagram and Vine. Snapchat intrigues me but I don't use it. I love Blab, and definitely see it as a development on Meerkat/ Periscope that will become an important part of my daily routine. Being asked to be a guest on a fellow content marketing consultant's Blab session is a real honour. I love the live event. My Newsjacking book has been mostly applied to live events, in fact. I feel most comfortable on a stage than in a corner writing quitely so Blab is great for me. This will affect my blog to Blab ration in the future for sure.
About Great Social Media Campaigns
4. Please tell us about the one social media campaign you liked the most this year
That's obvious. I go for BALLSY left-field stuff that makes me feel happy about my life as a human being and carnivore. So naturally, when my favourite greasy pizza brand from childhood Little Caesars let me wrap my Twitter feed in bacon, I almost wept. Tears of pure pork joy.
A few words about the campaign…
"To help celebrate its bacon-wrapped deep dish pizza, the brand and agency Barton F. Graf 9000 created a couple of hacks for Twitter and Facebook that's puts a lot more bacon in your face. Tap the Bacon takes advantage of the blank letterbox space on your iPhone in Facebook's new mobile autoplay video feature. When users tap the bacon pizza on their screen, the app pops up in that unused real estate above and below the video with three of its own videos of people congratulating you for tapping the bacon pizza with applause and a thumbs up.
For Twitter, the Bacon Timeline wraps your Twitter timeline in 3.5 feet of (virtual) bacon with 42 delicious images bookended with branded Little Caesars posts."
5. What about the latest campaign your brand or agency was involved in?
I am thrilled about my latest experience. I built what I call a "surprise and delight department" for Ridley Scott's The Martian and the UK's largest grower of potatoes Albert Bartlett. Potatoes are a central part of the film — they're almost co-stars along with Matt Damon. People have been tweeting their affections toward the spud for months now.
My job was to inspire a team of content creators to create loads of content related to every scenario of potato love you can think of. Then we looked for conversations and tried to jump in and 'surprise and delight" folks in minutes, with personalised content. It worked a treat and I keep tweeting for the brand in my spare time, and people keep showing me love. If I decide to name our new potato smoothie stand on Mars after a fan, that will bring them joy. If I illustrate a picture of them and put it in the logo, that's even better.
6. What is the most important thing brands and agencies must keep in mind, in order to build a successful social media campaign?
Don't be spammy. Dont' be irrelevant. Be human. Be natural. Have a fun chat. Make me laugh. It's what social was meant for. Earn the right to talk about yourself please. Be useful and entertaining first.
If you like our stories, there is an easy way to stay updated:
Follow @wersm
7. In your opinion, which is the most important KPI to watch during a social media campaign?
It's all about conversation to me. I'm more excited about the two women (one works with NASA) who had a two-hour bit of banter with a Scotland-based potato brand on Twitter instead of doing their day jobs. It felt right. I don't want to get them in trouble with their bosses but they were awesome. If a brand can keep a new fan's attention with a bit of a string of fun banter, you've got a fan for life. As long as you keep it up and don't fall back into spam mode.
About the Future of Social Media Marketing
8. What will be the role of social media in the marketing mix of the future?
The same as it is today. Social media are the channels to distribute the content to your fans. Your content strategy is the most important written document your team can craft to perfection. From this document, you can build a social channel strategy that will help you reach people in a human, natural way.
9. What would you say is the biggest obstacle within the field of social media marketing?
Speed. Getting your content out there while it's still relevant. Being human – having time to get real-time insights from the data so you can make informed decisions with your content.
10. If you had to give one piece of advice to someone who has just started out in the industry, what would it be?
Try out every channel and find a few which feel like that will brings out your true self. If it's Instagram, then own it. Innovate within it. Don't spread yourself too thin. That's as far as your personal brand. Also, develop a strong sense of what customers think of brands. Dig deep into social listening. Get very familiar with your data scientist. Understand what makes humans tick. Don't ever get into "marketing person" mode. This will make you build global newsrooms for toilet tissue brands and/or hijack Will and Kate's third baby birth for a German pile cream.
11. In your opinion, which is the "ad format of the future"?
Sorry guys, but I just cannot come up with an interesting enough answer for that one right now.
Fun Fact
12. Finally, tell us one thing someone would NOT be able to find about you from looking at your social media profiles.
I won the spelling bee from age 9 to 11 and got 3rd in the regional bee and almost got to appear on national TV on ESPN's National Spelling Bee. See the feature doc Spellbound. That was my life. It's what made me a writer and almost guaranteed that I never misspell anything ever.
---
You might also like
---
More from Interviews
---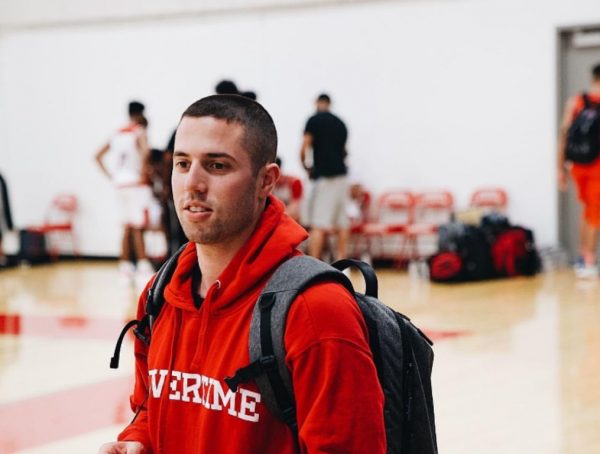 Please welcome this week's 12 Questions Expert Spotlight guest, Head of Social Media at Overtime, Thomas Weingarten. Thomas is an all-in …