Social media and the campaigns that drive brand success, are nothing without the people who make things happen!
Each week we profile one innovative industry executive and get them to answer 10 questions. Then, we share their insight with you!
This week, we met with Antonia Heslop, the Senior Creative Designer at Buzzfeed UK here in London.

Hello Antonia!
As the Senior Creative Designer of BuzzFeed UK, I work with clients to create branded content on the BuzzFeed platform – most will know this as native advertising. I create bespoke illustrations, animations, photography, and more, to engage audiences and bring a brand's post to life.
Specialising in 8-bit animation, I was headhunted by BuzzFeed when my 'Game Of Thrones 14 Most Brutal Deaths, As 8-Bit GIFs' post went viral. I love to use movies, comics and video games as my inspiration, all with the goal of making content viral.
About Social Media in General
1. Which is your personal favorite social media platform?
I am a Facebook girl. Life gets so busy with work and I find it difficult to keep in touch with friends and family as much as I'd like. Facebook makes it easier to stay in contact, which is what I mainly use it for, especially as everyone moves to different places and have busy lives of their own. It's great being able to see what is happening in the lives of people who I am not necessarily in contact with now, but still care about.
2. Which social platform is used most by BuzzFeed UK?
That all depends on what the KPIs of the brand is and what they want to achieve. So, there's really no point to say it's Twitter, or Instagram because different types of platforms lend really well to different types of content. We pay a lot of attention to what kind of content performs best on which platform, for example, relatable content tends to do very well on Facebook, whereas knowledge or hard news tends to work better on Twitter.
If you like our stories, there is an easy way to stay updated:
Follow @wersm
3. In your opinion, what is the future of social media, and which platforms do you think will lead the way?
Ah, this is a difficult one because all of the different social media platforms are trying to evolve in different ways. Facebook has proven to be the best at evolving; what started off as being a social platform for university students is now a hub for people to digest news; a place where you can see, read, watch and share. For its ability to change and move with the times, I'd say they are the ones leading the way at the moment.
About Great Social Media Campaigns
4. Please tell us about the one social media campaign you liked the most this year.
My favourite campaign is technically from last year, but the second part has just been released. When the 'Like a Girl' campaign first came out, I realised there were a lot of things I said, like "oh you do 'x' like a girl," but I didn't notice that I was insulting myself and every female on this planet. So the campaign made me change how I talk about things, people, and actions.
Then the new video about limiting girls was released and that approaches the idea in a totally different way and it broadened the subject further. This video delves more into how girls at a very young age are limited in doing things because of simply being a girl.
I've been training in karate since I was six and as a child if I'd tell someone, I often got the response, "eh, but you're a girl?". I then received my black belt at the age of 10, competed for Great Britain, and now after 20 years of karate I never really understood how they could say that. This wouldn't have been achieved if I had taken what the naysayers said to heart, like most girls do. It really hit home even more this time, to a deeper point and I think for a campaign to do that, is fantastic.
5. What is the most important thing brands and agencies must keep in mind, in order to build a successful social media campaign?
To me, there are two things. The first is to embrace change. If you look at how technology is rapidly changing; for example how Twitter now has GIFs and videos automatically playing, it's a constant evolution. One thing we do at BuzzFeed is experiment constantly, we're always trying to find the best way to get content to people and we adapt our approach. I believe brands should be on top of the changes that are happening online, rather than being two steps behind. Experimenting opens up many possibilities of hitting that gem that will put them ahead of the curve. After all, everyone wants the best engagement, best views, and to make fantastic campaigns that encourage people to interact with them.
The second is that a lot of brands on social media are very "me, me, me…". When in reality, people don't want these advertising messages in their face. If anything, their focus should shift and tell their target audience, "here's what we can do for you." The way we see content at BuzzFeed is like a present for the audience; like "Here's a cool post, we thought of you." If everyone thought of content like that, it would build stronger engagement and brand affinity.
6. In your opinion, which is the most important KPI to watch during a social media campaign?
Again, it all depends on what the brand wants to get out of the campaign. So, if a brand wants us to get bums on seats to see a film, then that's what is important to get out of that. If they want to increase brand awareness or change an audience's opinion of them, then that's the most important KPI. It's great to have a platform that is so adaptable.
7. What about the latest campaign your brand or agency was involved in?
We worked with Alzheimer's Society where one of the posts we created was a quiz called "The Hardest Trivia Quiz You Will EVER Take." It starts as a general trivia quiz, but as it progresses the questions get weird and nonsensical. One question was a riddle where none of the answers made sense, and then another is a picture of a random woman that you have to identify. Most will choose 'don't know', but you are told that she's your sister… It's confusing and makes you doubt yourself, very much how those suffering from dementia would feel.
The campaign was created to not only help people relate to those suffering from dementia, but to create awareness for the disease and research. The campaign was a great success, it was repeatedly shared and commented on. One of the comments said "I'm now going to go support the cause and raise money", so really what more could you ask for?
You can check it out here.
About the Future of Social Media Marketing
I love watching sci-fi movies, seeing how they depict our future and love to keep an eye on how they handle advertising, either because it's funny or that they might be onto something. For example, in Back to the Future a huge 3D shark hologram that jumps out on people is used to advertise Jaws 3D. That was their prediction of high-tech advertising in 2015, yet we have taken such a different approach and that is laughable now. It's really difficult to see the future of social media, because that sort of thing is never planned, it just happens.
8. What will be the role of social media in the marketing mix of the future?
It's going to be vital. We spend a lot of time thinking about how to publish content for the way people consume our media. So for BuzzFeed, our content isn't just seen on our site, it's found and shared all over the web. This knowledge has helped shape the business and has made us smarter about which platform – or combination of – is the most suitable for the story we are trying to tell.
9. What would you say is the biggest obstacle within the field of social media marketing?
There are many brands and businesses that don't quite get it yet. There could be so many reasons for this, from not quite understanding how it works or the power it might have, to just being stuck in their ways. For example, many are still in the mindset that TV commercials are the way to go. Realistically, TV advertising is not as effective as it used to be. If a TV commercial comes on, many will go to their phone to look at the latest news or see where they've previously seen that actor from the TV show they're watching. Nobody really watches TV adverts with complete focus and are often multitasking throughout. So for many brands they could in fact get more engagement through a Tweet commenting on that TV show.
There's also the obstacle of making sure people are not becoming numb to social media marketing. Like I said with the TV commercials, you have to make sure your social media campaign isn't going to make people zone out because they've seen it all before. You want them to engage with and get excited about your content.
10. If you had to give one piece of advice to someone who has just started out in the
industry, what would it be?
If you love to do something, keep on doing it, because ultimately that is what is going to get you somewhere. If I hadn't have done that myself, I wouldn't be working at BuzzFeed. My background is in design and I found it hard to get into the industry – it's a really tough world out there. After graduating, I had several internships and jobs that kept me afloat while I was trying to make a career for myself. Throughout, I continuously developed my own design and animation projects and had built a portfolio that mixed my personal projects and work I had done in internships and for live briefs. I developed a specialty in 8-Bit animation and I'm making a game called Rush Hour, which got picked up and featured on BuzzFeed. That is how they got to know me and I got to do some freelance work that I loved to do through that. One of those posts went viral and the rest is history.
You might have to do work you don't love sometimes, but keep on doing stuff you love to do as well in your spare time, because I guarantee you that's what is going to get you where you want to be, in a job you love.
11. In your opinion, which is the "ad format of the future"?
There most definitely won't just be one! If you look at how we all consume content today, whether that is through TV, Instagram or print, ad formats are continuously adapting to reflect those mediums and how they are used. We are coming close to having our first digital generation of people who would have been brought up solely in a world where everything has 'smart' as its prefix. That will bring about it's own advertising problems and solutions, and I'm looking forward finding out!
Acdditional Thoughts on Social Media
12. How far in advance is a social media campaign planned?
It all depends on the type of campaign we are working on or content we are creating. Often, clients come to us with flight dates that they want the content ready to be live for, sometimes even in short notice. So we always have to be prepared. We also have the ability to create reactive content for a client too, so always have to be quick on our feet and keeping up to date with all of the latest news and trends. A great example of this would be when 'The Dress' went viral. That happened overnight and within the space of a day, BuzzFeed worked with clients to capitalise on that trend by creating branded content for them.
Fun Fact
Finally, tell us one thing someone would NOT be able to find about you from looking at your social media profiles.
Ah! That is really difficult, because I really do wear my heart on my sleeve. Even people who don't really know me, know that I'm obsessed with Batman and love comics… I just saw my reflection in the mirror and yeah I guess you can tell! (Sporting a Batman shirt).
I guess one fact is that when I was a kid, I was a cheerleader for the London Monarchs (AKA England Monarchs) who were a professional American football team in NFL Europe. We were called 'Little Gems' and danced a routine to the Grease medley during halftime. Anybody who has seen me dance now would find that fact hilarious. My moves are… interesting.
---
You might also like
---
More from Interviews
---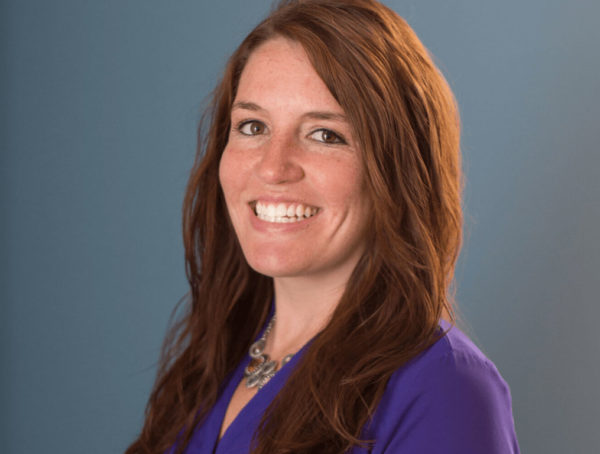 Please welcome this week's 12 Questions Expert Spotlight guest, Director of Brand Strategy & Marketing at Blue Magnet Interactive, Stephanie …