This week we are headed back across the globe to LA where we met up with the 'matcha man' himself – CEO and founder of California-born startup Tenzo Tea,  Steve O'Dell!
Don't worry, he's got more to talk about than his precious matcha! He's here to chat social media and the impact it has had on him as an entrepreneur and the startup culture. So let's get to it!
Hello Steve!
So, how did he get into social media? Like most people at the conception of it. He found himself just as engaged as everyone else, even throughout the evolution of what we know today as Facebook's timeline and much more. Then came the monetisation of social media. As a young kid in college, this piqued his interest and he wanted to get in early. That's when he decided to further develop his love of entrepreneurship, and start his own company. One company later – Tenzo Tea was born!
About Social Media In General
1. Which is your favourite social media platform?
Personally? I LOVE Facebook. It's an exceptional way to interact and connect with people. And Mark Zuckerburg's mission statement from day 1 about making a place where you can connect with the rest of the world, is bang on.  One thing I particularly enjoy is Facebook Groups. I love that they host a core group of likeminded individuals working together to either further their careers, or their dreams.
In terms of my own personal brand though, I opted not to use Facebook. Instead, I chose to focus my attention on LinkedIn. What I found was, is that my story about dropping out of college and starting a business really vibed with the LinkedIn community.
Actually, one of my really good friends – the "King of LinkedIn," Josh Fetcher shared his personal story that really inspired me. So, we ended up collaborating on a few things and chatting quite a bit! One thing I found really interesting though, was that he calls LinkedIn a transferrable asset. No matter what company you work for, or where life takes you, your personal brand is going to follow you. So if you're young, take note. Establish yourself on a platform that you feel comfortable with, and be persistent. Your personal brand could very well be the stepping stone to future opportunities. It's just a very high leverage thing.
2. What social media platform used most by your brand/agency?
For our business life, we focus our attention LinkedIn. It's where we prospect for different partnerships (i.e. food bloggers) and add value to our brand through offering up insights. But the two platforms we are heavily invested in are Facebook and Instagram. The granular targeting and audience-building capabilities on Facebook is a big part of our revenue stream. For us, Instagram is our branding platform. It promotes the Tenzo lifestyle and overall personality. Therefore, we really focus on creating high quality, lifestyle content that connects with our consumers.
Check out the effects of Instagram Stories on Tenzo Tea by skipping to 5:22.
3. In your opinion, what is the future of social media and what platforms will lead the way?
Hotly debated question! Personally, I think it is going to be Facebook. The concept of network effects defines Facebook to a 'T'. The larger a platform gets, the stronger and more powerful it becomes. With Facebook crossing 2 billion users, it gives them a really great opportunity to further that community through more innovations and updates. And personally, I think they are already taking advantage of it quite nicely. By adding workplace tags, they have started to challenge LinkedIn a bit!
And the battle between Instagram and Snapchat… it's hard for me to justify Snapchat when Instagram already has 800 million daily active users. They are going to need to pivot tremendously before I get on board. Their audience is too young for our product anyway, so I'm not sold JUST yet. For me, I need to know where they see that audience developing. Are they going to be able to provide the resources and content their audience needs as they age? Or will Facebook and Instagram already have hold of those market segments? Only time will tell.
Find out more about why Steve thinks Facebook is the 'it' platform and the challenges startups are facing at 8:27.
About Great Social Media Campaigns
4. Tell us about one social media campaign you liked most this year.
I'm a sucker for 'feel good stories,' and so my favourite campaign by far, is one that was housed on LinkedIn, called #LetsGetHonest. The campaign features businessmen and women and community leaders sharing their stories on "how they got to where they are," in an honest and matter-of-fact way. No BS. It was really interesting to see the element of 'personal' taken to a new level amongst the business community. It's content that is really 'uniting' in a sense.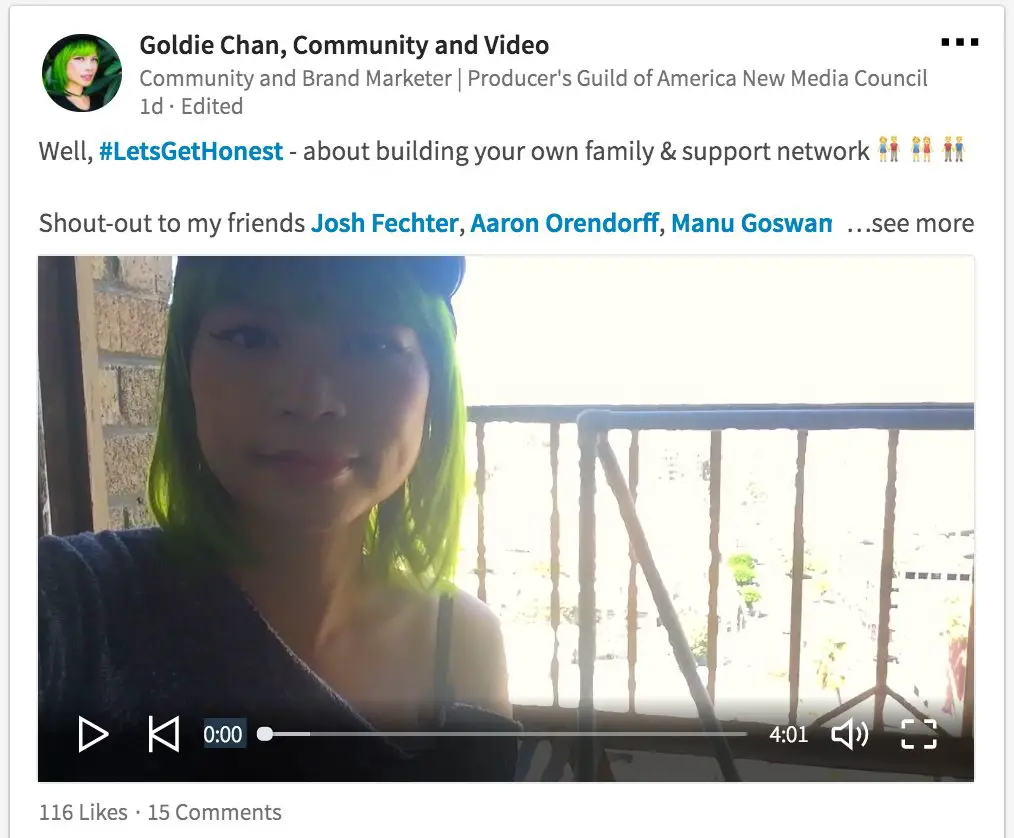 The campaign even drove traffic from some of our previous podcast guests Goldie Chan and Michaela Alexis!
5. What about the latest campaign your brand or agency was involved in?
So at Tenzo Tea we have been dabbling with a few things. But, one that I really enjoyed recently, was a Facebook and Instagram store deal, where we encouraged people to like and share the post to receive a discount code to our store. It really reinforces the customer to take an action to receive a benefit.
So your customers, which seems obvious, are the backbone of your growth, but not just by means of purchasing product. With social media, your customers and you grow together. Of course, it's a means of saving money too, but it really allows you to focus creating content that resonates with your audience, so much that they want to share it. It's all about creating a mission through your content and getting people not just to understand that mission, but live it alongside you. And for Tenzo, it's about living a happy, healthy life. So our content needs to reflect that and entice our customers to do the same.
6. What is the most important thing brands and agencies need to keep in mind, in order to build a successful social media campaign?
Its a lot more complex than one might think. There are a ton of factors that need to be considered when it comes to creating a successful social presence. How have you acted in the past? What is your audience size? How do you engage them on a day to day?
Personally, though, I think the key thing with campaigns, is the notion of virality, and word-of-mouth (in both the traditional and digital sense). If you can build a system of virality within your content, your campaign can very well be successful. What it comes down to is the data. And there are lots of companies out there that can provide you with templates previous companies have used, but it is hard. But if you can nail down the right data to inform your content, and build a system around that for future content, you will be in a powerful place to leverage social media.
7. In your opinion, what is the most important KPI to watch during a social media campaign?
It depends on the campaign, and even the platform. You also have to think about how the algorithms constantly change over time; the ranking factors or the weights of certain variables. For example, I like to look at heavier weighted items; i.e shares. I break down total post engagement vs. the number of shares on the post and then set a standard for each platform. It provides you with a baseline that you can reference as you grow your platforms and develop future content.
The thing about sharing is, with every share, your reach expands further and further and it also showcases how well you know your audience and what relates to them.
*Bonus thought! What is a brand? Skip to 15:47 to find out how Steve and Tenzo define it and customer touchpoints.
About The Future Of Social Media Marketing
8. What will be the role of social media in the marketing mix of the future?
Point blank, I think social media will totally dominate all aspects of marketing, because its the glue that holds all marketing touchpoints together (i.e. traditional, digital and etc.). Social media acts as a community centre where people can go and interact with you and your company.
9. What would you say the biggest obstacle is in the field of social media marketing?
Honestly, I'm speaking from first-hand experience at this very moment. We spend a significant amount of money on Facebook, to find it recently updated its algorithm. Which would be fine, had we been prepared for it. Instead, we saw the algorithm affect our social stats a great deal, and we are working to drum up a solution. But, you really don't realise how dependent you are on social media as a business, until something like this happens.
Drastic changes can have BIG impacts. So I would say the biggest challenge is keeping up-to-date and informed of changes to the platforms/their algorithms, because often, they aren't as vocal as we'd like them to be.
10. If you had to give one piece of advice to someone has just started in the industry, what would it be?
I think that you should pick one social platform, and really focus on developing hard skills that will help you grow that platform. For example, you want to take over Facebook. I would start with just Facebook. Learn how to build the system. Learn how data works. Learn how to use data. Learn how to build content. Learn about videos, Photoshop, and writing. By learning a lot of these skills, you will understand social media that much more and then be able to take those skills and apply them to different platforms to complement your hub platform. Stack your growth, but only after you truly understand the use of data.
11. In your opinion, what is the ad format of the future?
So right now, everyone is hyped up about video, and I think that will continue for a while, but I think it will phase out over time because people will start to be more in-tune with better technology – specifically as the hardware keeps progressing. With AR and VR, I truly think the hardware will get cheaper, and more widespread. It just really comes down to the hardware aspect. Can you imagine sitting in IKEA in your very own living room, hand-picking and trying out new furniture?! AR and VR both have a TON of potential.
Fun Fact
12. Finally, tell us one thing someone would NOT be able to find out about you from looking at your social media profiles?
How about the fact that Tenzo Tea is currently run out of our apartment, with 7 full-time employees on board?! Not to mention the fact that our inventory has taken residence and is stacked floor to ceiling in my bedroom, with the only space being a small path and my bed! But we'll be adopting an office in a couple months so… yeah!
Spoken like a true startup! That's all for this week's 12 Questions. Stay tuned weekly for more brilliant insights from the people out there in the industry.
---
You might also like
---
More from Experts Talk
---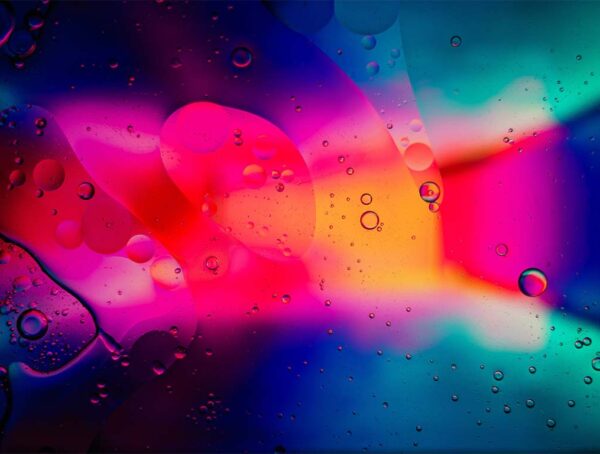 In this month's experiment, we set out to find out whether adding custom alt text on Instagram posts improves reach.