Welcome back to We Are Social Media's 12 weekly 12 Questions series.
We know that social media and the campaigns that drive brand success are nothing without the people who make things happen. Which is why, each week we take you across the world and behind the scenes, to profile one innovative industry executive with 12 questions.
Meet Michaela Alexis – founder of Grade-A Digital in Ottawa, Canada.
Hi Michaela!
The most interesting part of her story started about a year ago. In February of 2016 she was laid off from her previous job, and inching very close to 30. Not what she thought 30 would look like, rock bottom sparked a whole bunch of different ideas in her head. Having been in marketing for 7 years, no recruiter was going to tell her what she needed to do. It goes without saying that she needed to start sending out hundreds of copies of her CV. There had to be a better way than to just "spray and pray." So instead, she decided to start writing online, and used LinkedIn as kind of her go-to platform.
Then came time to build her following. There was Facebook, where too many others wanted the exact same thing; Twitter – she claims she talks too much and feared people wouldn't want to be inundated with a million Tweets. And then there was LinkedIn, the underused, undervalued tool and great for those with writing skills. And that is where it all began! She took to LinkedIn with a purpose: to showcase to people what she knew: content marketing and social media in addition to her experiences as a job seeker. There, she leveraged the platform by asking her community of followers to help her find her dream job! 2 weeks on, she turned down not one… not two… not even three… but four job offers.
So, by building up her personal brand on LinkedIn, it was a happy accident really that led her to discover her purpose: sharing what people wanted to hear, by talking about the tough subjects of the professional world – failure, being laid off, how to decide what kind of job you should be looking for, and what to do when you feel stuck in a career.
Originally published solely on LinkedIn, she then had the opportunity to be featured in CNBC, Huffington Post, and even Mashable!
So, while it has been a wild ride, she spent the past year launching a new division of her company, Grade-A Digital and has literally gone from penniless to President; a true social media fairytale!
So, now that you know a bit about Michaela let's get right to it!
TL;DR? You can listen to the podcast here:
About Social Media In General
1. What is your personal favourite platform social media platform?
I think it's pretty obvious that my favourite is LinkedIn. And I don't think anybody in the history of LinkedIn has had it better than I have. Not only did I find my dream job through the platform, but it also helped me to build a following and have that growth bleed into Grade-A Digital, giving me a waiting list of clients without needing to spend any marketing dollars. So, I think it would be really strange for me to say that I choose Facebook or Instagram – even though I love using those platforms as well.
I think what's really great about LinkedIn, is really more about community. People are so willing and open to share their knowledge and experience with other people, and you really don't see that level of community on any other platform. It's heartwarming to see that I built up this community, and people are connecting within it all because we are like-minded people.
2. What social media platform is used most by your brand/agency?
So my agency is in its infancy. It's a baby right now, but definitely we are geared towards professionals, so LinkedIn definitely. I mean there are so many tricks and tips, that I have learned over the past year, that are very foreign to other people. Really, it's a unique platform that people are having a really hard time grasping, and figuring out how to leverage it.
However, having been in the game since the beginning of brands using social media I am very comfortable with Facebook, Twitter, and Instagram.
Instagram is another platform that is very under-utilized by brands. I find it really fun, because there is so much unique content that you can use, that is a little bit more visual than what you would find on LinkedIn. So in conclusion, I enjoy using different platforms.
3. In your opinion, what is the future of social media and what platforms will lead the way?
Well, I think the biggest change that I have seen since I started in social media is that for the first few years, I was really trying to justify being on a payroll. People were still unsure whether social media was just a fad that was going to pass. So it's a lot of justifying even to this day. We all know its power/potential, but many still aren't quite convinced, and I am constantly asked: 'Should we invest in social media?' / 'Which platform should we be on?
But it is more than that. It is more about finding the right people; content creators to build content, platform strategy, and more – because people have jumped in. They are already producing content themselves, and on a regular basis. The biggest challenge for companies right now, is developing the right strategy, making sure that their time is well-spent and they are standing out in a world that is becoming busier and busier online.
I've been going on an 'Essentialism' minimalist journey. I have just finished reading Essentialism and talking to one of my writer buddies, Jacob Warwick. He just wrote an article about minimalist marketing, and I think that is definitely the future of marketing. I think the future is going to be less content but more high quality through research, more collaboration that is involved with producing the kind of content that people are going to be interested in. We as brands and agencies help to provide value to our consumers that they may not necessarily find elsewhere.
About Great Social Media Campaigns
4. Tell us about one social media campaign you liked most this year.
You know what I've really been liking – and this is terrible… but I've been liking companies that either produce toilet paper or the potpourri. I think there is just something so refreshing about just talking about what we all go through. It has been such a long time since we've seen that. You see the same things for personal hygiene products on TV. We are moving away from not talking about those things to talking about them in a very relatable way.
For example, we have seen the likes of Charmin really embracing the fact that this is what they offer; talking about their values to consumers and not taking their marketing too seriously. This has proven really successful.  I know it's a really strange answer for me to bring up – you know, toilet paper and personal hygiene products – but I'm really about being authentic, so anytime I see a campaign that people are just embracing who they are and what they bring to the table, I am all in on that!
5. What about the latest campaign your brand or agency was involved in?
My favorite campaign that I've worked on… Over the last year, I have run a number of different marketing campaigns for Grade-A Digital. I am used to doing campaigns for corporate brands, but this is a first for me, doing it for my personal brand. Really, it's the same idea though: bringing value to people who deserve to receive that value.
If I had to pick my favourite it would have to be my recent experience. So last year when I was laid off, I received a box of books from marketing guru Scott Stratton. He sent me a whole box of books on marketing, social media and writing. So now, I wanted to do it for somebody else. Putting it out there for my followers, I asked them to send me their stories privately, and I chose a winner. For me though, it meant a lot more than just giving something away for the sake of it.
I ended up receiving hundreds of submissions from people just opening up to me. It was incredible. It is very hard as an entrepreneur to see beyond what is right in front of you – so for me it was the perfect time because it reminded of why I am doing what I'm doing.
I think it was my duty as a person and ours as we work with brands to really make sure we understand that sometimes you got to drop the analytics. You can't think of people as numbers. They are human beings, and I'm all about human to human marketing. Forget about that B2B, B2C marketing. It is all about human to human. And for me, if you have the opportunity to affect even just one person and do one campaign like this, the ROI is immeasurable. On top of that, you are  going to get so much satisfaction for doing it.
The good news is that bigger brands are starting to understand that more and more. You need to reach people on a very personal level. Contests are just contests at the end of the day.
6. What is the most important thing brands and agencies need to keep in mind, in order to build a successful social media campaign?
It is not about you at all. To be frank, my first few articles were terrible, and a big part of that was because I was trying to impress people rather than try to connect with them. I think that a lot of us have that issue, even in marketing. We are constantly trying to showcase our features and benefits without truly connecting with our core audience.
I think that by dropping the whole B2B / B2C approach, and understanding that people are more than numbers, you can have that direct connection with your audience that is more valuable than you can ever imagine. I think that's super important. You are not writing for yourself – you are writing for other people, and the purpose always has to be to create an everlasting connection with them.
7. In your opinion, what is the most important KPI to watch during a social media campaign?
Definitely comments (i.e. engagement). Comments are so underrated. From a personal branding standpoint, I have noticed two different things: the lack of focus on both comments and messages. For example, emotionally-driven content sparks emotionally-driven responses that come in the form of messages. But what brands need to start understanding, is the importance of getting that inside response from their consumers. These messages and comments are really important when it comes to listening to your audience. They may even give you inspiration for more, or different content.
For myself, a lot of the articles I write come from the feedback that I get from my audience. So, for me to overlook those would be a huge mistake.
Furthermore, before you jump into social you need to ensure a variety of processes are in place. Creating content just to create content is a waste of time. Plan accordingly, and have processes that are in place to help you decide where you want to be, and why. This tags back to the fact that social media gives our customers a voice. We aren't able to have as much control over it as you used to. So, I think a big part of that relies on how you handle customer service. It is really similar to a PR crisis in a sense, the only difference is that with social, things spread a lot quicker online than they have in the past, so in order to contain a crisis or a negative comment, you have to plan for it, and react according to your processes.
8. What will be the role of social media in the marketing mix of the future?
I think it's all part of the same eco system. People always ask me 'How active should I be?' It's a means of communication. It's just a communications channel. However, what I will think we will start to see more of, is the alignment between online and offline activity. The best campaigns make clever use of both.
I always tell people that you need to make sure that what you're doing online is matching what you're doing offline. That means making sure that your staff is trained on social media and that your customer service offline is matching what they are receiving online.
So I think the best companies, and the best campaigns, are the ones that include this holistic approach to customer service, in addition to having strong communication with their core audience.
9. What would you say the biggest obstacle is in the field of social media marketing?
Keeping up! Oh my gosh, if you work in social media and you go on a two-week vacation, you come back and everything has changed. It is absolute madness. You know, it progressed very quickly in the beginning, but I think even more so now.
You have to be passionate about this industry. Live and breathe it. It's not a nine-to-five job. You spend a lot of time researching progressions, learning how to execute activities, etc. Keeping up with everything that is changing and then being able to pivot when it is necessary in terms of your approach is difficult. You have to learn how to cut through the noise, but not add to it.
It really can be so tempting sometimes, as new platforms and tactics come into the market. It is like seeing a shiny new toy really. You might want to try everything, but you really have to rein yourself in, and perfect and learn as you go.
You know what is interesting about social? We truly started off social media where you just put up content; no algorithm, no targeting. You made use of the employees you had to push your message to their friends by 50 people posting the same thing! But now, there is a lot more that goes into it, and there are a lot of valuable transferable skills to be learned. For example,  how to communicate effectively, how to tell stories, and more. The funny thing is, these skills existed long before social media, but we are seeing them now play a crucial part in great campaigns.
Therefore, social media is here to stay for sure.
(.@mickalexis: Biggest challenge of #socialmedia: Keeping Up!!!)
10. If you had to give one piece of advice to someone has just started in the industry, what would it be?
Oh my gosh… take advantage of the free education! (Facebook Blueprint for example) There is so much out there its madness. I just found out the other day that if you have a library card in Ottawa – I don't know if it's like this in other cities, you have access to Linkedin and their LinkedIn learning courses for free! If only those were around when I was younger!
Back then, there were only a few blogs on it, because everyone was just trying to figure it out, but now we've gone into a phase where people are actually not only understanding social, but the value behind it as well. People share their experiences from all over the world, and it is now more accessible than ever before.
LinkedIn for example has really become a content marketing hub/online university where you can get real world experience and knowledge from people that are doing it themselves. That's fantastic! So, you should definitely take advantage of the free education.
Also, start collaborating! I think that is the biggest thing I missed out early in my career. I was always like 'Oh I'm awesome, I don't need to network with other marketers.' Now I know that my job depends on it! I learn so much from my friends in the industry!
Finally… Read! There are so many good books out there, and so many of them are classics! Educate yourself, collaborate, and take advantage of all the free tools. There are so many out there.
As a social media professional, you have to be agile! And this may seem silly, but one of the first things I was told when I joined the industry was learn Photoshop! And trust me, when you are in a bind, you welcome it!
So, while I do think there is a ton of value in specialising, I think it's really important to not dilute yourself.  Know focus, and find as much information as you can on a subject!
(.@mickalexis: Take advantage of the free education online!!!)
11. In your opinion, what is the ad format of the future?
I have moved almost exclusively to sponsored posts. I think that if you are committed to creating great content, and telling great stories, then that's what you should promote to people. The best way to do that, is by putting a bit of money into targeting the right people!  Here at Grade-A Digital, we like to experiment with loads of different formats. I just don't think that there is anything quite as effective as serving great content to the people that matter.
Fun Fact
12. Finally, tell us one thing someone would NOT be able to find out about you from looking at your social media profiles?
Oh, fun fact… well I kind of tell everybody whatever is on my mind, and have written articles about pretty much every aspect of myself, so there is not that much that people don't know. And this part is actually in my LinkedIn profile… but I knew that I was a little bit weird when I was younger, because in kindergarten we had career day at school and I ran home so happy to tell my mum that everybody else was dressed up as boring doctors and lawyers and teachers and I… I was the only tooth fairy there!!!
I don't think that personality has ever changed. I've always been really pumped to be the weird kid and now the weird lady standing out as a tooth fairy among doctors and lawyers! There is of course nothing wrong in being a doctor or dentist or a lawyer, I have all those as siblings, but nothing beats a tooth fairy. Side note – I was really bummed when I heard it was not a real job, so I had to settle for marketing and social media!
---
You might also like
---
More from Interviews
---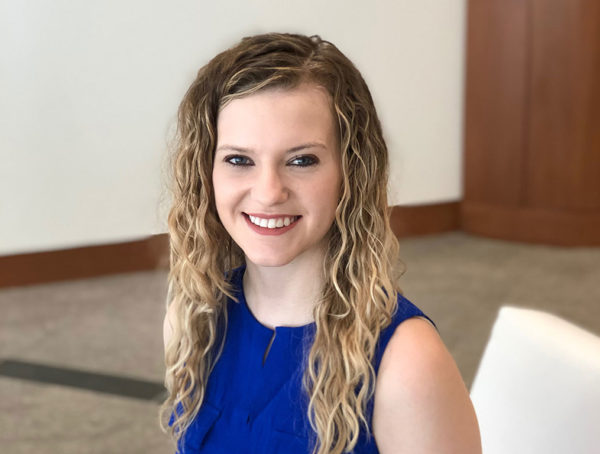 Please welcome this week's 12 Questions Expert Spotlight guest, Social Media Marketing Manager at Forrester (SiriusDecisions Product Line), Claire Kennedy.