Before it became one of the leading text messaging apps, WhatsApp was all about sharing status updates. Today, the app went back to its roots. It looks a lot like Snapchat Stories and also pretty awesome.
It looks like Snapchat, it works like Snapchat… and it's not Facebook nor Instagram… what is it?
WhatsApp has debuted a new feature called "status updates," and it looks 100% like Snapchat Stories… or Instagram Stories. But that's only because Instagram was heavily inspired by Snapchat in the first place.
WhatsApp's status updates can now include pictures, videos and GIFs. Like on Snapchat, they will be published for 24 hours, before they disappear. Everyone in your contact list will be able to see your status updates, unless you decide otherwise.
In a way, there's nothing new here. Snapchat had it, Instagram copied it, Messenger copied it again, and now WhatsApp yet once more. I even ask myself: "Where is this going? Why are all of Facebook's apps doing the same thing?" Yet, status updates are pretty awesome, and they are exactly what was missing on WhatsApp.
The real plus for WhatsApp, is that like text conversations in the app, status updates will be encrypted by default.
The new version of status updates is already available across Europe, and will likely roll out globally in the weeks soon after that.
---
You might also like
---
More from WhatsApp
---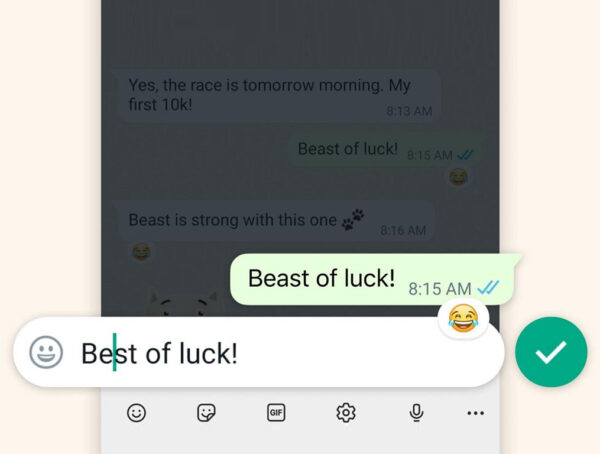 WhatsApp announced today it will finally let users edit messages, one of the most anticipated features. You will have 15 minutes, …