Of the many features that LinkedIn launched in 2018, making it an even more important tool for marketers to reach their audiences, Carousel Ads stand out as one of the most significant. 
LinkedIn isn't what it used to be. Following its sale to Microsoft, the professional networking site has widened its scope and is developing into a well-rounded platform for marketers to reach and engage their audiences. LinkedIn used to be snubbed – and slammed – for its lack of features (posting formats in particular) and its distinct lack of advertising solutions. However, after expanding its Sponsored Content offering significantly in the last years, LinkedIn showed marketers it certainly had a few aces up its sleeve.
One of these "aces" stands out and should be of particular interest to marketers: Carousel for Sponsored Content, also known as Carousel Ads. Launched back in July 2018, the ad format really got everyone's attention as a great way to bring storytelling back into B2B marketing. Getting a brand to stand out in this day and age is really challenging, and it's more difficult than ever to keep a brand top of mind. The ability to create memorable experiences for audiences is the only way forward.
LinkedIn Carousel Ads are a new way for brands to tell their stories and interact with audiences on the platform, as they allow you to add texture to your stories with multiple visuals and links that users can swipe through horizontally on their feed. Hundreds of advertisers have already used Carousel Ads with much success, to "create fun and informative campaigns to tell stories about their company, products and services, industry, and more," and 75% of beta advertisers said they will use the format in their next Sponsored Content campaign. That's got to mean something, right?
Apart from being highly engaging, Carousel Ads offer increased click-through rates, as they stand out in the newsfeed and encourage audiences to engage with them. Whether you want to tell a deeper story, showcase multiple offerings at the same time, a single offering with many facets, or share a bunch of industry insights, Carousel Ads will help you do so.
The thing is that LinkedIn carousels are generally a format reserved for advertisers, as you can't actually create them organically. But what if I told you that you could also create organic link carousels on LinkedIn, and even schedule them? Kontentino, currently the only tool to allow you to manage LinkedIn in its entirety, offers users this very feature.
Kontentino is an intuitive social media management tool that simplifies the social media content collaboration, approval, and scheduling process. It's also currently the only tool of its kind to offer the ability to create and schedule both Carousel Ads and organic Carousel Posts on LinkedIn.
The process is made very simple. After signing up (if you're not already a Kontentino user), you'll need to connect your LinkedIn Company Page to be able to post and schedule to it. Once that's done, press the "NEW POST" button and locate the "Carousel" button. Begin by submitting your first link in the field, and the first part of your carousel will be created. Next, you can continue to add images to your carousel and change each link and its preview title separately. Next, all you have to do is save and schedule your carousel post. Easy!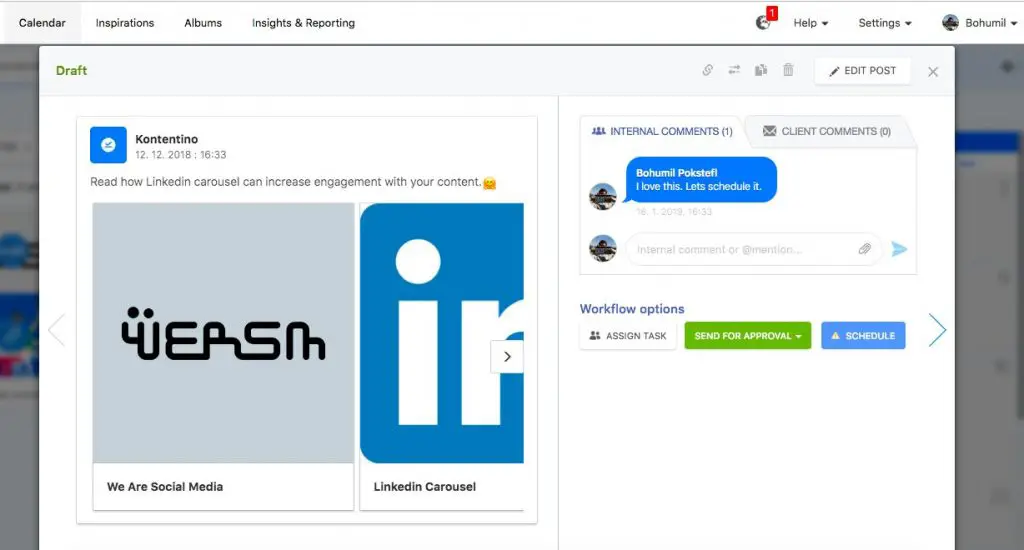 If carousels are not your thing (to be honest they totally should), Kontentino also offers the ability to create and schedule native LinkedIn video posts, link posts (with preview editing!), single image posts (with the ability to use templates, or add your logo – or a frame – on-the-fly), and multi-image posts. In addition to the above, Kontentino also offers the ability to set audience restrictions for LinkedIn content based on country-groups, single countries, or language targeting. Finally, it also offers the ability to mention other pages in posts.
---
You might also like
---
More from LinkedIn
---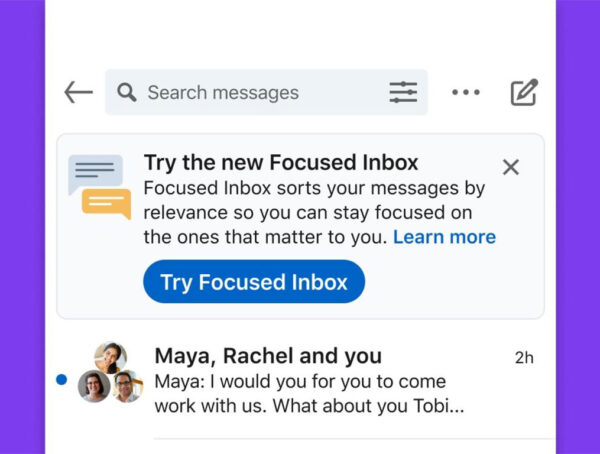 With Focused Inbox, LinkedIn wants to help you engage in the conversations that matter most. LinkedIn is rolling out a new …