If you've tried Google Sheets, Evernote, and whatnot, to no avail, then why don't you give yourself the opportunity to try Kontentino, a comprehensive social content management platform that promises to simplify all your approval workflows.
According to Kontentino's founder, Bohumil Pokštefl, "over 95% of agencies struggles with spreadsheets and shared docs" when it comes to their social content planning and approval workflows. So, what started as a tool for internal consumption and use, developed into a fully-fledged platform offering "a-game" content management capabilities.
Setting up your Kontentino account is easy, and once you have all your profiles connected, you're good to fly. First things first; it's crucial to set up user roles on both the agency and client side. The roles vary from Admin (aka the gatekeeper) and Manager (managing all aspects of content creation) down to graphic designer (allowed to change visual assets), and Clients (approving posts, adding notes and comments on proposed content).
The next step is to get familiarised with the user view itself. A dashboard welcomes users, giving a brief glimpse of content plans, today's and tomorrow's posts, along with their respective status – approved, completed, scheduled, and so on. Moreover, on the right-hand side, you can find all the tasks assigned to you, along with tasks assigned to other members of the team.
The platform is structured in such a way so that you have both actual posts and potential ones organised. From the top-right bar, toggling between 'Calendar' and 'Inspirations' will transfer you from what's being published, to what could be considered.
The 'Inspirations' tab is perfect for organising posts around big dates or a news agenda, and provides a highly visual brand style guide, as well as the ability to pair actual content with the respective pillars they conform to. Furthermore, it provides an overview of the themes to be developed into posts, throughout the course of the year.
'Inspirations' can be further categorised based on the social network of choice, so that you keep everything neat and tidy. It's perfect for discussing internally which content threads could be further explored, and developed. When browsing in Calendar view, 'Inspirations' appear as lightbulbs on the respective dates.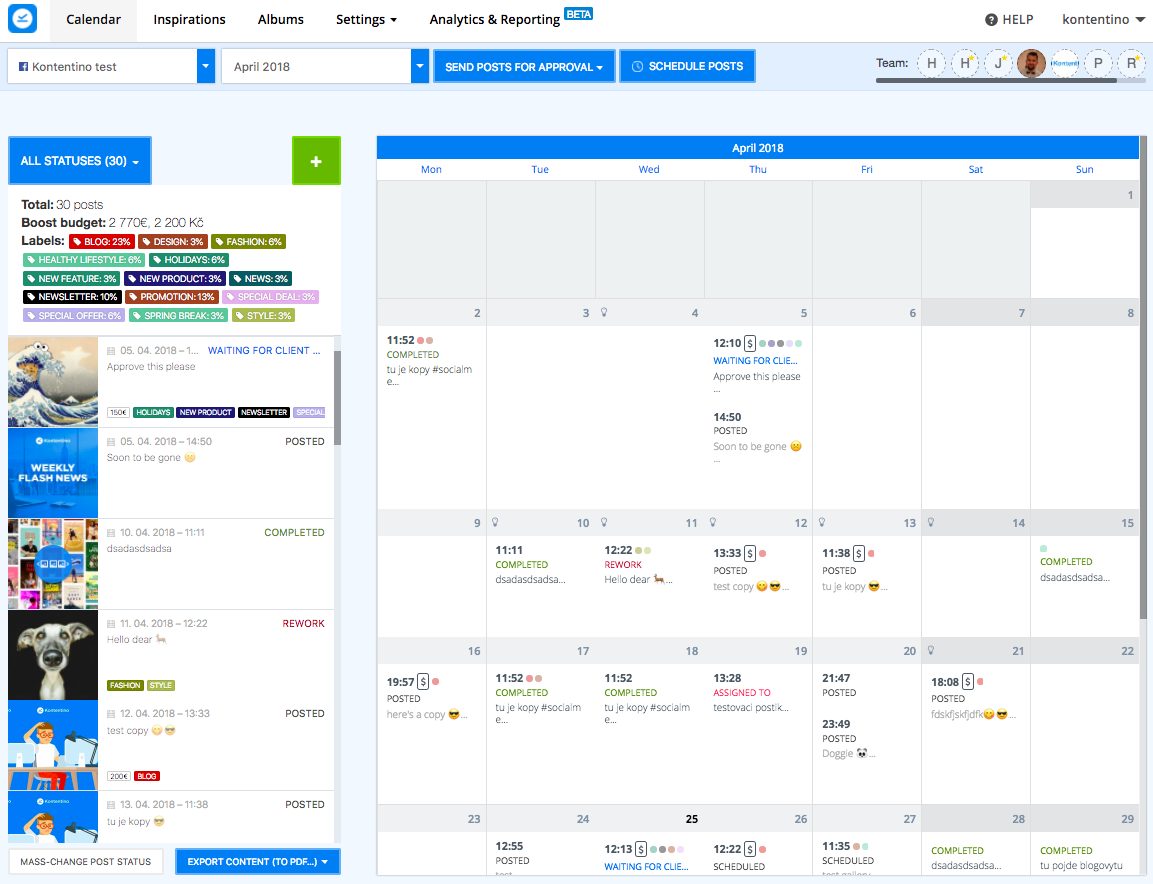 But it's the actual content creation, approval workflow, and scheduling features, that set Kontentino apart. Starting with selecting a social media account, users get to create a content calendar, which is structured monthly by default, or span over longer period of times.
Furthermore, the process of setting up a post is quite intuitive. Kontentino replicates the respective platform's native post creation process, and enhances it by adding a bunch of productive features. For instance, when it comes to uploading assets, you can also opt to add your logo or watermark to the image – business logos can be uploaded in the settings area, and can be placed on top of the post's visual, in one of its four corners. "A small feature" one might say, but it can genuinely make a difference.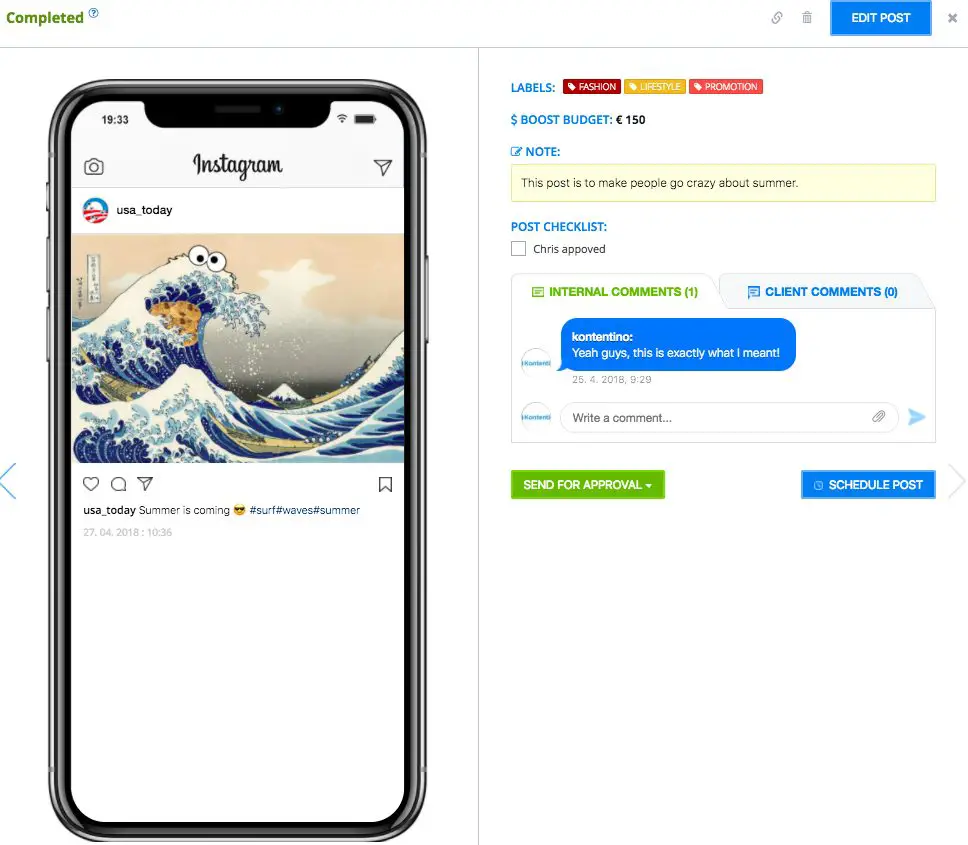 Once the post is authored, users can set up a boost budget. This doesn't mean that the post will be boosted automatically. It acts as a reminder which comes in handy when you need to have a broad overview of the budget allocated to your content's promotion.
Before dispatching for approval, users can send their internal feedback, and go through a post checklist which can be tailored to fit each brand's guidelines. It's worth noting that clients don't have to go through registration to approve posts.
What's impressive, is that Kontentino directly exports the post to Facebook's back end. That way, all posts are visible in the business manager and ad scheduling becomes possible.
Kontentino offers transparent pricing and a variety of schemes suitable both for individuals, and bigger teams alike. Starting with a free service, the platform scales up according to your needs – i.e a changing number of clients and social media profiles. This makes Kontentino a strong contender in the field, as it caters to individuals, freelancers with a handful of clients, and bigger companies working on a complete suite of brands.
Kontentino is trusted by some of the world's leading brands. Pilsner Urquell, Schwarzkopf, and IKEA, for example, as well as powerhouse agencies like BBDO and Grey use Kontentino, to declutter, simplify, and organise their content, in an effective and meaningful way.
---
You might also like
---
More from Reviews
---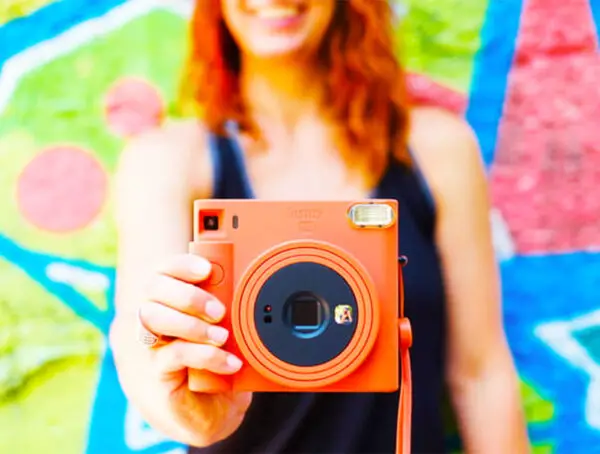 Fujifilm is making shooting analog instant-film easy and highly pleasurable with the new Instax Square SQ1.