Dating app Tinder cancels the international release of its apocalyptic-themed in-app video series, citing sensitivities to the  COVID-19 pandemic.
The first season of 'Swipe Night' was seen by millions across the U.S., but some shows are not meant to be seen when they suddenly seem to relatable.
'Swipe Night' is Tinder's first video series, offering a five-minute interactive video story where users get to make choices to progress the narrative. A user's choices are then highlighted on their profiles and used to match them with other users who took the same decision.
The video series also provided users with conversation starters, helping millions of Americans break the ice without lame pick up lines and other awkward openings. In fact, Tinder said the video series had led to double-digit increases in matches and messages exchanged on its platform.
Days before 'Swipe Night' was to be released in 10 new markets across Europe and Asia, Tinder decided to cancel the show, citing sensitivities to the ongoing COVID-19 pandemic, as reported by Variety and confirmed by Tinder :
"We've decided not to launch the Swipe Night series around the world this weekend. We were excited to bring this innovation to our members outside of the US, but given the series' apocalyptic theme, and because we are sensitive to the current events our members are experiencing, we felt it would be difficult to launch it in the right spirit."
---
You might also like
---
More from Other Platforms
---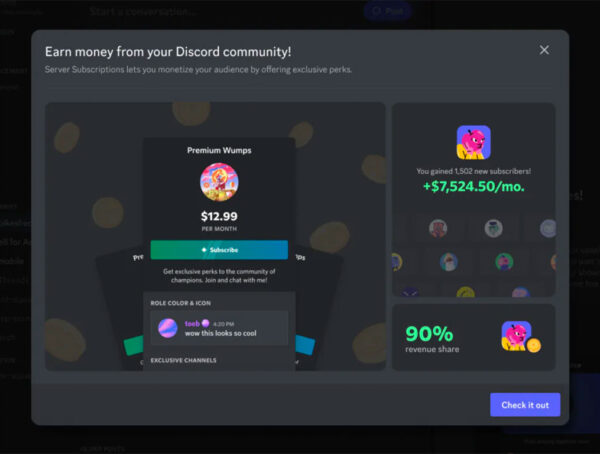 Discord server subscriptions are available for all servers whose owners are in the US, ranging in price from $2.99 to …