Net Neutrality was recently repealed, but most people do not actually know nor understand what that means. So Burger King took upon themselves to explain, with a Whopper.
Last December, the FCC repealed net neutrality which used to regulate businesses that provide internet access to consumers. The main consequence is that Internet providers are no longer obliged to treat all data on the Internet the same, and not discriminate or charge differently by the user, content, website, platform, application, type of attached equipment, or method of communication.  In a few words, your provider is now legally allowed to charge you more for better internet speed or higher-quality service. It sucks. But what is worse is that most people don't understand the consequences.
So Burger King decided to step in and explain Net Neutrality to its customers, in a way that was easier for them to understand: with a Whopper.
The company introduced different price levels for different speeds of service – a.k.a. MBPS: making burgers per second. You could still get your favourite sandwich fast, but you would have to pay a premium. Otherwise, you had to wait… for long.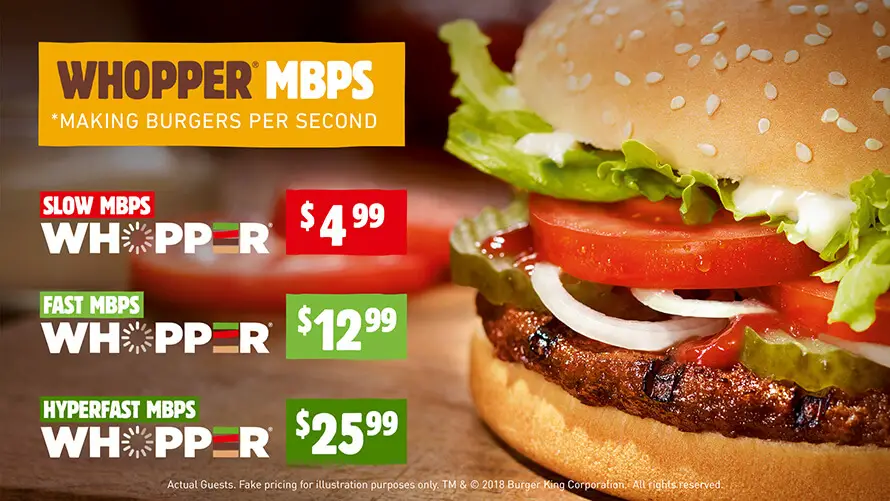 Of course, customers weren't happy and some even got aggressive. But in the end, all understood why net neutrality was important and a cause to fight for.
Because yes, the Internet should be like the Whopper: the same for everyone.
https://www.facebook.com/WeAreSocialMedia/videos/1327696027335996/
CREDITS
Client: Burger King
Agency: David
Spot: Whopper Neutrality
CCO & Founder: Anselmo Ramos
Managing Director, Head of Account Services: Paulo Fogaça
Creative Director: Tony Kalathara
ACD: Ricardo Casal
ACD: Juan Javier Peña Plaza
AD: Jean Zamparogno
CW: Fernando Pellizzaro
Head of Global Production: Veronica Beach
Producer: Carlos Torres Sr.
Business Affairs Manager: Barbara Karalis
Director of Strategy: Jon Carlaw
Senior Planner: Matias Candia
Senior Account Director: Carmen Rodriguez
Account Supervisor: Diandra Garcia
Account Supervisor: Jenny Gobel
Production Company: Here Be Dragons
Director: Kris Belman
Executive Producer: David Richards
Head of Production: Mamta Trivedi
Producer: Peter Slowey
Editing: Cosmo Street
Editorial Executive Producer: Yvette Cobarrubias-­Sears
Editor: Hugo Jordan
Post Producer: Idalia Deshon
Final Audio: Beacon Street Studios
Executive Producer: Adrea Lavezzoli
Mix and Sound Design
Producer: Kate Vadnais
Mixer: Amber Tisue
Online: Cosmo Street
Editorial Executive Producer: Yvette Cobarrubias-­Sears
Flame Artist: Shinya Sato
Color: The Mill
Executive Producer: Thatcher Peterson
Producer: Diane Valera
Colorist: Matt Osborne
Graphics Animation: Lava Studio
Executive Producer: Jennifer Eirea
Creative Director: David Woodward
Designer/Animator: Carlos Velasquez
---
You might also like
---
More from Creative Campaigns
--- TIkTok is pulling the plug on TikTok Now, its BeReal clone, a little over nine month after it was first …