Spotify is reportedly introducing a TikTok-like vertical video feed with music videos songs in a new dedicated Discovery tab.
Spotify is the latest platform to experiment with a TikTok-style vertical video feed. According to reports, Spotify is starting to display video clips along with songs in its beta iOS app.
As Chris Messina posted last week, Spotify makes the video feed available from a new, fourth tab in the navigation bar labeled "Discover." Once on the video feed, users can like tracks as they scroll down vertically through the feed. In the new tab, users can also find a three-dot menu icon to access options for each song.
Not only that, @Spotify Discover is basically a pared down version of a TikTok-style feed of vertical music videos (likely using their canvas format) that you can like or skip.#NewSpotify pic.twitter.com/hpOEZ8v9bl

— Messina.eth (@chrismessina) November 24, 2021
"At Spotify, we routinely conduct a number of tests in an effort to improve our user experience," a spokesperson said.
"Some of those tests end up paving the way for our broader user experience and others serve only as an important learning. We don't have any further news to share at this time."
The company hasn't provided information as to if or when the feature will be rolled out publicly.
Earlier this month, Netflix also began testing a similar interface in its iOS app to help users discover new content to watch. The new TikTok-like video feed for kids, dubbed "Kids Clips," offers child-friendly, short content from its shows, and builds on a previous short video feed format called "Fast Laughs" launched in March this year.
Much in the same way, Spotify appears to have built this current Discover short video feed from a previous format it designed – its existing Canvas feature. On Canvas, artists can play videos along with their selected music.
---
You might also like
---
More from WhatsApp
---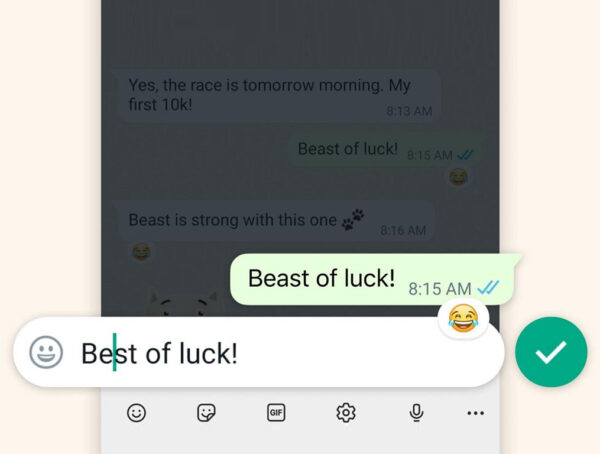 WhatsApp announced today it will finally let users edit messages, one of the most anticipated features. You will have 15 minutes, …