Pinterest only launched Promoted Video very recently, and already it's had so much success, that the company is launching a new style of Promoted Video in a brand new "Explore" section.
Pinterest has found that "Promoted Video brings ideas to life." And ideas are what Pinterest is all about. With over 150 million people visiting the platform every single day, there are great opportunities to reach "a responsive audience." One thing leads to another, so Promoted Video has been very popular and successful. To continue this trend, Pinterest is testing auto-play Promoted Video to help you "tell compelling stories."
Promoted Video: A Rich New Canvas
With auto-play Promoted Video, a user gets to jump straight into the action as soon they discover it. For brands, it opens up the possibility of creating "episodic viewing" experiences as follow up videos play automatically after the initial one. So, it's not just one video that a viewer discovers, but a series of videos related to your brand and/or message.
Almost as important is the new section within which Promoted video will appear. Pinterest is launching, Explore, a new section that brings together,
[quote]picks from top tastemakers, industry experts and even […] Pinterest employees, who crowdsource the best ideas using a combination of what Pinners are loving today and what's happening in the world around us.[/quote]
Explore: A Tailored Space To Explore Today's Picks
So, users may only have a single place to visit to discover the best content on Pinterest. By creating Explore, Pinterest is creating a space that is tailored to appeal to those who view it, making content "hard to miss." This, will in no doubt lead businesses to utilise the new format to achieve the results they want. And that will in turn lead many more advertisers to the platform.
https://youtu.be/5yap696D244
---
You might also like
---
More from Pinterest
---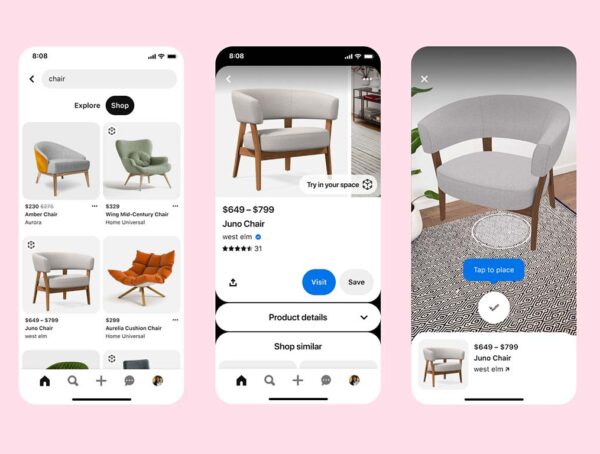 Pinterest is releasing a new AR Lens that lets users see how furniture would look in their homes before buying …