Pinterest is introducing new social-shopping features, including a new shoppable video ad format automatically generated from catalogs.
According to an internal study issued by Pinterest in August, people who use the platform weekly are 7x more likely to say it's the most influential platform in their purchase journey compared to other social media platforms.
As part of its effort to grow online shopping on its platform, Pinterest last week announced that it is rolling out several new features for brands to promote their products and ideas to users.
First of all, Pinterest is announcing the arrival of "slideshow for collections," a feature that lets brands upload their product catalogs and automatically create dynamic video ad slideshows tailored to users based on their interests. It also makes it easier for its 400 million global monthly users to shop on its platform.
The automatically-generated ads are more attention-grabbing than ordinary collections and encourage users to add more products to their baskets.
In addition to slideshow for collections, Pinterest is also introducing a new ad format that will facilitate brand-creator collaborations on paid partnerships. Building on its immersive Idea Pin format, Pinterest is testing Idea Ads with paid partnerships.
This new format will allow creators to create Idea Pins and tag their brand partners. The advertiser can then promote the "Idea Pin" as an "Idea Ad," a new feature currently being tested with a select group of creators and brands in 15 countries.
Furthermore, the visual inspiration platform is also introducing a new marketing campaign called "Find what you actually love," celebrating how Pinterest helps users go from open-ended discovery to finding what they love on the platform.
Lastly, Pinterest is introducing "merchant details," a new prime space where brands can showcase values such as "responsibly sourced," "invested in good," and "inclusive" on their Pinterest profiles.
Brands can also highlight communities they belong to right on this new spot of their profiles, such as "Black-owned," "Latinx-owned," "Woman-owned," "LGBTQ+-owned," "Disability-owned," and more.
Even as other tech giants enter e-commerce and update their social-shopping features to engage customers on their platforms, Pinterest remains a place where users come to look for new ideas and inspiration with a shopping mindset and to "plan their future."
Finally, Pinterest is expanding its Verified Merchant Program, which helps shoppers find brands that are vetted. The program is now available in more countries, including Austria, Brazil, Italy, Mexico, the Netherlands, Spain, and Switzerland.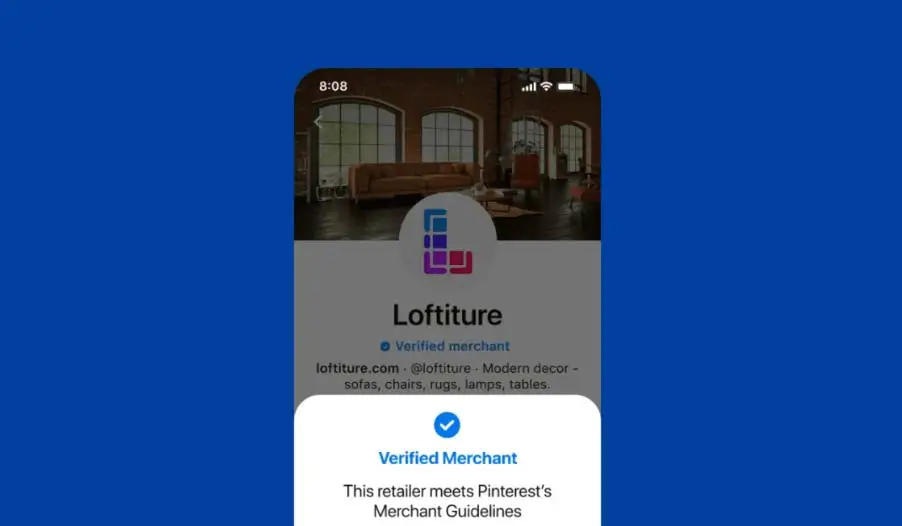 Verified Merchants receiver enhanced distribution on the platform and can display a "verified" badge that helps them build trust with shoppers.
---
Featured image: Pinterest
You might also like
---
More from Pinterest
---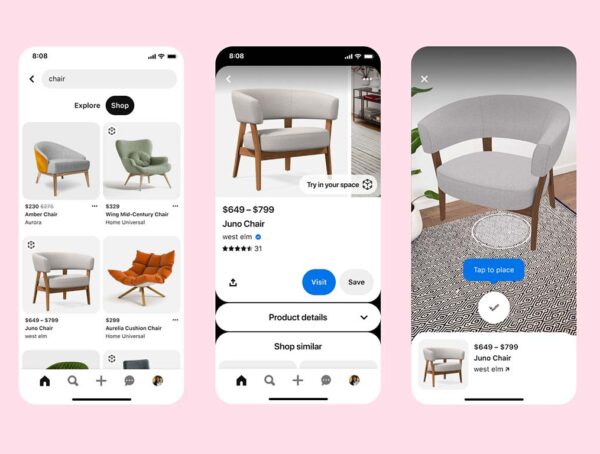 Pinterest is releasing a new AR Lens that lets users see how furniture would look in their homes before buying …