Happy Pinners can now set up a Pinterest iOS 14 widget on their iPhone home screens.
Pinterest is taking full advantage of the biggest new home screen feature that comes with iOS 14. Since Apple launched home screen widgets with iOS 14, searches on Pinterest for things like "indie ios 14 homescreen", "widget iPhone aesthetic", "Neon icons for apps", or "Black and white icons for apps", have soared. Pinterest took this as a clear sign that Pinners want the app to be part of their home screen customization options on iOS 14.
Pinners are visual people and it is a smart move from Pinterest to release their own iPhone widget.
How to Add the Pinterest iOS 14 Widget
1. On your device, hold an area on your screen and tap the plus sign in the upper-left corner to choose from widgets.
2. Choose the widget's size and add it to your home screen. A small or large-sized widget will be optimal (a medium-sized widget won't be good for Pin length).
3. Select one of your own boards – or one you follow.
4. Hold the widget to change its position on your home screen.
With the Pinterest iOS 14 widget, the image will change hourly or daily, based on settings preferences you can choose from. You can also opt for small or large widgets. The company explained that the mid-sized widget available on iOS 14 is not optimal for Pins.
To move the widget, you can hold it down and place it in the spot of your choice. Tapping the widget will lead you directly to that Pin in the Pinterest app.
---
You might also like
---
More from Pinterest
---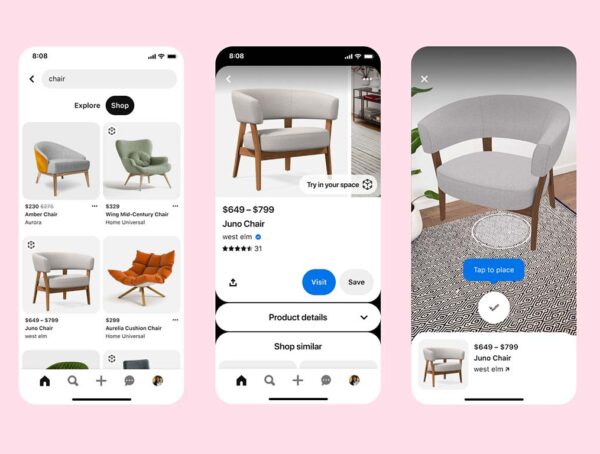 Pinterest is releasing a new AR Lens that lets users see how furniture would look in their homes before buying …