Pinterest has shared a guide with suggestions to help brands create better content for Pinners during the COVID-19 pandemic.
With COVID-19 changing complicating everyone's lives, it's important for brands to be on top of the situation and make sure they are communicating with their audience in the right way. While difficult, it's more important than ever to create balanced content that acknowledges the current state of affairs with a delicate touch.
Without this, brands can either seem tone-deaf or come off as opportunistic or insensitive. To help them "strike the right chord," Pinterest has compiled a short list of tips for brands that want to create content that "feels authentic, compassionate and most importantly—helpful."
People need ideas. You have them.
With more and more people coming to Pinterest to find inspiration, there is an opportunity to communicate with integrity. This has always been important, but brands need to be extra-sensitive in this time of crisis, as COVID-19 is having a huge impact on everything from families, to travel, to day-to-day routines and business operations.
The major shifts in people's daily habits – as they try to adapt to the new normal – are opportunities to serve great content and be helpful – i.e. activities for bored kids, home office setups, or even calming quotes.
Brands can play an important role in providing reliable resources to people. Here's how:
Be honest with yourself, and with your consumers
Brands need to take an honest look at themselves and what role they have in consumers' lives, apart from selling them things. Therefore, it's very "important to think critically about what your brand has an authority to speak on and what it doesn't." This is especially the case in any time of crisis.
If you have a blog or editorial content that includes helpful insights, make sure you capitalize on it by adding value to the greater conversation.
Ease adjacent tensions
As people's lives change – people working out from home, or worrying about family health and emotional well-being, or looking for easy pantry recipes – brands can be the most reliable sources of information without directly mentioning COVID-19.
Help Pinners cope
Using the right tone of voice is more important than ever before, and brands need to consider this when speaking to Pinners. It's important to "tap into compassion and understanding as opposed to sarcasm or fear tactics," and you should also "be wary of asking people to feel something that might be hard right now."
Finally, make sure you focus on where you can support – not where they need to change or do something different. That's already taking place in their lives.
Have empathy for a range of circumstances
Many businesses have started using virtual workforces as more and more people are working from home, so it's critical to know "that not everyone is cozy at home in their spare office." Many people are sharing small apartments with roommates or big families, and others have jobs that don't allow them to work from home.
You need to take time to consider the different situations that people are in, and create content that is inclusive, not alienating.
Designing content for Pinterest
Pinterest explains that if in doubt, you can fall back on "the Five Dimensions of Inspiration" to help you communicate to Pinners with integrity. It's actually easy. Just ask yourself – is your content:
Positive
Fuel Pinners' imaginations with hopeful ideas for the future they can visualize—never using fear as a mechanism for spreading concern.
Relevant
Things are moving quickly, and the message that was helpful yesterday might not make sense today. Offer ideas that feel additive at this moment while keeping evergreen solutions in mind.
Actionable
We can't change our circumstances, but we do have control over the actions we take. Lean on text overlay, Pin titles, and description fields – and add clear CTAs to encourage new behavior.
Original
Pinners are experimenting with new ways of living and working during this time. Offer up new ideas of ways to work, cook, shop, parent and play to keep the inspiration coming in a time when we need it most.
Visually appealing
Pinterest is an inherently visual platform. As always, consider how you can best use graphics to communicate your message efficiently.
---
You might also like
---
More from Pinterest
---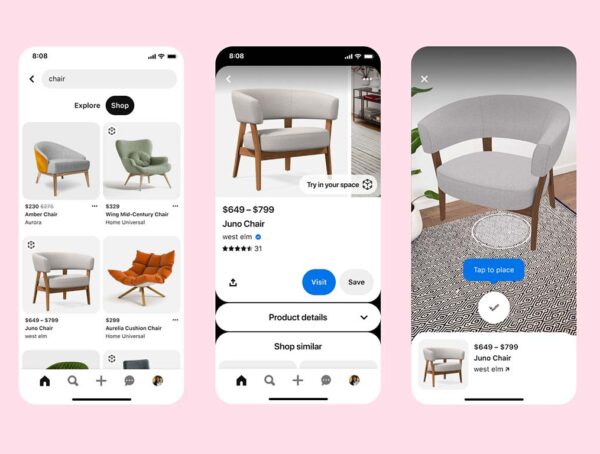 Pinterest is releasing a new AR Lens that lets users see how furniture would look in their homes before buying …