Pinterest announced the Today tab, featuring trending Pins and curated topics that offer Pinners "daily inspiration" and helps them explore popular ideas. 
The COVID-19 pandemic is causing more and more people to turn to the Internet for inspiration and Pinterest in particular. The platform is booming, with an all-time high around the world with more saves and searches than any other weekend in its history.
More and more people are looking for new things to cook, new things to learn, and little projects for kids, and in the United States, more people than ever before are sending Pins to each other and sharing ideas. This has lead to an increase in the use of its Send a Pin feature of 34%.
To capitalize on this, Pinterest announced that it's launching a new "Today tab, a source of daily inspiration with curated topics and trending Pins that makes it easy to explore popular and timely ideas." In the next few weeks, the Today tab will feature – surprise, surprise – expert health information from the WHO and the CDC, talking about things like hand washing during the COVID-19 pandemic.
To spice things up for people stuck at home, the Today tab will also show inspiration in several categories that are hot right now – kid-friendly baking ideas, self-care tips, movies for the whole family, and great recipes for comfort food.
The new feature is available on iOS and Android and can be found right at the top of your home feed, bringing you new ideas each day. In the beginning, Pinterest will curate them but plans to feature guest editors in the future.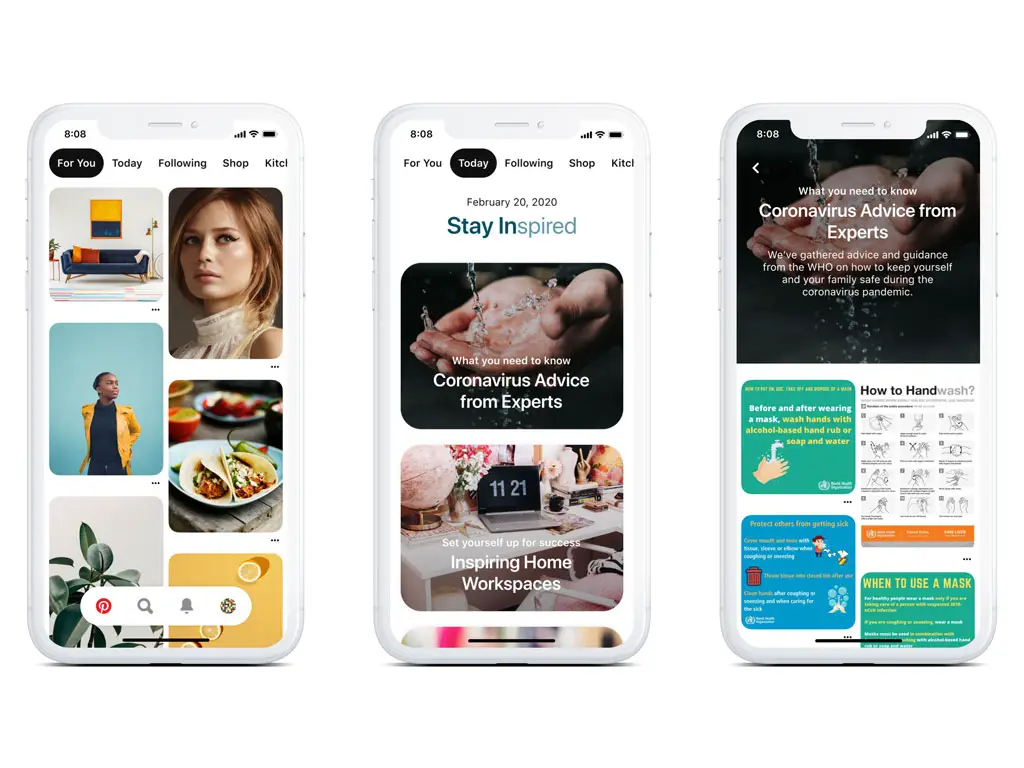 Your home feed will still show your own personalized recommendations, but the Today tab will provide a more spherical view of what's going on in the world right now.
Pinterest says it will "surface ideas in the Today tab in the U.S. and the U.K.," and expand to other countries soon, as engagement on the platform is clearly up lately. Last weekend alone, Pinterest had the highest user engagement in its history, in countries like Italy, France, Spain, and Germany. In France, saves in Pinterest are already up almost 30% compared to last month.
---
You might also like
---
More from Pinterest
---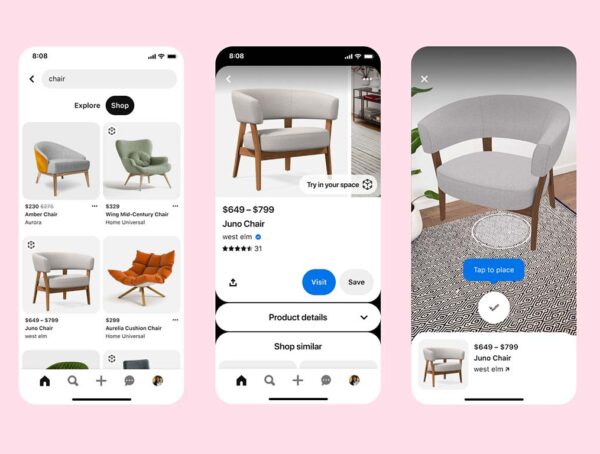 Pinterest is releasing a new AR Lens that lets users see how furniture would look in their homes before buying …