NBC is using the power of Creator Idea Pins to premiere a new series by helping Pinners discover their "What If" journey.
NBC is partnering with Pinterest to premiere "Ordinary Joe," a new heartfelt, life-affirming drama about life choices, using an immersive experience with Creator Idea Pins.
The experience features a personalized quiz asking a series of "what if" questions related to users' passions. The answers are then put together in an inspirational Pinterest board of Creator Idea Pins, with tips to figure out their dream passion "in another life."
"Ordinary Joe is about the choices we make, and how life can change in a single moment. In this spirit, we have found the perfect partner in Pinterest, a destination where people can plan their next adventure and discover their true passions," said Kjerstin Beatty, Executive Vice President, Entertainment Media Strategy and Planning at NBC Universal Television and Streaming.
"Through this campaign, we hope that people are motivated to follow their pursuits, and inspired by the "what ifs" that will play out over the course of the series."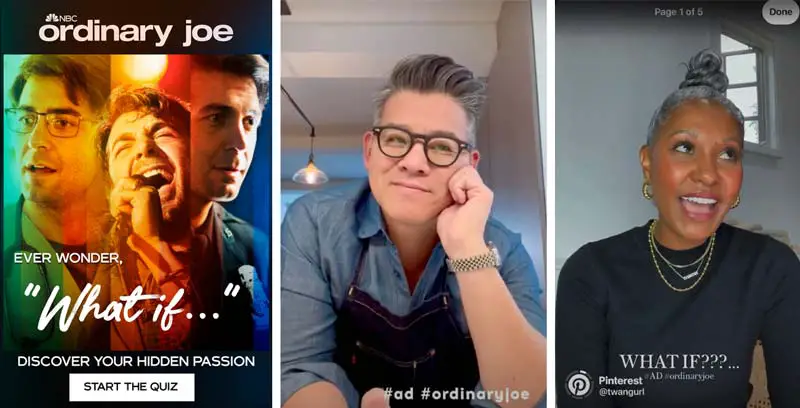 For the campaign, Pinterest tapped into creators from across its broad spectrum to create content.
Those participating include fashion and lifestyle influencer Coco Bassey; celebrity flight attendant and influencer The Tennille Life, Tenille Murphy; fitness creator, Over 50 and Fit – Dane Findley; fashion designer and chef Peter Som; entrepreneur, body acceptance advocate, and influencer, Katie Sturino.
Back in May, Pinterest also launched "You Might Just Surprise Yourself," a campaign highlighting its users' intention of looking for inspiration on Pinterest.
---
Featured image: NBC
You might also like
---
More from Pinterest
---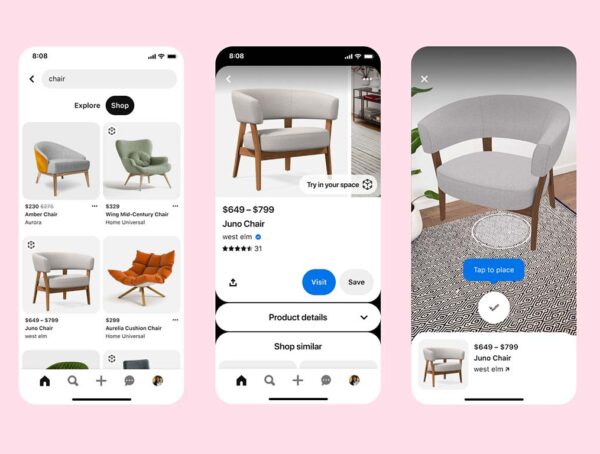 Pinterest is releasing a new AR Lens that lets users see how furniture would look in their homes before buying …